Veiligheid heeft voorrang
Veiligheid heeft voorrang
Net als op de weg gelden ook op skipistes verkeersregels. Stoplichten of vallende sterren vind je er gelukkig niet. Wel een paar borden en regels die je maar beter in je hoofd kunt prenten.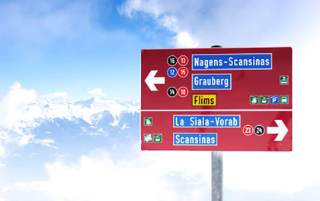 Groene, blauwe, rode of zwarte borden geven demoeilijkheid van een piste aan. Afhankelijk van je talent kies je voor de piste die bij jouw ski- of snowboardniveau past.

Beginners kunnen terecht op de groene, platte pistes of de iets moeilijkere blauwe.
Gevorderden showen hun tricks op rood terrein.
Terwijl echte experts voor niets minder dan zwart gaan.
Opgelet, niet elk land gebruikt dezelfde normen bij het klasseren van zijn pistes. Informeer je op voorhand over de hellings- en moeilijkheidsgraden.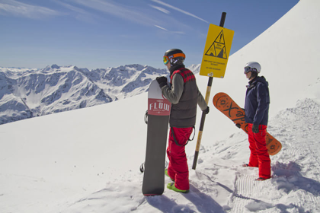 Let zeker op deze tekens en borden, ze kunnen je achteraf veel ellende besparen.
Pistes zijn afgebakend met (rode) houten of plastic paaltjes. Vooral bij mist zijn ze handig om het spoor niet bijster te raken.
Indien deze veiligheidsstokken als een X-vormig kruis zijn opgesteld, dan blijf je er maar beter weg.
Op sommige plaatsen kruist de piste een sleeplift. Timing is alles!
Geelzwarte geruite vlaggen duiden op lawinegevaar.
Borden met 'einde van de piste' of 'gesloten piste' zijn natuurlijk verboden terrein.
Op een gletsjer ontstaan spontaan diepe spleten of barsten in het ijs. Vaak zijn die onzichtbaar door opgehoopte sneeuw. Verken een gletsjer daarom enkel onder begeleiding. Of blijf in de afgebakende zone.
Ook gewone gevaarsborden, zoals een rode cirkel of driehoek, spreken voor zich.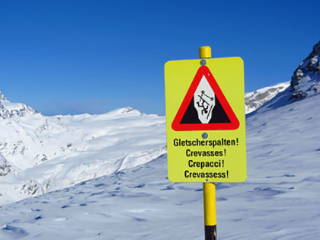 Volg ook deze gouden raad om het veilig te houden voor jezelf en voor anderen.
Kijk niet alleen naar je eigen groep, maar bewaar eengoed overzicht over de hele piste. Enkel op die manier kun je de situatie goed inschatten en ingrijpen indien nodig.
Op de piste geldt geen voorrang van rechts. De skiër onderaan de piste heeft steeds voorrang.
Help ook gevallen skiërs waar nodig.