Skiën met het hele gezin
Neem je je kleine globetrotters mee naar de piste? Met deze tips bezorg je ze een coole én veilige sneeuwvakantie.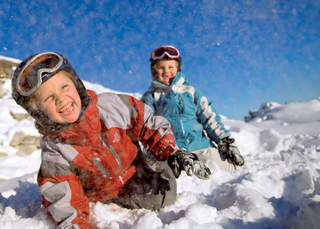 Kinderen koelen veel sneller af dan volwassenen. Houd ze dus warm en kleed ze in laagjes volgens het bekendedrielagensysteem:
Basislaag: thermisch ondergoed
Isolatielaag: fleece
Buitenste laag: water- en windproof skipak
De ski-uitrusting is al even belangrijk als de kledij. Speel op veilig met een uv-bestendig sneeuwmasker of zonnebril, een opvallend fluohesje ... Handschoenen of wanten zorgen voor bescherming tegen de kou, maar ook tegen de scherpe randen van ski's en snowboards.

Voor kinderen tot 14 jaar is een skihelm verplichte kost in Italië, Kroatië, Slovenië en de Oostenrijkse deelstaten. Maar ook oudere tieners en zelfs volwassenen zijn gebaat bij een schaal rond het hoofd.

Het is zeer moeilijk om je eigen kinderen correct te leren skiën. Schrijf ze daarom in een erkende skischoolvan het gebied. De meeste ouders denken dat de vreemde taal hen parten zal spelen, maar dit is voor de kids geen enkel probleem, ze leren immers al doende. Bij de meeste skischolen kunnen ukkies vanaf drie jaar al op de latten.

Kies een kindvriendelijk skioord met goede voorzieningen, van opvang tot aangepaste lessen aan democratische prijzen.
Zorg voor materiaal op kindermaat. Wie geen te zotte kosten wil maken, kan ook ski's huren bij A.S.Adventure. Een Junior skiset (tot 1m40) huur je al voor € 27,5 voor een shortski.
Laat je kroost een naamplaatje dragen met je gsm-nummer en het adres van je vakantieverblijf. Spreek ook een oriëntatiepunt af voor als jullie elkaar even uit het oog moesten verliezen.
Hou op de piste energierepen, water en een ehbo-kit binnen handbereik.
Voor sneeuwpret na het skiën: moonboots aan en de slee op!