Schuilen in de sneeuw
Verrast door een sneeuwstorm? Of zoek je vruchteloos naar onderdak tijdens een ijskoude trekking? Zo bouw je zelf een schuilplaats uit sneeuw: weg snijdende wind en tintelende tenen.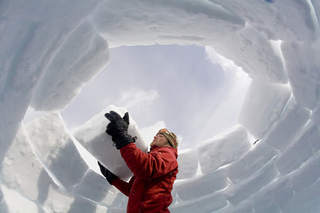 Graaf een kleine zitkuil van minstens 50 cm diep.
Bouw er met de uitgegraven sneeuw een muurtje omheen.
Als de wal ongeveer een halve meter hoog is, bouw je langzaam naar binnen zodat er een dak ontstaat.
Gebruik een zeil of reddingsdeken als dakbedekking.
Sluit de ingang af met je rugzak.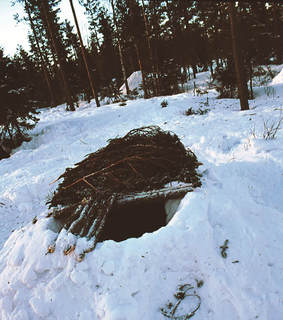 Delf een rechthoek ongeveer even lang als jezelf en een halve breedte extra.
Bedek de bovenkant met beschikbare materialen(wandelstokken, plastic of takken, …) die je bevestigt met een laag sneeuw.
Het nadeel van deze constructie is dat de koude lucht in je schuilplaats blijft stromen. Leg naast je ligplaats dus een grachtje aan zodat de koudste lucht daarin kan afdalen.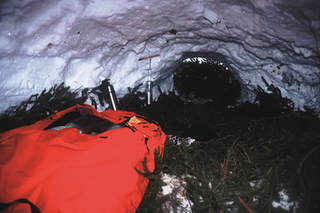 Graaf in een steile sneeuwberm (min. 25°) een kleine 'grot'.
Maak de voorkant dicht met een muur van de uitgegraven sneeuw
Zorg voor een kleine ingang, lager dan het hol.
Maak in het plafond ventilatiegaatjes met je wandelstokken.
Strijk alle wanden mooi glad om druppelende condens te vermijden.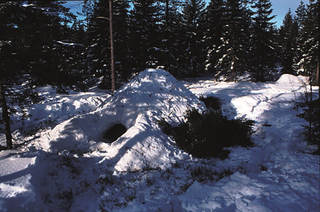 Dit is een redelijk comfortabele schuilplaats.
Schep een berg sneeuw van minstens 3,5 m doorsnede.
Steek in de sneeuwberg stokken die ongeveer een halve meter lang zijn.
Graaf een lage ingang en hol dan heel de binnenkant uit tot tegen de stokjes.