Hoofdzaken eerst
Dol op snelle afdalingen in de sneeuw? Zorg dan ook voor een steengoede bescherming op de piste. Draag naast pols-, knie- en elleboogbeschermers zeker een skihelm.

 Joris Van Gestel van de BVSI (Belgische Vereniging van Sneeuwsport Instructeurs) geeft je 7 tips voor de aankoop van de perfecte helm.
Laat je niet verleiden door de look. Het zit 'm in de pasvorm.


Je hoofdomtrek (meten net iets boven je wenkbrauwen) bepaalt je helmmaat. De helm moet strak, maar ook comfortabel zitten.


Koop een helm nooit op de groei. Al kan je een kinderhelm meerdere winters gebruiken door de regelbare maatverstelling.


Probeer verschillende modellen uit van dezelfde maat.


Zorg dat je skibril past op de helm. Neem je sneeuwmasker mee naar de winkel of koop ze allebei tegelijk.


Ook met een helm op moet je alles goed kunnen zien en horen. Test dat zeker eens uit.


Kijk na of de helm een sticker heeft met het CE 1077- of CE 1078-label. Check? Dan voldoet hij aan alle Europese normen.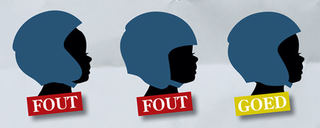 Je helm mag niet te ver over je voorhoofd hangen of in je nek leunen. Span de bandjes goed aan, maar niet te strak. De kinband helpt hem recht op je hoofd te houden.