Glijden met groeven
De structuur in het belag van je ski of snowboard zorgt voor een beter glijvermogen en kantenwisseling op de sneeuw. Want hoe beter de structuur aangepast is aan de weersomstandigheden, hoe meer fun op de piste. Vergelijk het met regenbanden of slicks op een Formule 1-wagen.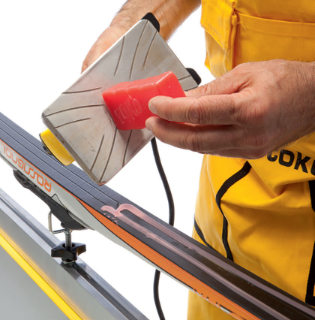 De experts van het Snow Atelier zorgen bij de onderhoudsbeurt van je ski of board voor een waxstructuur die op elke berg zijn mannetje kan staan. De beste structuur op de onderkant van je lat(ten) is afhankelijk van heel wat variabelen: natte sneeuw of droge sneeuw, de grootte van de sneeuwkristallen, de hoogte...

De mogelijkheden zijn eindeloos, maar deze twee structuurtypes worden het vaakste gebruikt.
Lineair: Bij een lineaire structuur lopen groeven recht van tip tot tail. Het is voor de meeste omstandigheden een prima oplossing. Vooral bij grote snelheid is het de beste keuze.
Diagonaal: Als de groeven schuin over de kant lopen, spreek je van een diagonaal patroon. Zo word het smeltwater tussen de sneeuw en ski snel afgevoerd. Ideaal voor natte, warme omstandigheden.
Naast de keuze van de soort structuur is ook de breedte en diepte van de groeven van doorslaggevend belang. Een geijkte formule is er niet. De verschillende types worden ook steeds gecombineerd en het is een kwestie van voorkeur en veel testen. Vraag zeker raad bij de experts in onze Snow Ateliers.