Do the robot
Even voorstellen: Wintersteiger Discovery. Groot en groen als de Hulk, maar gezegend met een fijne motoriek om elke vakman jaloers te maken. Zijn grootste talent? Hij maakt je ski's of board in een handomdraai sneeuwklaar.
Kanten messcherp slijpen, gladschuren, structuur aanbrengen om het glijvermogen te verhogen, waxen … De grootste en meest geavanceerde onderhoudsrobot doet het allemaal computergestuurd en bliksemsnel. "Het resultaat is verbluffend", zegt expert Wim Vanvinckenroye. "Zo'n precisie is gewoon onmogelijk met de hand, zelfs voor een specialist. De Wintersteiger Discovery zorgt dat elke groef, elke kant, elke vierkante centimeter wax perfect egaal onderhouden wordt. Technologisch zijn we daarmee tien stappen voor op de rest."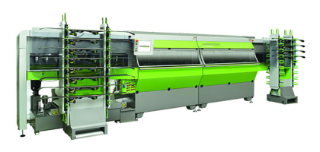 Droom jij ook van onberispelijk onderhouden wintermateriaal? Breng je ski's of board binnen bij een A.S.Adventure Store met verhuurafdeling en vier tot vijf dagen later krijg je ze in topvorm terug. In die tijd reisden ze heen en weer naar de onderhoudsrobot in het hoofdkwartier van A.S.Adventure. Bekijk het als een wellness-uitstapje voor je hardware. Moet kunnen, toch?
Bij aankoop van ski's of snowboard krijg je altijd twee onderhoudsbeurten gratis. Zo ben je zeker dat je materiaal piekfijn blijft, ook na de eerste weken wintervakantie. Dit onderhoud gebeurt door onze nieuwste Wintersteiger-wondermachine. Of wat had je gedacht?
Onderhoud ski's en snowboards