Diehards kiezen voor camber
Diehards kiezen voor Camber
Snowboards met rockerprofiel maakten in korte tijd furore. Toch is de camber verre van afgeschreven, want diehards blijven nog steeds zweren bij deze spannende voorspanning.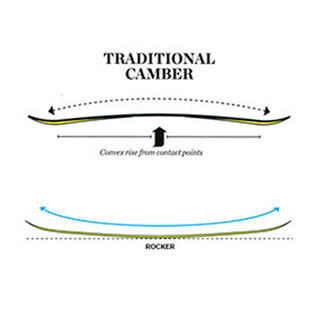 Traditioneel hebben ski's en snowboards een camberprofiel. Door de voorspanning raken enkel de tip en tail de grond als de plank plat ligt. Die voorspanning zorgt er voor dat je hard kunt carven in de bocht. Maar ook het zogenaamde rockerprofiel wint steeds meer terrein. Bij zo'n type ski of board raakt enkel het midden de grond en gaan de tip en tail de lucht in. Compleet het tegenovergestelde van een camber. Een rocker is vergevingsgezinder, speelser en valt vooral in de smaak van freestylers en beginners.

De rocker leek in sneltempo de wereld te veroveren, omdat hij fouten makkelijk vergeeft. Maar de ouwe trouwe camber laat zich niet zomaar wegduwen. En daar zijn goede redenen voor.
Eigen energie 
Als je energie geeft aan een camberboard, krijg je energie terug. Door de voorspanning verloopt de kantenwissel in je bochtenwerk veel soepeler met een camber. Tenminste, als je een geoefende boarder bent.
Explosieve afsprong 
Seppe Smits en andere toppers rijden allemaal met een camber. Het model heeft, alweer dankzij de voorspanning, een grotere veerkracht en explosiviteit bij de afsprong van een grote jump.
Hybride 
Je ziet steeds vaker de combinatie van camber en rocker. Een rockerboard met een cambertip en -tail of omgekeerd. Vooral in diepsneeuw is een camberbasis met een rockertip & tail een grote hulp. Zo blijft je neus bovendrijven, maar heb je wel die gewilde snelle kantenwissel.

 
Beeld: ©snowboarding.transworld.net