De piste als proefbank
Sjezen op en naast de pistes van Sölden in het Oostenrijkse Ötztal. Het is de beste manier om wintersportmateriaal te testen, te selecteren en te beoordelen. Het testteam van A.S.Adventure taxeert alle hardware tweemaal per jaar. Tekst en uitleg van aankoper wintersporthardware Christof Bergmans en assistent-store manager Thomas Winnepenninckx.

Waarom zijn de testreizen belangrijk?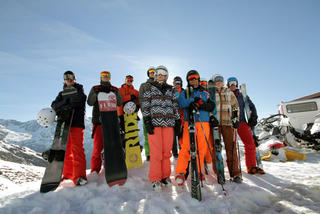 Thomas: "Elke klant heeft andere eisen en specifieke verwachtingen van zijn/haar materiaal. Daarom testen we met zo veel mogelijk verkopers op realistische terreinen."
Christof: "Kennis is essentieel voor het klantenadvies in de Stores. Onze A.S.Adventure-experts spreken uit eigen ervaring: rechtstreeks van op de piste tot bij de klant. De promopraatjes van de merken toetsen we op testreis aan de realiteit. Goed materiaal drijft boven, zwakke ontwerpen zakken door het ijs."
Hoe testen jullie het materiaal?

Christof: "Door zoveel mogelijk te skiën, te boarden en te vergelijken. Elke ski, binding, helm of boot krijgt een fiche. Daarin quoteren we criteria als polyvalentie, stijfheid en stabiliteit. We vergelijken verschillende types van verschillende merken. Alleen de beste belanden in ons gamma en dus ook bij onze klanten."
Thomas: "Het is hard werken, maar eigenlijk is het de beste job ter wereld als je houdt van sneeuw en thrills. Ik zie het als een weekje met de bergen als speeltuin (lacht)."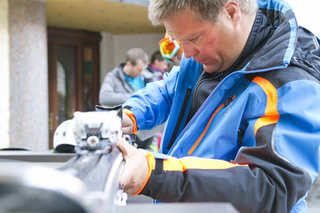 Gebeuren de tests zowel op als naast de piste?

Christof: "Zeker. 's Morgens, als de pistes er mooi geprepareerd en staalhard bij liggen, geven we punten op carven en snelheid. Na de middag inspecteren we het materiaal in de diepsneeuw of in het park."

Waarom is Ötztal de beste testsite?

Thomas: "Door de twee gletsjers ben je zeker van sneeuw. Elk moment van het jaar. Zelfs op het einde van het winterseizoen ligt er nog poedersneeuw, zodat we elk aspect van het wintermateriaal tot in detail kunnen onderzoeken."