Zo hou je je kroost warm in België
Zo hou je je kroost warm in België
Voor een écht strenge winter ligt België iets te ver van de poolcirkel, maar toch kan het ook bij ons de stenen uit de speelplaats vriezen. Om je kleine grut op en top bestand te maken tegen de wildste temperatuurschommelingen, is het drielagensysteem the way to go!

Goed gelaagd is half gewonnen

Vergeet de tijd van te dikke winterjassen waarin je kleine uk amper kan bewegen. Van bewegen krijg je het namelijk warm! En dan is het goed als zoon- of dochterlief een laagje kan uitspelen tijdens het ravotten. Zo ga je te werk: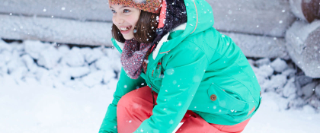 De eerste laag sluit aan op de huid en zorgt ervoor dat die droog blijft. Door het zweet snel af te voeren naar de volgende laag, krijgt het lichaam geen kans om af te koelen. Ideaal is een wollen of synthetisch onderhemdje of T-shirt. Vermijd katoen, want dat houdt het vocht net vast!

Fleece is de gedroomde tweede laag, omdat die veel lucht kan vasthouden en daardoor uitstekend isoleert. Bovendien houdt fleece amper vocht vast, zodat het zweet vlotjes verder wordt getransporteerd naar de derde laag.

Tot slot krijgen regen, wind en sneeuw geen kans dankzij een water- en winddichte jas. Zorg ervoor dat die uit ademend materiaal is gemaakt, anders blijft al het afgevoerde zweet tussen de 2de en 3de laag plakken en valt heel het drielagensysteem in duigen.

'Een kind is geen volwassene' en andere weetjes

Waar je best rekening mee houdt wanneer je je kinderen aankleedt voor een koude schooldag:

Kinderen verliezen veel sneller warmte dan volwassenen.
Kinderen hebben minder energiereserves om te verbranden als ze het koud hebben.
Terwijl ze buitenspelen, zijn ze te druk bezig om de signalen van hun lichaam te herkennen wanneer ze het te koud krijgen.
De regel is dan ook dat je kinderen best met één laagje meer dan een volwassene naar buiten stuurt. Zorg er ook voor dat ze regelmatig even naar binnen gaan om op te warmen, eventueel met een warm drankje erbij. En niet te vergeten: een muts, sjaal en handschoenen zijn onontbeerlijk bij koud weer!