Wat doe je op de camping bij slecht weer?
Wat doe je op de camping bij slecht weer?
Tot nu toe hebben we gelukkig nog maar één echte regendag gehad, die we noodgedwongen in onze tentje van zo'n twee vierkante meter doorbrachten. Met de motor door donder en bliksem rijden, leek ons niet echt veilig...
Zo'n verplichte rustdag is natuurlijk niet slecht: je krijgt de kans om even bij te komen en de voorbije dagen te evalueren, en de dag nadien ga je weer met vernieuwde energie op pad. Maar hoe hou je je tijdens zo'n gedwongen verblijf in de tent nuttig bezig? Wij zijn van het type kampeerders dat niet vies is van een beetje moderne technologie en op zulke dagen komt dat goed van pas.
Koop een Kindle of een andere e-reader, laad hem vol met boeken (onze favorieten voor op reis: de grote klassiekers waar je thuis nooit aan toe komt) en je hebt een lichtgewicht, quasi onuitputtelijke bibliotheek in je rugzak. Zelfs de grootste papierfan moet toegeven dat deze uitvinding een zegen is voor je rug!
Neem een tablet of een klein laptopje mee. Op de meeste campings is er (al dan niet gratis) draadloos internet en kan je zonder veel problemen surfen, mailen, aan je blog werken enz. tot de regen stopt.
Wij hebben een uitgebreide verzameling ingescande 'Suske & Wiskes' op onze iPad gezet. Ideaal wanneer de Kindle in gebruik is door je reisgenoot en je zin hebt in een imaginair tripje met de teletijdmachine.
Ook een pak kaarten of een compact gezelschapsspel kunnen de tijd voorbij doen vliegen.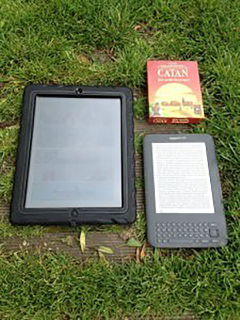 Allemaal leuke bezigheden waar je toch snel enkele uren zoet mee bent... Maar als we mogen kiezen? Geef ons dan toch maar een stralende hemel en een droog wegdek!