10 tips tegen de regen
Trek je naar jungleachtige streken waar de vochtigheidsgraad hoge toppen scheert? Of moeten er rivieren doorwaad worden op weg naar de campingplek? Verwacht je misschien gewoon een week lang regenbuien op de Schotse Highlands? Wat de reden ook moge zijn: backpacken door de regen, hoeft niet per se tegen te vallen. Op voorwaarde dat je weet hoe je je tegen de vochtigheid moet wapenen.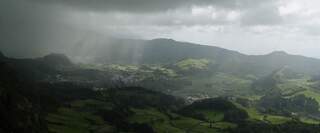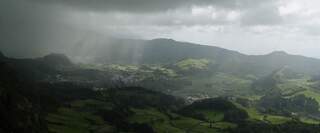 1. Draag synthetisch materiaal en fleecekledij

Hoe natter, hoe groter de nood aan synthetische kledij en fleece materiaal als isolatielaag. De reden is even logisch als eenvoudig: zelfs in natte omstandigheden biedt een fleecetrui nog de nodige warmte en bescherming. Hetzelfde geldt voor synthetische shirts en shorts.

2. Hardshell + luchtgaten = winning combo

Bij erg lange tochten waarbij het onophoudelijk regent zal zelfs de waterafstotende kwaliteit van de beste hardshell zich gewonnen moeten geven. Luchtgaten op de juiste plaatsen zorgen er evenwel voor dat zelfs de meest natte hike in alle comfort afgelegd kan worden.

3. Gebruik de juiste laagjes

Een hardshell (met luchtgaten) dragen is een ding, maar je moet ook weten wat je daar best onderaan doet. Een shirt met lange mouwen is ideaal omdat je zo het contact tussen je hardshell en je huid te allen tijde vermijdt. Alleen zo voorkom je het klammige gevoel van een hardshell die nat is aan de buitenkant en daardoor tegen je vel plakt.

4. Maak je bagage waterdicht

Het spreekt voor zich dat je de delicate bagage in dry sacks verpakt, maar ook je backpack zelf kun je maar beter extra beschermen. Waterdichte rugzakken zijn in deze veruit de beste optie, maar een pack cover kan ook een goeie – en vooral goedkopere – oplossing zijn. Aangezien een natte rugzak meteen ook een zwaardere rugzak wordt, doe je er goed aan deze tip niet in de wind te slaan.

De meeste topografische kaarten zijn geplastificeerd en dus veilig voor wateroverlast. Is dat niet zo, dan kun je je kaart(en) maar beter in een zip-lock bag bewaren.

Elke keer dat je je rugzak opent zullen er op z'n minst een paar regendruppels de weg naar binnen vinden. Op zich niet zo erg, ware het niet dat je die vochtigheid waarschijnlijk de hele tocht met je meesleurt. Open je rugzak daarom zo min mogelijk en bewaar tussendoortjes en andere zaken waar je makkelijk bij moet kunnen in zijvakjes en aparte opbergvakken.

Voor korte trektochten in natte omstandigheden kies je best voor waterdichte stapschoenen in combinatie met waterdichte gaiters. Zo bescherm je ook het stuk tussen broek en schoenen. Kwestie van de regen niet de minste opening te geven.

8. Laat je schoenen ademen

Bij lange trektochten opteer je dan weer best voor ademende trail runners. Om de simpele reden dat je de nattigheid bij een meerdaagse trektocht niet kunt buitenhouden. Het is een kwestie van tijd voor je schoenen en gaiters doordrongen worden van regen en zweet. En dus kun je maar beter meteen je nederlaag erkennen en voor de meest comfortabele optie gaan: ademende trail runners. Met als bijkomend voordeel dat de kans op blaren bij deze veel kleiner is dan bij laarzen of waterdichte wandelschoenen.

9. Geen natte spullen in de tent

Natte broeken, kousen of ander nat materiaal moet buiten de tent bewaard worden. Lap je deze regel aan je laars, dan mag je er zeker van zijn dat het slechts een kwestie van tijd is vooraleer je tent één natte boel wordt. Let er bij de aankoop van een all weather tent dan ook op dat er voldoende ventilatiemogelijkheden en extra ruimtes zijn.

10. Extra aandacht voor blaren

Natte sokken verhogen de kans op blaren aanzienlijk. De enige remedie om blaarvorming tegen te gaan is de natuurlijke oliën van je voethuid weer op peil te brengen met behulp van voetbalsem. Hou voor alle veiligheid toch ook maar een rolletje leukoplast in aanslag.