Het maakt niet uit of je op citytrip, rondreis, camping trip of zakenreis vertrekt, te veel meenemen zul je. Het lijkt zelfs een elfde gebod van God himself: U zult te veel meenemen. Wij zetten de meest overbodige vakantiespullen op een rijtje. Begin die koffer al maar uit te laden.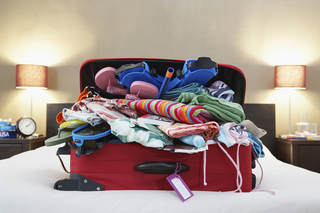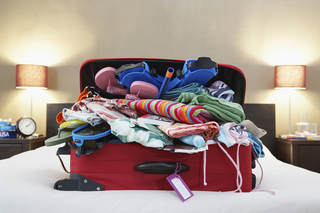 Een vrouw kan nooit genoeg kleren en schoenen hebben, luidt de volkswijsheid. Wel, het spijt ons dames, maar dat kan wel degelijk. Koop thuis gerust voldoende kleren om drie dressings mee te vullen – leef je dus gerust uit in ons fashionaanbod – zodra je op reis vertrekt is zuinigheid geboden. Denk goed na over welke activiteiten er op je vakantie aan bod zullen komen en kies je kledij en schoeisel in functie daarvan. Gedaan dus met 'jamaar, je weet nooit dat er plots een sneeuwstorm opsteekt. Dan heb ik mijn winterjas toch nodig?' en 'Voor hetzelfde geld gaan we daar paardrijden, dan moet ik mijn rijlaarzen toch kunnen aandoen?'. Neem alleen het strikt noodzakelijke en weet dat je kledij kunt wassen onderweg. Lukt dat niet en heb je echt iets nieuws nodig, dan zijn daar vast ook wel kledingzaken waar je jezelf kunt uitleven.

'We moeten toch foto's van onze reis kunnen maken?'. Natuurlijk, meneer. En in de praktijk komt dat er 95% van de gevallen op neer dat je de smartphone (die je sowieso op zak hebt) of GoPro even bovenhaalt om een – tegenwoordig al kwalitatief hoogstaand – beeld te schieten.
Tenzij je een natuurfotograaf of fotografieliefhebber bent, hoef je dan ook niet te sleuren met die grote camera en fragiele lenzen. Uiteindelijk komt die alleen op de eerste dag de valies uit en besef je vervolgens dat dat toch wel flink doorweegt, lastig aan je nek bengelt en een veel te grote aantrekkingskracht op dieven uitoefent.
Natuurlijk willen we niet dat je ziek wordt. Neem gerust de nodige medicatie tegen reisziekte, allergie of ander realistisch onheil mee. Maar vermijd dat je met een heuse reisapotheek richting buitenland trekt. Als ze je bij de bagagecontrole haast van medicijnhandel verdenken, heb je vast gewoon nodeloos veel medicatie mee. Hotels zijn doorgaans uitgerust met een flink uit de kluiten gewassen EHBO-voorziening en dokters vind je overal. Krijgen een vrijstelling in deze: kampeerders – een opmerking die overigens ook opgaat voor het obligate zakmes. Outdoorliefhebbers die echt 'off the grid' gaan kunnen maar beter op alles voorbereid zijn – want niet altijd in de buurt van dokters of apotheken – en dan is een EHBO-kit geen overbodige luxe.

Begin alsjeblief niet met accessoires allerhande te zeulen. Ja, een bijpassende halsketting en dito oorbellen zijn wel zo leuk en nemen niet veel plaats in. Maar voor je het weet begint vrouwlief haar drie favoriete handtassen in te pakken en staat de man des huizes er op om zijn collectie sjaals van zijn favoriete voetbalclub mee te nemen. Daar komen niets dan vodden van. Ban de accessoires daarom maar meteen. Op reis gaan enkel de echt broodnodige zaken mee.

Bericht aan de mensen die in een hotel, appartement of b&b logeren: bespaar jezelf de moeite en laat diehanddoeken en haardroger thuis. Je mag dan wel gehecht zijn aan je hoogstpersoonlijke haardroger en alleen de ruwheid/zachtheid van je eigen handdoeken gewend zijn, het is al te gek om te lopen sleuren met materiaal dat in elke hotelkamer op je ligt te wachten. Hetzelfde geldt dan ook voor een badjas, douchegel en badslippers. Zelfs notitieblokjes en schrijfgerei liggen er voor je klaar, dus ook die kun je met een gerust gemoed thuislaten.

Een echte Belg houdt van lekker eten en een drankje op tijd en stond. Dat betekent evenwel niet dat je een camper vol bereide maaltijden en bakken bier mee naar je reisbestemming moet nemen. Tenzij je naar het hol van Pluto trekt, is er overal wel een winkel in de buurt waar je de nodige ingrediënten voor een overheerlijke maaltijd kunt vinden. En in een hotel maken ze zelfs eten voor jou. En drinken hebben ze daar ook. Stel je dat voor...