Laat je bagage rollen
Vergeet die zwaargewichten op je rug of aan je arm, een geslaagde reis begint met een trolley. Ze komen in wel duizend-en-een formaten, maar hebben één ding gemeen: een handige telescopische arm en o ja, die kleine wieltjes waarmee je je bagage overal tussendoor loodst.

Het grootste verschil tussen een trolley en een gewone reistas is zonder twijfel het comfort. Je hoeft het volledige gewicht van je bagage niet zelf te dragen, want dankzij de telescopische arm en de wieltjes trek je de trolley gewoon achter je aan. Een verademing, vooral als je veel bagage meezeult. De meeste trolleys beschikken ook over een verschillende praktische opbergvakken en een handige draagriem. Voor een echte trektocht ben je wel beter af met een aangepaste rugzak. De wieltjes van een trolley hebben te weinig grip op een zanderige ondergrond.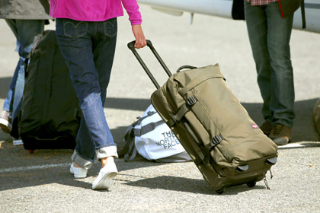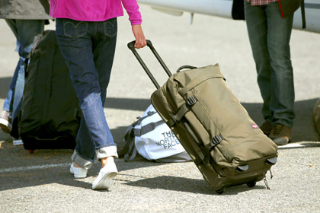 Trek je er maar even op uit? Dan bespaar je met een trolley veel tijd op de luchthaven, want die mag gewoon mee op het vliegtuig als handbagage. Afhankelijk van de grootte kun je er al je spullen in kwijt. Let wel dat de afmetingen kleiner zijn dan 55 cm hoog x 20 cm diep x 40 cm breed. Inclusief wieltjes, handvatten en hendel!

Ook studenten en zakenlui zijn fervente trolleyfans. Ze gebruiken hun koffer als klein mobiel kantoor waarin ze hun smartphone, dossiers en zelfs hun notebook opbergen. Een trolley die je regelmatig gebruikt, vraagt wel de nodige bescherming. Bij veel modellen zijn de hoeken dan ook ingekapseld met plastic of polyester en ook de wielen, naden en ritsen krijgen extra aandacht. Spring je zorgzaam om met je trolley, dan heb je hem in principe voor het leven.