Gepakt en gerugzakt
Hoe beter je je rugzak pakt, hoe meer erin gaat en hoe makkelijker je onderweg aan je spullen kunt. Bovendien bewaar je met de juiste pakmethode ook beter de stabiliteit van je rugzak. Wij leren je enkele kneepjes van het inpakvak.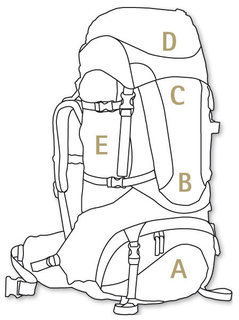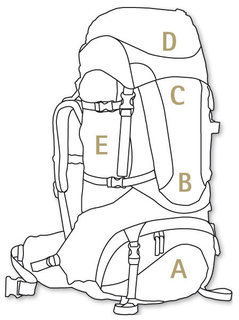 Wil je een meerdaagse wandeltocht maken, dan is het natuurlijk essentieel dat je trekkingrugzak als gegoten zit. Hier vind je enkele nuttige tips voor het passen van je rugzak, zodat hij een perfecte match vormt met je lichaam. Als je die ideale rugzak dan ook nog eens op de juiste manier vult, kun je zonder zorgen aan je trektocht beginnen. En zo doe je dat:

A: Slaapzak, slaapmat, sandalen

Slaapspullen heb je overdag natuurlijk niet nodig en stop je daarom best onderaan. Bij plaatsgebrek kun je de tentstokken en je slaapmat ook aan de buitenkant van je rugzak bevestigen. Let er wel op dat je niet te veel gerief van binnen naar buiten verplaatst, want zo verlies je stabiliteit.

B: Opgevouwen tentzeil, haringen, kledij, handdoek

Prop al je kledingstukken in (waterdichte) zakjes, zo spaar je heel wat volume uit en plooi je tent in de vorm van het compartiment.

C: Voeding, trui, jas, eet- en kookgerei

Zware stukken zoals je drinkbus of gasfles stop je best op of boven schouderhoogte en zo dicht mogelijk tegen je lichaam. Zo komt het zwaartepunt van je bagage overeen met dat van jezelf. Voorkom harde of scherpe stukken aan de rugzijde.

D: Regenbroek, verrekijker, hoofdlamp, handschoenen, muts

De spullen die je overdag nodig hebt stop je bovenaan zodat je er op ieder moment bij kunt.

E: EHBO, zonnecrème, insectenspray, snack ...

... zakmes, water, zonnebril: zijn zaken die in de zijzakken thuishoren, waar je ze ook snel terugvindt als je ze nodig hebt.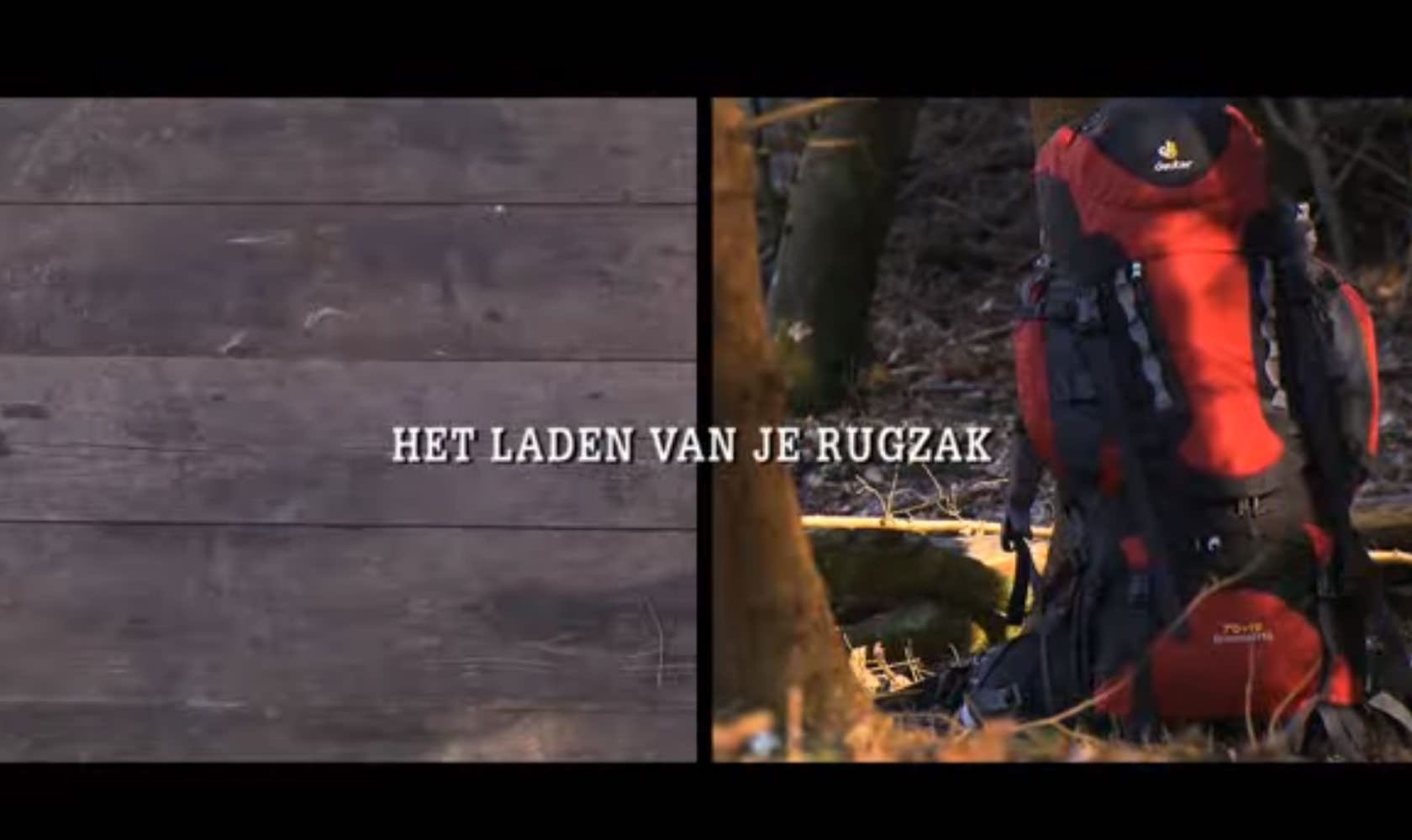 Hang zo weinig mogelijk aan de buitenkant van je rugzak. Zo verstoor je de stabiliteit waardoor je rug- en beenspieren veel zwaarder belast worden. Om diezelfde reden vind je tegenwoordig vooral rugzakken met een intern in plaats van een extern frame, wat heel wat voordelen biedt.
Stop alles wat kan lekken en alles wat droog moet blijven in zakjes. Wikkel insectenspray in een stuk stof, want bij lekken kan dit het materiaal van je rugzak aantasten. Meer tips om jezelf én je uitrusting droog te houden, vind je hier.
Materiaal dat snel stuk gaat, kun je in een handdoek of T-shirt verpakken.
Probeer voor je op stap gaat verschillende pakmethodes uit. Zo weet je op voorhand welke manier het beste aanvoelt. Het komt er daarbij op aan niet te bepalen wat je nodig hebt, maar wat je zeker niét nodig hebt.
Een zware lading op je rug heeft ook impact op je voeten. Met de juiste combinatie van schoenen, sokken en zolen houden je voeten het gegarandeerd kilometerlang vol.
Benieuwd hoe je jouw outdoor gear als nieuw houdt? Hier vind je enkele nuttige onderhoudstips.