Enchanted Valley-trail


Trail tip: Als je de volledige trail wil doen richting Dosewallips, kun je maar beter goed voorbereid zijn. In dit geval betekent dat vooral: over twee auto's beschikken. De twee trailheads (een trailhead is het beginpunt van een trail) liggen immers op een aanzienlijke afstand van elkaar.

De Enchanted Valley-trail is een 55 km lange point-to-point trail van Lake Quinault door Enchanted valley tot aan Dosewallips in het Olympic National Park. Wij hebben er om praktische redenen een in-out-trail van gemaakt en dat hebben we ons geen seconde beklaagd. Je kunt op dag twee of drie moeiteloos doorstoten richting Dosewallips, de trailhead in het oosten van het park, op voorwaarde dat je goed voorbereid bent. (zie trail tip)
Normaliter start je trail aan Lake Quinault. Onze tocht startte echter in Seattle, waar we de ferry namen naar het fenomenale olympische schiereiland, het meest noordwestelijke landsdeel van de Verenigde staten - Hawaï en Alaska buiten beschouwing gelaten. We reden over het schiereiland via Highway 101 rond het Olympic National Park tot aan Lake Quinault in het zuidwesten van het park. Een rit om duimen en vingers bij af te likken, want al tijdens de rit begrijp je waarom Washington 'The Evergreen State' genoemd wordt.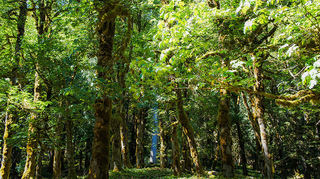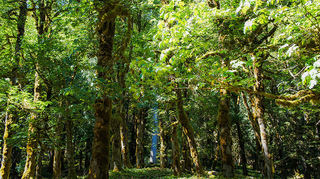 Je begint met een eenvoudige trail van 21 km die je door een betoverd bos voert. Waarna je de Quinault-rivier volgt. Het einddoel voor dag 1 is Enchanted Valley. De hike door dit bos is met geen woorden te beschrijven, dus geloof ons maar gewoon als we zeggen dat de trail fantastisch is en je je geen minuut zult vervelen. Het is alsof je door een sprookje wandelt. De bomen in dit bos zijn breder dan jij groot bent en achter elke hoek lijkt een nieuw bos te schuilen.
Na 7 à 8 uur stappen kom je aan in de vallei, en die heeft haar naam niet gestolen. De pracht van het bos wordt hier gecombineerd met de kracht van de bergen en aan het einde van de vallei kijkt je uit over wat er nog overblijft van Anderson Glacier.
Als je 21 km wat te veel van het goeie vindt voor een eerste dag, is het goed om weten dat er op weg naar Enchanted Valley verschillende kampeermogelijkheden zijn. Je kan deze zware eerste dag dan ook makkelijk opdelen in twee rustigere dagen.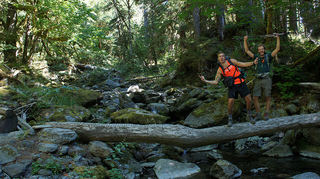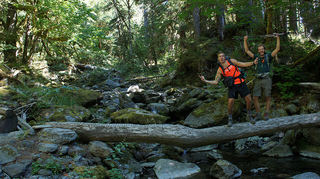 Dag 2 klim je naar Anderson Pass en als je wat energie over hebt stoot je meteen door naar Anderson Glacier. Een tocht van zo'n 10 km heen en een kleine 10 km terug. Een stevige klim waar je op het einde een uitgestrekt uitzicht verwacht... maar dat blijft evenwel uit. Dit is niet de trail met de prachtige vergezichten. Toch vormt de klim een gepast eindpunt van je trail en word je getrakteerd op een heerlijke afdaling in Enchanted Valley. Na een korte maar krachtige dag, arriveer je aan de kampeerspot die je de vorige dag hebt opgezet. Home at last!
De voordelen van een lightweight klim spreken voor zich: je beweegt kwieker, stijgen en dalen gaat sneller en op het einde van de dag zijn je knie'n niet de pineut. Ook hier is een uiterst verfrissend kattenwasje in de rivier de enige optie. Het enige wat je na die wasbeurt nog rest is: genieten van je kampeerplek, je vuurtje, een slokje rum en de intussen zo vertrouwde droge voeding.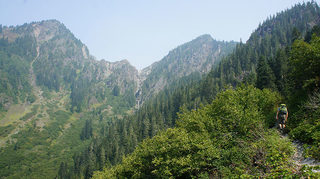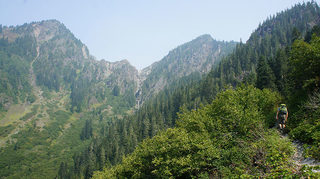 Op de derde dag wandel je terug richting Quinault Lake. De trail verveelt nog steeds niet en vermits de hoogtemeters in je voordeel werken, weliswaar in beperkte mate, ben je een uur of twee sneller rond dan twee dagen geleden. Je neemt een duik in het meer, bestelt een biertje en een hamburger in de bar aan het meer en je bent klaar voor de rit naar de volgende hike.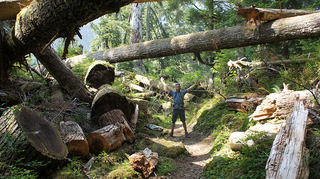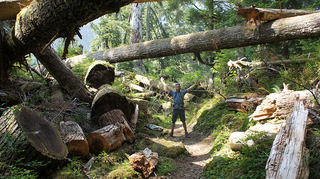 Pro:
+ Unieke trail door een regenwoud
+ Kampeerplek in Enchanted valley
+ Relatief eenvoudig
+ Afwisseling op de bergtrails
Contra:
- In-out trail
- Slechte bereikbaarheid