Dwalen door het groen in een grootstad

Stadsvogel of buitenfanaat: wie zegt dat je de keuze moet maken? In de meeste wereldsteden hoef je niet ver te zoeken naar een gezonde portie natuur. Vul je trolley met fashion- én outdooroutfits als je één van deze groene steden onveilig wil maken. En vergeet ook je wandelschoenen niet…

Je zou het misschien niet zeggen als je The Big Apple binnenrijdt, maar New York City is de groenste stad van de Verenigde Staten.
Iedereen kent Central Park en da's niet meer dan terecht. Zomer én winter is dit de geliefkoosde plek voor elke geboren en getogen New Yorker om wat zuurverdiende qualitytime door te brengen. Met een uitgebreid net van wandelpaden, twee ijsschaatsbanen, een roeivijver, sportvelden, speeltuinen en een dierentuin biedt het park vertier voor groot en klein. Trek er gerust een volledige dag voor uit.
Wandelen, fietsen, skaten of picknicken langs de Hudson met uitzicht op New Jersey, dat doe je in hetHudson River Park. Of bekijk New York eens van op het water en waag je aan een kajak- of kanotochtje op de rivier. In de zomer kun je er ook films en concertjes meepikken.
Het beste voorbeeld van een toefje groen in de betonnen jungle van Manhattan vind je in het High Line Park. Dit park kronkelt zich een weg boven je hoofd langs een verlaten treinspoor in de industriële West Side. Op de houten loungezetels kun je genieten van de inheemse bloemen en planten, en het oogverblindende uitzicht op de stad natuurlijk. Dé plek bij uitstek voor een flinke portie people watching.
Ook buiten Manhattan vind je leuke groene plekjes: Flushing Meadows-Corona Park in Queens, Fort Greene Park in Brooklyn en Pelham Bay Park in de Bronx zijn echte toppers.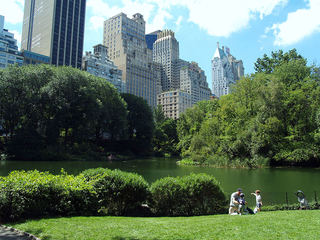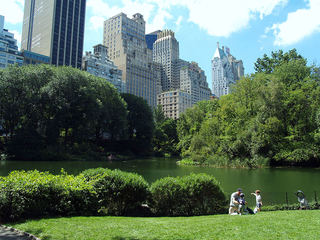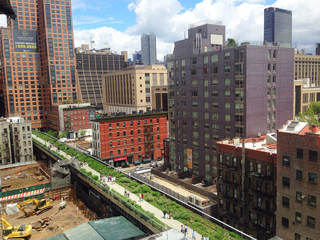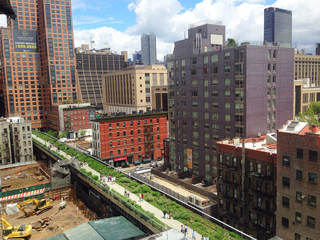 De Zweedse hoofdstad wordt ook weleens het Venetië van het Noorden genoemd, en dat kunnen we alleen maar beamen. Groene slierten glijden als rivieren door de stad.
Het immens grote Royal National City Park biedt een thuis aan 100 verschillende vogelsoorten, meer dan 800 plantensoorten en ruim 1.200 soorten insecten. Naast deze overvloed aan fauna en flora, kun je er bovendien kennismaken met de Zweedse geschiedenis. Er bevinden zich immers ook kastelen en musea in het park.
Op Observatorielunden, een groene heuvel middenin de stad, sterven de stadsgeluiden uit. Bekijk de ondergaande zon op deze oase van stilte, en je wordt halsoverkop verliefd op Zweden.
Een vijftiental minuten op de metro vanuit het centrum, en je staat aan het begin van het Roslagsleden Trail. Deze wandelroute van 190 km brengt je in contact met het Zweedse binnenland en de kust. Na elke sectie is er een gratis kampeerplaats voorzien, maar je kunt ook wildkamperen. Handig en goedkoop!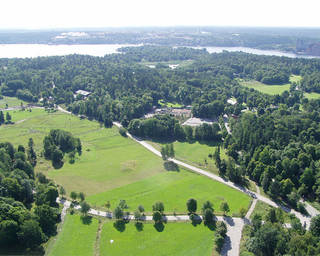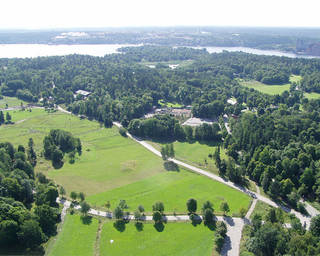 Vergeet dat grauwe, industriële imago van foggy Londen: de Britse hoofdstad barst inmiddels van de groene ruimte.
Het Richmond Park in het zuidwesten van de stad is met zo'n 955 hectare het grootste ommuurde stadspark van Europa. Je kunt er niet alleen heerlijk fietsen, vissen, paardrijden en golfen, maar ook de lokale wildlife spotten. Er lopen bijvoorbeeld meer dan 600 herten vrij rond in het park.
Dichter bij het stadscentrum kun je jouw longen vullen met groene lucht in het Battersea Park, waar je omringd door vogels en eekhoorntjes kunt genieten van een ommetje rond het meer of een bezoekje aan de dierentuin.
Trek je wandelschoenen aan en ga op ontdekkingstocht door Epping Forest, Londens grootste groene gebied met 2.400 hectare puur buitenplezier. Het bevindt zich op amper een uurtje van de metro vanuit het centrum.
Andere groene aanraders in de stad: Olympic Park, Better Bank Side Urban Forest en Camley Street Natural Park.
Helemaal in de ban van Londen? Met deze reislectuur erbij kun je volop plannen maken voor je eigen trip.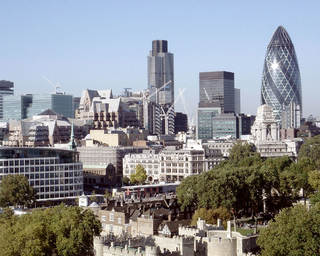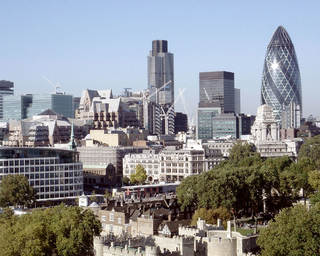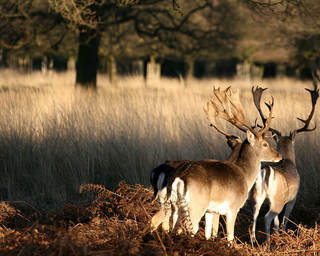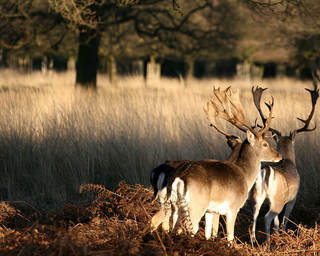 Singapore staat niet voor niets bekend als 'The Garden City', en dat heeft de stadstaat te danken aan de revolutionaire visie op stadsontwikkeling van voormalig premier Lee Kuan Yew in 1968.
Met een kabelliftje kun je naar Mount Faber Park, gelegen op een 105 meter hoge heuvel op tien minuutjes buiten downtown Singapore. Bovenop de met secundair regenwoud begroeide helling heb je een geweldig uitzicht op het zuidelijke deel van de stad en de bijhorende eilanden.
Staat je bibliotheek vol met reis- en geschiedenisboeken? Ontdek dan zeker het Labrador Nature Reserve. Prachtige natuur raakt er vervlochten met restanten uit de Tweede Wereldoorlog. Destijds hell on earth, maar nu een ode aan de stilte en de vrede.
Nog steeds niet verzadigd door al dat groen? Volg dan The Southern Ridges. Deze wandelroute van 10 km verbindt alle populaire parken en tuinen. Je krijgt de vogels als reisgezellen, want je stapt letterlijk door de boomkruinen. Talk about a view!