De inheemse bevolking van Papoea-Nieuw-Guinea in beeld
De inheemse bevolking van Papoea-Nieuw-Guinea in beeld
Papoea-Nieuw-Guinea mag je gerust de laatste onbekende wildernis van deze planeet noemen. Het wilde en woeste karakter van dit stukje aards paradijs lieten reisjournaliste Debbie Pappyn en haar partner en fotograaf David De Vleeschauwer echter niet afschrikken. Met deze vijf unieke foto's brengen ze een sprekend portret van de inheemse stammen die deze wondere wereld bewonen.

De lokale jeugd ligt niet wakker van de non-stopactiviteit van de ambitieuze Tarvurvur naast het stadje Rabaul, dat bijna constant onder een laagje vulkaanas leeft. Deze kleine Papoese speelvogels ravotten in het rustige water van Blanche Bay en Simpson Harbour op het Gazelle Peninsula dat deel uitmaakt van het eiland New-Britain. Slapen met zicht op deze fascinerende vulkaan die 's nachts vurig oplicht, doe je in het Rapopo Plantation Resort, het lievelingsadres van vulkaanliefhebbers én diepzeeduikers. Onder de waterspiegel zetten de paradijselijke vergezichten zich immers genereus verder.

Dramatisch, een beetje angstaanjagend zelfs. Maak kennis met de 'mud men' aka de Asaro, die als geestachtige verschijningen opduiken in de dichte jungle van de Highlands. De legende zegt dat deze stam ooit verslagen werd door hun vijand en naar de Asaro-rivier vluchtte om zich te verschuilen. Bij valavond rezen ze terug op vanuit de modderige oevers van de rivier, om de indruk te wekken dat ze geheimzinnige geesten waren. De maskers werden gemaakt met steentjes uit de rivier om het nog dramatischer te maken. Het joeg de andere stam zoveel angst aan, dat de Asaro gered waren.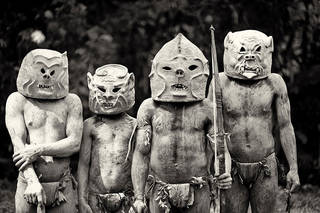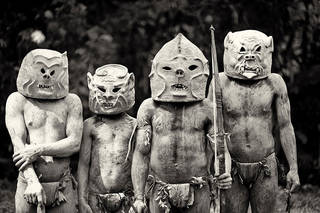 Maritieme lichaamsversiering

Tropische fjorden en spierwitte stranden: maakt kennis met de Oro-provincie en de afgelegen maar fraaie Cape Nelson-regio. De Korafe Tribe decoreert zich met schelpen, zeegrassen en kleurrijke veren van de paradijsvogels die hier in grote getalen leven. Ze staan ook bekend om hun veelzijdige tatoeages op het gelaat. Zelfs de dames laten zich in hun tienerjaren op het gezicht tatoeëren. Het stamhoofd van deze tribe draagt een haaienbek over zijn hoofd als ultiem vertoon van kracht en dominantie.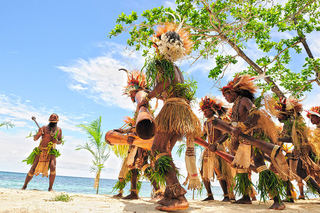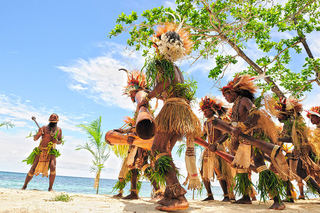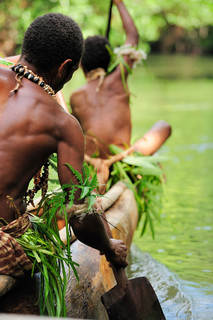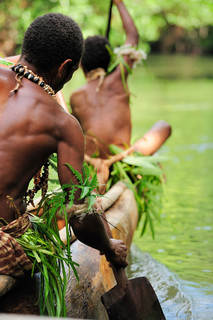 Diep verborgen in de mangrovewereld leeft de Korafe, een stam wiens leefwereld afwisselt tussen oceaan, strand en strandbos. Tijdens ons bezoek maken we een tochtje met hun superslanke, uit boomstammen gemaakte kano's. Heerlijk, dat stilzitten en genieten van een onaangetaste, zacht voorbijglijdend natuur ... Wie wil, kan hier zelfs aan couchsurfing doen en bij de locals overnachten in op stelten gebouwde hutten. Je ruilt dan het comfort van een hotelkamer in voor de intense maar oprechte ervaring bij een Papoese stam te leven.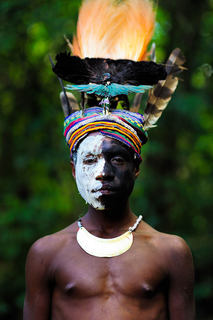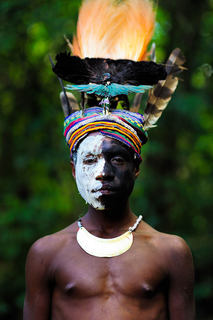 Elke stam in Papoea-Nieuw-Guinea – zelfs elk stamlid – heeft zijn eigen en unieke look. Kleurrijk en exuberant met opvallende pluimen, zaden en schelpen of ingetogen, mysterieus zwart-witte klederdracht. Papoea-Nieuw-Guinea staat voor een complexe en gelaagde diversiteit, zowel in de cultuur met de honderden verschillende dialecten en stammen als in de fauna en flora die nog altijd schatten en onontdekte dier- en plantensoorten verbergen. Reis je naar Papoea-Nieuw-Guinea, voorzie dan genoeg tijd. Zeker wie op bezoek bij de stammen gaat, zal schoonheid vinden in het traag observeren van de prachtige klederdracht van de locals.

Nieuwsgierig naar de reisverhalen van Debbie Pappyn uit Papoea-Nieuw-Guinea? Haal dan snel jouw exemplaar van A.S.Magazine nummer 35 in je favoriete A.S.Adventure store.
>> Hier vind je een overzichtje van wat je nog meer mag verwachten.

Heb jij ook knappe foto's gemaakt op je exotische reisbestemming?
>> Laat ze niet in de vergeetput belanden, maar deel ze met ons! Post ze op onze Facebook-fanpagina of deel ze op Twitter en Instagram met #asadventure.