De allermooiste treinstations in Europa
De allermooiste treinstations in Europa
Dat het met de trein altijd een beetje reizen is, dat weten we zo naderhand wel. Maar het wordt pas echt leuk wanneer een treinstation er ook daadwerkelijk goed uitziet. Of je nu in Antwerpen en Stockholm moet zijn of niet, een mens zou er bijna heen sporen om de lokale stations eens van dichtbij te kunnen bewonderen. Hetzelfde geldt trouwens voor Londen, Kiev en Den Haag.

Nu staan wij Belgen bepaald niet te boek als een chauvinistisch volkje, maar over het centraal station van Antwerpen mogen we met recht en reden stoefen – zoals ze in 't stad zeggen. Het oorspronkelijke station – dat uit de bovenste zes sporen bestond – werd gebouwd tussen 1895 en 1905, maar het was de renovatie die in 1998 werd aangevat die Antwerpen-Centraal tot het mooiste station ter wereld omvormde. In 2007 waren de werken eindelijk afgerond. Dat die renovatieronde maar liefst 1,6 miljard euro kostte, werd amper vier jaar later alweer ruimschoots gecompenseerd door de toekenning van de European Union Prize for Cultural Heritage. Eat that, New York Grand Central!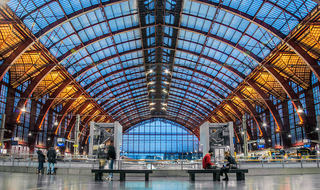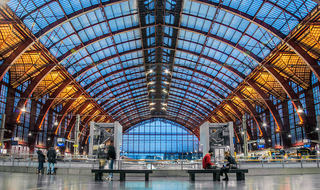 T-Centralen Station (Stockholm)

Veruit het meest kunstzinnige treinstation is ongetwijfeld T-Centralen Station in Stockholm. Architect Adolf W. Edelsvärd wist dan ook verdomd goed waar hij mee bezig was tussen 1867 en 1871. In 1951 kreeg dit architecturale pareltje een kleine facelift en in 1958 werd nog een tunnel aan het station toegevoegd. Meer moet dat niet zijn, want het zag er van in den beginne al fantastisch uit.

Wist-je-datje: De warmte die gegenereerd wordt door de aanwezigheid van de meer dan 200.000 bezoekers die dagelijks passeren door T-Centralen Station, wordt gebruikt om een nabijgelegen kantoorgebouw te verwarmen.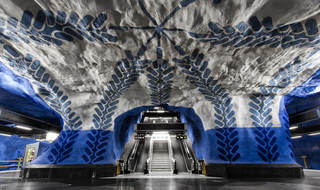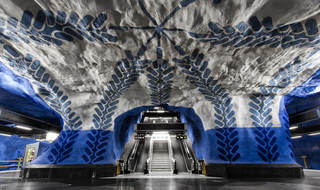 St. Pancras Station (Londen)

Het prachtgebouw in Victoriaanse stijl siert Euston Road al sinds 1868. St. Pancras Station werd in 2007 officieel herdoopt tot St. Pancras International, maar die naam is in de volksmond nooit echt ingeburgerd geraakt. In de jaren zestig was er zelfs sprake van om het station met de grond gelijk te maken. Gelukkig zag het stadsbestuur van die dwaze gedachte af en besteedde het tussen 2001 en 2007 1 miljard euro aan de renovatie van London's finest.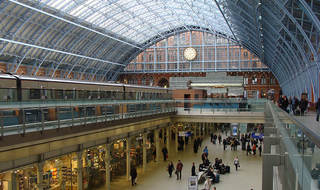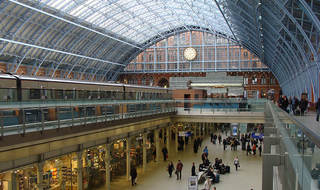 Netkous Viaduct (Den Haag)

De netkous is de populaire benaming voor het tramviaduct dat tussen 2004 en 2006 gebouwd werd in Den Haag. Uniek in z'n soort is de netkous niet, maar bepalend voor het straatbeeld in de Haagse wijk Bezuidenhout is ze des te meer. De creatie van Zwarts & Jansma architecten wordt door sommigen verwerpelijk bevonden en door anderen dan weer een regelrecht kunstwerk genoemd. Eén ding is zeker: het is een technisch huzarenstukje. En grappig eigenlijk ook wel, toch?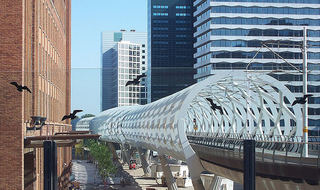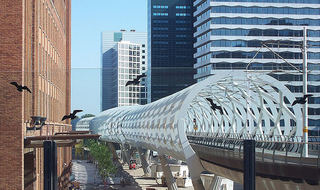 Zoloti Vorota Station (Kiev)

Het enige metrostation uit de lijst en daarmee meteen ook het buitenbeentje. Maar wat voor een buitenbeentje! Zoloti Verota Station is een architecturale parel die meer klasse uitstraalt dan een doorsnee Parijs hotel. Het werd in gebruik genomen op 31 december 1989 en wordt vooral geroemd om de centrale hal met de oh zo typerende halfbogen.

Wist-je-datje: Het station bevindt zich op 96,5 meter onder de grond. Het is maar dat je het weet.