Wanneer 'loopt' een loopverslaving uit de hand?
Wanneer 'loopt' een loopverslaving uit de hand?
Het begon bij enkele looptochtjes per week, maar nu snak je elk moment van de dag naar het gevoel van 'runners high'. Hoe valt dit gevoel te verklaren? Maar ook, wanneer 'loopt' een loopverslaving uit de hand?

De grens tussen regelmatig lopen als gezonde hobby en een echte loopverslaving is moeilijk te trekken. Voor wie nooit of onregelmatig loopt, valt het moeilijk te begrijpen. Waarom beulen mensen zich na een drukke werkdag vol stress zich al lopend nog eens extra af? Behalve argumenten als: 'ik voel me als herboren onder de douche na een training', 'ik train voor die wedstrijd' of 'ik wil mijn algemene conditie op peil houden', speelt er nog iets anders.
Mensen lopen niet alleen omdat ze het leuk of ontspannend vinden, maar ook omdat ze van hun lichaam 'moeten'. Dit fenomeen – het zogeheten 'runners high' of de trance waarin sommige lopers zich bevinden – houdt talrijke onderzoekers bezig.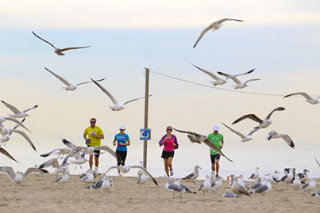 Loopverslaving valt als volgt te verklaren. Tijdens het lopen produceren onze spieren lactaat, een soort van afvalstof. Deze stof prikkelt op zijn beurt de hersenen om endorfines af te scheiden. Endorfines die door lang genoeg lopen massaal vrijkomen in de bloedbaan, leiden op hun beurt tot een euforisch gevoel, waardoor ze als positief verschijnsel de vermoeidheid van de loper een zekere tijd maskeren.

Ontwenningsverschijnselen

Na het lopen valt de hoeveelheid endorfine in het lichaam sterk terug, zelfs onder de normale endorfinespiegel. Hierdoor groeit bij een getraind loper in rust de lichamelijke drang om opnieuw 'de kick' van het lopen te beleven.
Intensieve lopers die plotseling hun trainingen moeten staken door bijvoorbeeld een blessure, kampen daardoor met 'onttrainingsverschijnselen', te vergelijken met echte ontwenningsverschijnselen. Het lichaam heeft zich doorheen de vele trainingen ingesteld op een bepaalde hoeveelheid endorfines, maar deze blijven nu achterwege. Het verbreken van dit evenwicht leidt tot een gevoel van onbehagen en stress, tot zelfs slapeloosheid, extreme vermoeidheid en hartkloppingen. Plotseling stoppen met lopen na een intensieve trainingsperiode, is dan ook sterk af te raden. Beter kies je voor een trainingschema waarmee je geleidelijk afbouwt.
Naast de fysieke drang naar het lopen, moet je als regelmatige loper ook luisteren naar andere signalenvan je lichaam. Ontstekingen en andere vervelende blessures ontstaan meestal door overtraining. Laat je daarom bij het opstellen van je trainingschema ook en vooral gidsen door het gezond verstand en de grenzen van je eigen lichaam. Loopverslaving heeft als positieve eigenschap dat het helpt om je grenzen te verleggen, maar zoals altijd geldt hier ook: te veel is te veel. Het belangrijkste advies is dan ook: wees bewust van het verslavende karakter van lopen. Geniet ervan, maar drijf je lichaam niet tot het uiterste. Bij een blessure door overbelasting blijf je weken, vaak zelfs maanden verstoken van het fijne gevoel van lopen.