Loop de zolen van onder je loopschoenen
Loop de zolen van onder je loopschoenen
"Hoe weet ik welke loopschoenen ik precies moet kopen"? Het moet zowat één van de vaakst gestelde vragen in loopcentra en sportwinkels zijn, op de voet gevolgd door "En hoelang gaan ze mee?". Een antwoord op beide vragen is dan ook niet op een-twee-drie te geven. Daarom geven we je hier de basisregels mee. Kwestie van een weloverwogen keuze te kunnen maken en nadien zolang mogelijk van je loopschoenen te genieten.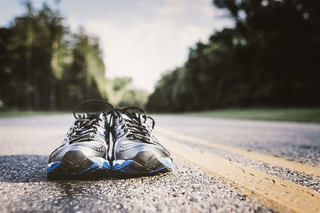 Alles begint bij de keuze van de juiste loopschoen. Een individuele keuze uiteraard, want een loopschoen moet perfect aansluiten bij jouw voeten. Duur is niet per se beter. Een bekend merk is niet altijd kwalitatief hoogstaander. En de kleur of hipheid is absoluut bijzaak. Het is gewoon zaak om het meest geschikte paar voor jou(w voeten) te vinden. En dat doe je zo:
Laat je looppatroon uittekenen via een loopanalyse in een van onze Stores, en loop indien nodig even langs bij de podoloog;


Eens je weet welke biomechanische afwijkingen je (hopelijk niet) hebt, weet je meteen ook welke loopschoenen het meest geschikt zijn voor jou. Kwalitatieve loopschoenen zijn er trouwens voor elk voettype en looppatroon;


Geschikte paar gevonden? Dan rest er maar één ding: lopen! Zoveel als je maar wil.
Wist-je-datje: Nieuwe loopschoenen motiveren om meer te lopen dan je daarvoor deed. Leuk op zich, maar overdrijf nu ook niet meteen. En wat je ook doet, grijp nooit terug naar je oude loopschoenen. Dan eens met het ene paar lopen en dan weer met het andere, is geen bijster strak plan met het oog op comfortabel en blessurevrij lopen.

Maximaal bereik: 1.500 km

Hoe goed de loopschoen van jouw keuze ook, hij zal het hard te verduren krijgen. Impact tijdens het lopen? Tot drie keer je eigen lichaamsgewicht! Dat is niet niks, en dat maakt ook dat zelfs het beste paar loopschoenen na maximaal 1.500 km eigenlijk aan vervanging toe is. Zelfs al zien ze er nog piekfijn uit op dat moment, de dempingswaarde zal verminderd zijn en de schoen zal niet meer functioneren zoals aanvankelijk ontworpen. Kortom, technisch gezien is hij dan 'versleten'. Een ramp hoeft dat niet te zijn, maar het vergroot de kans op blessures wel aanzienlijk. Hou die richtafstand sus in het achterhoofd: 1.500 km. Of je die nu verspreidt over een tiental maanden, twee jaar of een lustrum.

Wist-je-datje: Een paar loopschoenen heeft idealiter 35 uur rust nodig tussen twee runs om opnieuw het best van zichzelf te kunnen geven. Wie meer dan vier keer per week loopt, kan zich dan ook maar beter een tweede (identiek!) paar loopschoenen aanschaffen.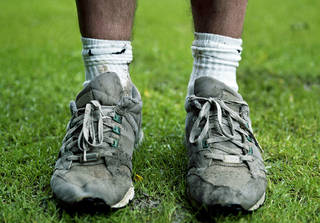 Versleten? Ik had het moeten weten!

Idealiter voel of merk je zelf ook wel wanneer je loopschoenen niet meer voldoen. Maar er zijn ook uiterlijke kenmerken die een belletje kunnen doen rinkelen. Afgesleten zolen, gaten in de mesh en afgetrapte zijkanten zijn doorgaans weinig subtiele indicaties van een versleten loopschoen. Schoenen van betere kwaliteit verslijten doorgaans iets minder snel – trailschoenen zijn het meest duurzaam, maar zijn dan weer niet voor elke ondergrond geschikt.

Wist-je-datje: Natte schoenen steek je niet in de wasmachine, laat je niet buiten liggen en zet je niet onder de verwarming. Tenzij je ze beu bent, natuurlijk. Wie zijn loopschoenen nog even wil kunnen aandoen, laat ze best gewoon drogen op kamertemperatuur, opgevuld met krantenpapier om de vorm te behouden en het vocht te absorberen.