Doorlopen is de boodschap!
Doorlopen is de boodschap!
Eens je de loopmicrobe te pakken hebt en de runners high jouw beste vriend is, ga je het hele jaar door willen blijven lopen. No problem there, mits enkele kledij-aanpassingen natuurlijk. In de zomer geen lange loopbroek of loophandschoenen, maar wel een pet en … ja wat nog allemaal eigenlijk?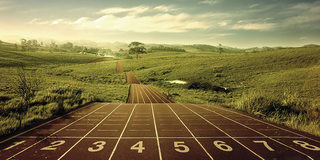 Winter, zomer, lente of herfst, loopschoenen moeten het hele jaar door voldoende kwalitatief zijn. Bij de aankoop van de juiste loopschoenen voor jouw loopprofiel, kun je je maar best laten begeleiden door een van onze experts. Afhankelijk van eventuele afwijkingen heb je een ander type loopschoen nodig. Afhankelijk van de ondergrond waarop je loopt ga je maar beter voor gewone loopschoenen (grind, gras en macadam) of trail running shoes (modder, rotsachtig parcours).

Wist-je-datje: De juiste loopkousen zijn net zo belangrijk als goede loopschoenen. Een wandelsok of tenniskous is iets anders dan een paar loopsokken. Het verschil zit hem in de naden, de dikte en de dempende kwaliteit.

Lopen in de lente en de zomer is kinderspel. Veel meer dan een short en een shirt heb je niet nodig. De voordelen van een echte loopshort – jawel, zo'n ultrakort fluo shortje – mogen evenwel niet onderschat worden. Hetzelfde geldt voor technische loopshirts. De vochtabsorberende kwaliteiten van zo'n dri-tech shirt zijn ongezien en het helpt dat er van schuurwondjes geen sprake kan zijn. Voeg je daar nog een lightweight running petje en een sportieve zonnebril aan toe, dan ben je klaar om zowel de zonovergoten vaartdijk als de zonnige weides te lijf te gaan.

Wist-je-datje: Een activity tracker kan je extra motiveren om na die vermoeiende werkdag toch nog een halfuurtje te gaan lopen. Meer nog dan alleen maar de alles registrerende polscomputer is je activity tracker zo je ideale trainingspartner.

In herfst en winter is lopen een ander paar mouwen. Laat de regen en koude je motivatie evenwel niet wegnemen. Met de juiste kledij is geen regenbui of windvlaag jou nog te koud. Is het gewoon wat frisser dan volstaat een lange loopbroek in combinatie met een second skin shirt en een technisch shirt of lichte fleecetrui. Is de wind bijtend en zakt de temperatuur onder het vriespunt wend je je maar beter tot het inmiddels wereldberoemde drielagensysteem. Second skin shirt + fleece + windstopper/regenjack = gewapend tegen de winterkoude.

Wist-je-datje: Het is perfect normaal dat je het de eerste vijf minuten fris hebt tijdens je winters loopje. Geen nood, door de inspanning warm je vanzelf wel op. Je te warm kleden is dan ook nefast voor de loopvreugde.

Belangrijk: denk ook aan (de verwarming van) je handen en oren. Een paar loophandschoenen en een running muts is een absolute must voor wie geen al te grote fan is van afgevroren lichaamsdelen. Neen, zo'n vaart zal het wel niet lopen, maar dat neemt niet weg dat beide accessoires een noodzakelijke aanvulling op je winterloopspullen zijn.