Als je run niet vanzelf loopt
Als je run niet vanzelf loopt

Een runner's knee of stressfactuur... veel joggers hebben er een heilige schrik voor. Gelukkig kennen wij de nodige lapmiddeltjes voor deze twee veelvoorkomende loopblessures.

Als je vaak op asfalt loopt, krijg je vroeg of laat pijn in je scheenbeen omdat het vlies rond je bot ontsteekt.
Zo voorkom je een stressfactuur:
Loop bij voorkeur op gras, in het bos of op een Finse piste.
Een paar degelijke loopschoenen is een must, zeker als je plat- of bolvoeten hebt.
Stretch je hamstrings en kuiten. Doe ook voldoende spierversterkende oefeningen.
Train je achillespees: ga met je tenen op de rand van de trap staan. Laat je enkel zakken en kom weer recht. Doe dat een tiental keer, telkens na je training.
Toch een blessure opgelopen? Dan kun je maar één ding doen: rusten!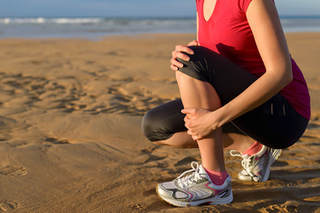 Krijg je looppatroon onder de knie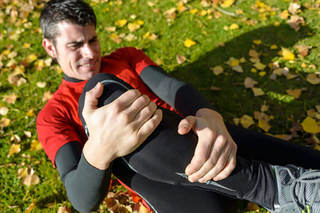 Een andere spelbreker tijdens het lopen is de runner's knee. Wanneer je loopt en je je voet neerzet, moet je knie mooi boven je voet zitten. Bij sommigen lopers plooit de knie naar binnen omdat de heup niet voldoende gespierd is en inwaarts draait. Door die herhaaldelijke foute beweging krijg je pijn aan de buitenkant van je knie.
Zo'n runner's knee voorkom je makkelijk door je looppatroon teverbeteren: land eerst op de hiel van je voet en rol dan af langs je wreef om uiteindelijk bij je dikke teen te eindigen. Als extraatje kun je enkele spierversterkende oefeningen voor je quadriceps, heup- en bilspieren inplannen.