Zo maak je van je poncho een tent
Een lichtgewicht backpacker moet creatief zijn, zodat hij het ook zonder tent droog houdt. Zo maak je in vijf stappen een tent van je poncho.
poncho
touw
6 scherpe stokken of haringen
2 bomen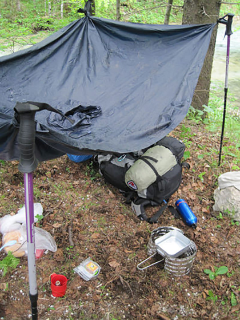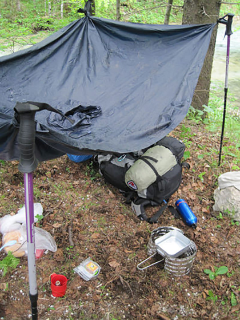 Stap 1 : begin met de kap
Bind de kap van de poncho af met een stuk touw, of met het aanspankoordje van de poncho, zo loopt er geen regen binnen.


Stap 2: bevestig de touwen
Ga op zoek naar de middelste doorsteekringetjes aan de twee uiteindes van de poncho. Bind aan elk gaatje een touw van ongeveer 2 meter vast.


Stap 3: zoek stevige steunpilaren
Maak de uiteinden van de touwen op heuphoogte vast aan twee bomen die ongeveer 2,5 meter uit elkaar staan. Dat worden de steunen van je tent. Je poncho zou nu dubbelgevouwen tussen de bomen moeten hangen.


Stap 4: plaats de houten haringen
Steek door elk van de doorvoerringetjes die parallel lopen met de grond

 - meestal zijn dat er drie - een

scherpe tak of haring en plant die heel stevig in de grond. Spreid daarbij de poncho uit, zodat hij strak gespannen staat. Doe nu hetzelfde aan de andere kant.


Stap 5: een extra centrale steun
Als er minstens één tak boven het midden van de tent reikt, kan je nog een extra touw rond de kap van de poncho binden en aan de tak vastmaken

 of een 

wandelstok als centrale steun gebruiken

. Zo wordt de regen beter afgevoerd. Klaar!