Zo beleef je de ultieme schoenervaring
Zo beleef je de ultieme schoenervaring
Fanatiek bergbeklimmer of dagtripper op vlak terrein? Wat voor type wandelaar je ook bent: goede wandelschoenen zijn onontbeerlijk. Met de juiste sok, een zool die voldoende steun geeft en regelmatig onderhoud combineer je ze tot een uniek wandelsysteem. Zo zitten je voeten gebeiteld voor vele jaren wandelplezier!

Als het schoentje past ...

Je wandelavontuur begint bij de keuze van je schoenen: van lichte, flexibele wandelschoenen tot robuuste, stijve stappers voor het zwaardere werk. Welke schoen je ook kiest, zorg er altijd voor dat ze perfect passen. Te grote of te kleine schoenen die te weinig of op de verkeerde plaatsen steun bieden, maken van je trektocht een ware marteling ... Ben je niet zeker of een schoen wel goed zit? Geen nood, in de winkel hebben we heel wat trucjes om je ideale exemplaar te bepalen.
Zo kies je de juiste wandelschoen, op maat van je voeten én je bestemming.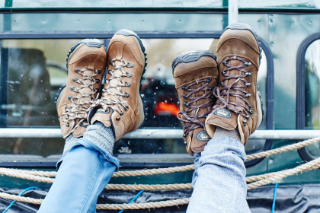 Geen twee voeten zijn dezelfde. Zelfs je eigen paar niet! Voor fabrikanten van wandelschoenen is het dus quasi onmogelijk om voor elke voet een perfect passende schoen te maken. Daarom zal je een wandelschoen altijd moeten combineren met enkele 'hulpmiddeltjes':
Wandelsokken voor de perfecte pasvorm
Zonder een paar technische wandelsokken zijn je dure schoenen maar de helft waard. Niet alleen zorgen ze voor een optimale vochtregulering en isolatie, ze voorkomen ook wrijving. Passen je schoenen perfect, maar komt je hiel bij elke stap toch enkele millimeters omhoog? Wandelsokken met eenverdikking aan de hiel vullen die opening op en behoeden je van blaren.

Lees hier meer over het belang van een goede wandelsok.
Inlegzolen voor stabiliteit en comfort
Bij elke stap die je zet, gaat er een schok via je voeten doorheen je hele lichaam. Een ondersteunende inlegzool in je schoen zorgt voor extra comfort, een stabielere houding en werkt als een schokdemper, waardoor je hele lichaam ontlast wordt. Met een zooltje kun je bovendien je schoen beter doen aansluiten om je voet.

Lees hier meer over het belang van een goede inlegzool

Eens je de perfecte combinatie hebt uitgedokterd, is het zaak om je materiaal zo goed mogelijk te onderhouden. Met een regelmatige poetsbeurt bezorg je je wandelschoenen een lang en comfortabelleven ... en daar plukken je voeten natuurlijk de vruchten van! Maak je schoenen dus na elke wandeltocht schoon en geef ze regelmatig een behandeling met een impregneermiddel, volgens de instructies van de fabrikant. Vergeet niet dat Gore-Tex®-schoenen wat extra aandacht verdienen! Een goed verluchte ruimtemet een constante temperatuur is de ideale plek om je stappers te bewaren.

Meer onderhoudstips & -tricks voor je schoenen? Die vind je hier.

En niet vergeten: een goed wandelsysteem bestaat uit de combinatie schoen + sok + zool + onderhoud. In de praktijk maakt dit het verschil tussen een goede wandelschoen ... en de beste wandelschoen!