Zet je foto's op de kaart
Zet je foto's op de kaart
Op zoek naar aparte manieren om je vakantiefoto's te delen met de rest van de wereld? Voorzie ze dan van een geotag, een soort van digitaal etiket dat de opnamelocatie van je foto's bewaart. Het is niet alleen eenvoudig, maar komt soms ook verrassend handig van pas.

Gebruik je een smartphone als fototoestel, dan doe je mogelijk al aan geotagging zonder dat je er bij stilstaat. Je telefoon bevat immers een ingebouwde gps-ontvanger, en die is perfect voor deze taak. Je moet er alleen voor zorgen dat je de fotocamera van je telefoon toegang verleent tot de gps-data, iets waarvoor je even in de instellingen van je smartphone zal moeten duiken (als die functie nog niet actief is). De handleiding van je toestel brengt hier uitkomst.
Bij een gewone digitale fotocamera moet je wat creatiever te werk gaan, want die bevat (meestal) geen ingebouwde gps-ontvanger. Daar pas je gelukkig eenvoudig een mouw aan door het toestel te voorzien van een externe gps-ontvanger.
Grote merken zoals Nikon bieden bijvoorbeeld gps-modules aan als accessoire voor hun DSLR-camera's, maar die zijn behoorlijk kostbaar. Daarnaast zijn er ook gps-modules die met alle denkbare camera's gecombineerd kunnen worden. Deze toestelletjes houden meestal een gps-datatrack bij die jouw route koppelt aan het exacte tijdstip waarop je daar was. Door de datatrack met tijdstippen en gps-coördinaten nadien toe te voegen aan jouw foto's van die dag, kan de computer automatisch uitvissen waar elke foto precies gemaakt is. Ook hier hoef je dus geen vervelende, al te technische handelingen uit te voeren. En in sommige gevallen is die datatrack nadien ook nog recycleerbaar voor je outdoor-gps. Een aanzienlijk goedkoper alternatief voor een universele gps-module, is een app die je smartphone geschikt maakt voor die taak, zoals het populaire gps4cam. De werkwijze bij dit soort apps is meestal vergelijkbaar met die bij de eerder beschreven gps-loggers, maar het prijskaartje valt aanzienlijk democratischer uit.


Tip:  Ook aan oudere foto's kun je een geotag hangen wanneer je ze online deelt. Bijvoorbeeld met fotodienst Picasa, waarbij de foto's nadien in Google Maps of Google Earth worden getoond. Het volstaat om een foto te uploaden naar de dienst en op de landkaart aan te duiden waar je de foto maakte, waarna Picasa het nodige doet om jouw foto op de kaart te zetten. Voor een volledige stap-voor-stap gids klik je hier.

Nu je foto's van een geotag voorzien zijn, ontstaan er een hoop nieuwe, creatieve mogelijkheden om ze te delen of om ze op een andere manier in je voordeel te gebruiken.
Fotodiensten:
Ben je een getalenteerd hobbyfotograaf die zijn of haar foto's liefst met de hele wereld deelt via een fotodienst als Picasa of Flickr, dan zorgt een geotag voor nieuwe mogelijkheden om ontdekt te worden. Kijk bijvoorbeeld eens op www.flickr.com/map, waar je meer dan 2 miljoen foto's aantreft die voorzien zijn van een geotag. Ook handig om je volgende reisbestemming alvast even te bewonderen aan de hand van authentieke foto's die je niet in een reisbrochure of toergids vindt.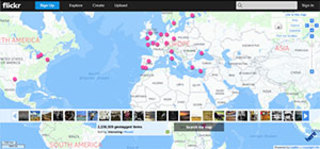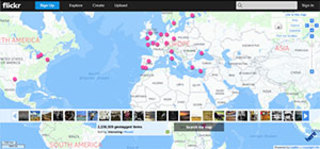 Mappen en landkaarten:
Ook diensten zoals Google Earth en Google Maps bieden een aantal creatieve opties. In Google Maps zoek je gewoon de locatie op waar je de foto gemaakt hebt, waarna je klikt op de link 'Een foto toevoegen' onder het zoekvak. Selecteer je foto, en even later is ze zichtbaar op de kaart voor alle andere Maps-gebruikers. Niet alleen leuk om vakantieherinneringen op de map te zetten, maar bijvoorbeeld ook als uitnodiging voor de volgende zomerbarbeque van de wandelclub. Je gasten weten dan meteen waar ze moeten zijn.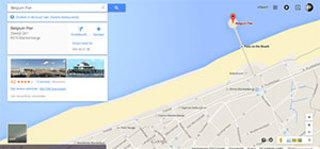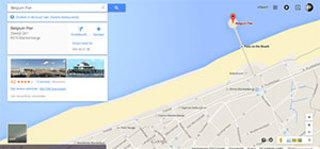 Navigatie:

Niet alleen in Google Maps kun je foto's gebruiken als navigatiebestemming, sommige gps-toestellen en navigatie-apps laten ook toe om een foto met geotag als bestemming in te geven. Die functie kan trouwens ook handig van pas komen bij een citytrip: neem een foto van je wagen op de parkeerplaats waar je hem achterlaat, en gebruik de foto om hem nadien moeiteloos terug te vinden.
Reis-, fiets- of wandelroute achterhalen:
Bij een spontaan fietstochtje een mooie route ontdekt die je nadien nog eens dunnetjes wilt overdoen met vrienden? Of heb je een wandeling gemaakt met ontzettend mooie uitzichten? Zelfs als je de route niet hebt bijgehouden, kun je die snel weer achterhalen wanneer je onderweg wat foto's gemaakt hebt met een geotag. Gebruik ze als een modern broodkruimelspoor, en je keert nadien moeiteloos op je stappen terug.
Tip:  Geotags zijn handig, maar denk goed na over welke foto's je deelt met de rest van de wereld. Een foto van je nieuwe racefiets of e-bike voorzie je bijvoorbeeld best niet van een geotag, zodat je mensen met minder eerbare bedoelingen niet rechtstreeks naar hun doel leidt. Gelukkig bestaan er ook gratis tools waarmee je geotags eenvoudig uit foto's verwijdert, zoals www.geosetter.de. Er is dus niets dat je tegenhoudt om rustig met geotagging te experimenteren.