Young adventurers: de winnaars
Young adventurers: de winnaars
Vier jongeren die met de fiets de Pyreneeën oversteken en dat met hun eigen vleugels? Ziedaar de premisse van hetzij een wel erg straffe film, of van de expeditie die team Xpyrience instuurde voor de Lotto Young Adventurers 2016-wedstrijd. De jury was laaiend enthousiast en dat betekent dat het viertal de kans krijgt om hun droom gratis en voor niets te realiseren.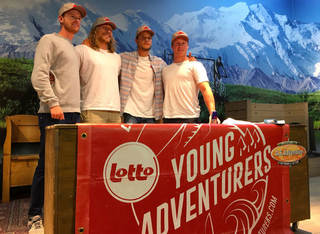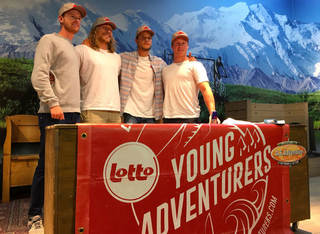 Elke jongere tussen de 18 en de 25 maakt een kans om zijn droom in vervulling te zien gaan bij deze wedstrijd. Dat veel jongeren ook echt dromen koesteren, blijkt uit de maar liefst 64 inzendingen voor deze tweede editie van de Lotto Young Adventurers-wedstrijd. Het niveau daarvan was zo hoog dat de jury zich verheugde over de kwaliteit en het enthousiasme dat spreekt uit elk van de inzendingen. Begeleider Thomas de Dorlodot roemde de avonturiers voor hun lef en hun durf om te dromen. Als winnaar naar voor komen was dus zeker geen evidentie.
Het winnende team Xpyrience had dan ook een tot de verbeelding sprekende droom gepresenteerd. Op 6 september 2016 hopen Antoine, Charles, Edouard en Thomas de Pyreneeën per fiets te bedwingen, Mont Perdu (op 3.355 meter hoogte) te bereiken en daarna ook nog eens te leren paragliden. Voor mij is - hoe paradoxaal dat ook mag klinken - vliegen het mooiste wat er is op aarde, aldus jurylid Horacio Lievens. Toen ik hoorde dat die gasten ervan droomden om zelf te leren vliegen op een expeditie van amper twee weken tijd, was ik meteen in de ban van hun idee.
Het was vooral de gedrevenheid waarmee ze hun plan presenteerden en de detailkracht van dat plan die de zeskoppige jury overtuigde. Zo wisten Antoine & co al van bij het begin dat ze de kerk van Mediano absoluut willen bezoeken. Dat zegt zo ongeveer alles over hun ambitie, hun doelgerichtheid en het belang dat ze aan research hechten. "Ik ben benieuwd om te zien hoe ze het gaan redden op die fietsen. Om nog maar te zwijgen van de vele andere uitdagingen die op het menu staan. Het team toont zich bijzonder sympathiek, dus ik kan niet wachten om te zien wat dat gaat geven eens we onze comfortzone verlaten", geeft Thomas nog mee.

Heb jij ook zo'n avontuurlijke droom? Of voel je het nu kriebelen om er zelf op uit te trekken? Felix en Simon, twee scoutsmakkers die zichzelf tot avonturier omturnden, bewijzen dat je heus geen wedstrijd hoeft te winnen om je dromen in vervulling te zien gaan.
De bekendmaking van de winnaars herbeleven? Dat kan zomaar:
Volg Antoine, Charles, Edouard en Thomas via facebook, instagram of op www.young-adventurers.com