Wandel weg uit de digitale wereld
Wandel weg uit de digitale wereld
Michiel Sallaets is een typische digital native die zijn dagen, zoals zovelen onder ons, vult met communicatie, vaak via de sociale media. Met die kleine nuance dat hij er op tijd en stond eens tussenuit wil. Even weg uit de rat race. Zich even onttrekken van al dat e-mailen, twitteren en instagrammen.

Aan de zijde van drie kompanen Corsica van noord naar zuid doorkruisen in vijftien etappes, bleek voor Michiel de ideale manier om vijftien dagen lang aan de digitale realiteit te ontsnappen. Disconnect to reconnect. Maar of hem dat ook gelukt is…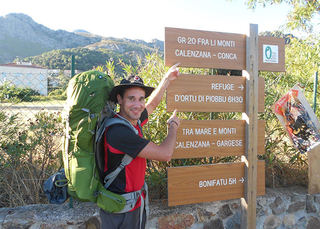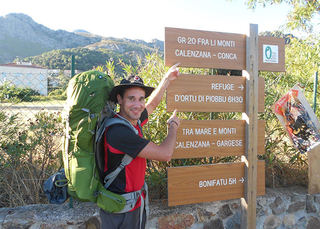 "Elk jaar trek ik er met drie vrienden op uit. Afzien in de wilde natuur met een glimlach op ons gezicht, dat is het doel. Dit keer viel ons oog op de GR20 in Corsica, vooral dan omwille van de sportieve uitdaging." De GR20 is met z'n 170 km de langste wandelroute van Europa en vooral het noordelijke deel is erg zwaar. "Het idee om van de gelegenheid gebruik te maken om een pauze op vlak van digitale communicatie in te lassen, maakte de uitdaging er alleen maar groter op."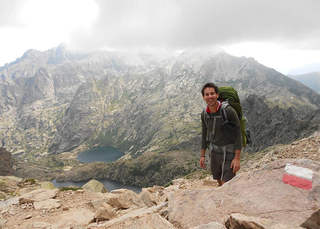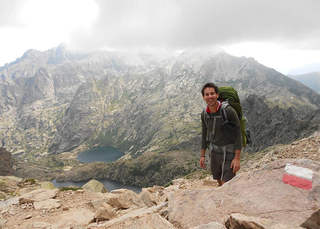 "Echt veel voorbereiding kwam er niet aan te pas. Al was ik wel zo slim om me een professionele rugzak en een degelijk paar wandelsokken aan te schaffen. Dat bleek allesbehalve overbodige luxe gezien het geaccidenteerde parcours en de vele hoogtemeters die we moesten overwinnen."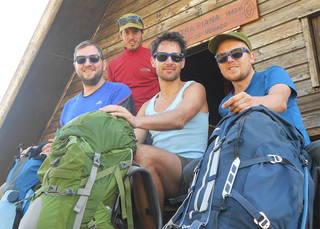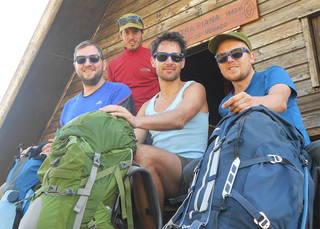 "We hadden ons aan een zware tocht verwacht, maar de GR20 is echt loodzwaar – zelfs voor goed getrainde jongemannen. Zo zwaar dat we in het begin zo hard aan het afzien waren dat er van glimlachen niet veel sprake was. Daar kwam nog eens bij dat mijn vingers regelmatig jeukten om toch eens een foto te delen met mijn volgers of het thuisfront te verwittigen.
Eens dat stadium gepasseerd, kon ik pas echt beginnen te genieten. Opstaan in de wilde natuur en gewoon genieten van het uitzicht. (1) Zonder te denken aan foto's maken of snel een tweet de wereld insturen. Wat een verademing! Of het nu onze kampeerplek was of een prachtig zicht van onderweg, het was allemaal even mooi." (2) & (3)
"Je ziet ook gewoon meer als je niet de hele tijd met je smartphone bezig bent. En natuurlijk neem je je dan voor om ook in België toch iets minder op te gaan in al dat getwitter, maar dat goede voornemen was net zo snel weer vervlogen. Als ik heel eerlijk ben, moet ik zelfs toegeven dat ik halverwege de trip even de tijd heb genomen om een aantal belangrijke mails te beantwoorden."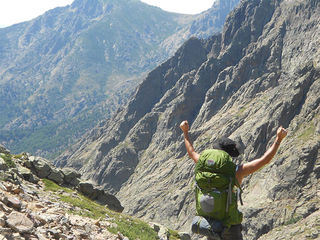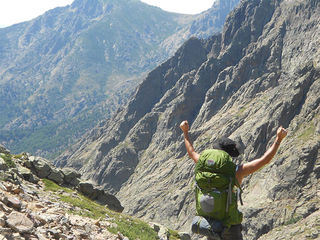 "Mensen die echt even uit de rat race willen stappen, kan ik dan ook alleen maar aanraden om hunsmartphone simpelweg niet mee op reis te nemen. Het klinkt onmogelijk anno 2015, maar het kan wel degelijk. En ik garandeer je dat het dan pas echt genieten geblazen wordt."
"De trip zelf brachten we overigens – niet geheel zonder moeite en stramme spieren – tot een goed einde. De volgende reis gaat richting Kirgizië. Op weg naar nieuwe avonturen, al dan niet met mijn smartphone op zak."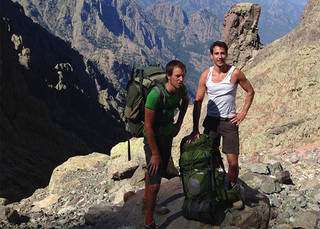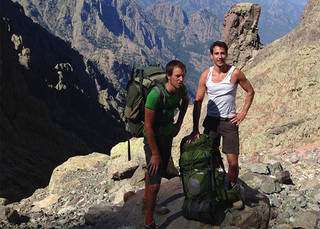 De beste Grote Routepaden in België

België doorkruisen in vijf GR-routes
Van De Panne naar De Haan, dat is zo'n zestig kilometer langs strand, duinen en vooral ook prachtige natuurgebieden. De route is in twee richtingen bewegwijzerd volgens het typische GR-systeem. Je hoeft dus gewoon de rood-witte strepen te volgen. Bijkomend voordeel: het traject van de kusttram heeft maar liefst vijftien snijpunten met de GR-route waardoor je het hele routepad in etappes van 5 tot 30 km kunt opdelen.
De drie herdenkingsroutes voor de Groote Oorlog zijn in no time uitgegroeid tot echte blijvers in het GR-netwerk. Het Ierse Vredespark in Menen, de Duitse begraafplaats van Langemark en het Nieuw-Zeelandpark zijn slechts enkele van de vele trekpleisters van De Groote Oorlog in de Westhoek. Voeg daar nog een dagtocht door het Hageland en Dijleland en een tocht langs de Antwerpse Fortengordel aan toe en je begrijpt meteen waarom deze routes blijvers zijn geworden.
De GR 122 Scheldeland is wat men noemt een gouwe ouwe in het GR-aanbod. De GR 122 brengt je van Hulst, vlakbij de Westerschelde, door het Scheldeland naar Doornik. Niet alleen het land van Rhode, maar ook het Brakelbos en zelfs het Muziekbos komen op je pad. Het uitproberen meer dan waard.
GR 579 Brussel-Luik start bij de zogenaamde wandelboom achter de Sint-Michielskathedraal in Brussel en voert je via het Terkamerenbos en Watermael-Bosvoorde naar het Zoniënwoud. Vervolgens betreed je Wallonië via het eerder glooiende landschap van Pécrot om uiteindelijk boven de Maasvallei richting Luik te trekken.
Van de Kempen naar de Condroz wandelen, doe je bij voorkeur via de GR 564. Die leidt je immers langs een bebost heidelandschap en de bekende Sahara naar Lommel. Van daaruit gaat het verder via domein Kelchterhoef en Hengelhoef om wat verder in Bokrijk aan te komen. In Hasselt steek je het Albertkanaal over en trek je via Diepenbeek naar de bossen van Kortessem.
Wil je Corsica zelf eens ontdekken via de GR20 hou dan rekening met:
de periode: je gaat best tussen eind juni en begin september aangezien de eerste sneeuw al in oktober valt en die tot eind mei blijft liggen waardoor het pad wel erg gevaarlijk wordt.
het vervoer: Calenzana, het noordelijk vertrekpunt, ligt nabij Calvi en is makkelijk bereikbaar vanuit de luchthaven van Sainte Catherine. Je kunt Calvi ook bereiken via de ferry vanuit Marseille of Toulon.
slaapplaats: als je kiest voor een van de berghutten langs de GR20 als slaapplaats, weet dan dat het sinds 2010 verplicht is om te reserveren. Vind je dat iets te weinig survivalachtig, dan kun je uiteraard ook gewoon kamperen nabij de berghutten.
Leuk om weten is dat het wandelpad tussen februari en april ook af te leggen is op ski's. De wintervariant van de GR20 noordroute is beter bekend als de alta strada.