Voetverzorging: beter voorkomen dan genezen
Voetverzorging: beter voorkomen dan genezen
Een namiddag op pad kan algauw ontaarden in een pijnlijke voeten. Blaren zijn zelfs een geoefend wandelaar niet vreemd, maar toch kan je jezelf heel wat stappersleed besparen met deze tips.

Loop je schoenen goed in voor je lange tochten maakt en zorg er voor dat ze droog zijn bij vertrek.
Plak plaatsen waar er zich gemakkelijk blaren vormen af met Leukoplast of sporttape.
Bestrooi je voeten lichtjes met talk of voetenpoeder en blaas het overtollige poeder weg zodat het niet klontert.
Laat je voeten goed drogen voor je je sokken aantrekt.
Draag degelijke wandelsokken met de juiste dikte en samenstelling. Voor elke activiteit is er een aangepaste sok. Vraag dus zeker raad aan onze medewerkers.
Hou je voeten blarenvrij
Geef je voeten zo lang mogelijk de nodige frisse lucht en trek je schoenen bij lange wandelingen niet te vroeg aan.
Bind de veters van je wandelschoenen niet te strak vast. Door je voeten op te bollen bij het strikken van je veters, creëer je voldoende ruimte voor wanneer je voeten uitzetten tijdens de tocht. Maak je schoenen ook altijd volledig vast. Enkel zo krijg je een optimale ondersteuning.
Knoop tijdens de rustpauzes je schoenen los en laat je voeten ademen, zo voorkom je blaren.
Voel je een blaar opkomen? Kleef op de gevoelige plek onmiddellijk wat sporttape.
 
Toch een blaar?
Hindert de blaar je te veel tijdens de wandeling? Kies er dan voor om ze te doorprikken:
Veeg eerst al het vuil van je voeten, was ze indien mogelijk en ontsmet de blaar grondig.
Prik met een steriele naald enkele gaatjes aan de basis van de blaar. Doorprik alleen de bovenhuid.
Druk daarna met een steriel doekje het vocht uit de blaar.
Dek de blaar af met een tweedehuidspleister.
Heb je niet veel last van de blaar? Laat ze dan zoals ze is en dek ze af met een tweedehuidspleister zoals Hansaplast.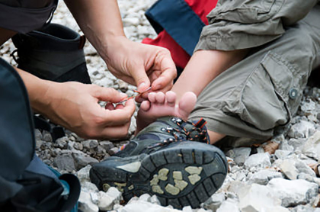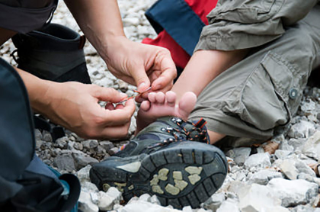 Laat gesloten blaren met rust, anders kunnen ze onnodig ontsteken.
Wil je voorkomen dat je ze per ongeluk open schuurt? Kleef er dan een tweedehuidspleister over.
Open blaren ontsmet je eerst goed, ook de huid er om heen. Dek de open blaar daarna af met een steriel verband.