Stretchen voor en na je wandeling
Stretchen voor en na je wandeling
Stretchen voor of na een stevige wandeltocht? Het lijkt soms overdreven, maar als je blessures wil vermijden is het een must. Zeker bij een snelle of lange wandeltochten.

Begin zeker nooit 'koud' aan je stretching. Strekoefeningen vormen een deel van de opwarming. Wandel eerst 5 tot 10 minuten in een rustig tempo.

Voer tussen het inwandelen en de echte wandeling verschillende stretchoefeningen uit. Stretch nooit verend, maar hou elke positie 30 tot 40 seconden aan. Zwakke plekken mag je twee keer herhalen. Ga nooit zover dat je tijdens het stretchen pijn voelt. Enkele opwarmers:
Tenen strekken: sta op één been en til je andere voet op. Vervolgens strek je je voet met je tenen omhoog.
Enkels cirkelen: sta op één been en draai met de enkel van je andere voet die je optilt.
Twist: zet je voeten uit elkaar en buig met je armen naar voor, parallel met de grond. Hou je onderlichaam stil, terwijl je met je armen van links naar rechts zwaait.
Na het stretchen ben je helemaal klaar voor je wandeltocht. Wandel aan het einde van je tocht langzamer om af te koelen.

Stretch minstens 5 minuten na het einde van de tocht. Naast dezelfde stretchoefeningen als bij aanvang, kan je bijvoorbeeld deze toevoegen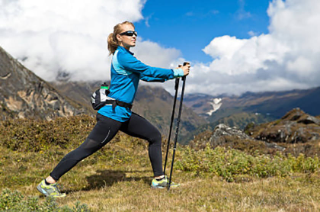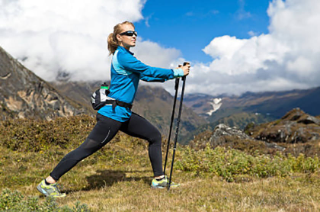 Torso stretch: haak je vingers in elkaar. Strek vervolgens je armen in de lucht met de handpalmen naar boven. Adem in terwijl je je armen en torso zo ver mogelijk strekt. Herhaal acht tot tien keer.
Hamstrings: buig vanaf je middel langzaam naar voor met je knieën licht gebogen. Strek naar beneden en hou vast.
Nek ontspannen: draai je nek voorzichtig over je rechterschouder en hou vast. Herhaal de oefening naar links. Buig je nek zeker niet naar achter en overstrek niet.