Strand, zee en bergen, de sandaal kan het allemaal
Strand, zee en bergen, de sandaal kan het allemaal

Of je kids nu op het strand, in het water of in de bergen spelen, op een warme zomerdag is een paar sandalen de grootste kindervriend. De voordelen zijn legio, en er is meer keuze dan je misschien denkt. Tijd voor een sandalenwijzer op kindermaat.

Warm weer is blotevoetenweer. Of toch niet? Hoewel het aantrekkelijk is om gewoon blootvoets in de tuin of op het strand te ravotten, is een ongelukje snel gebeurd. Sandalen behoeden kindervoeten voor kleine pijntjes, terwijl ze veel meer bewegings- en ademruimte laten dan klassieke schoenen of sneakers. Iedereen tevreden! Maar welke sandalen kies je wanneer? En wanneer kies je toch beter voor ander schoeisel?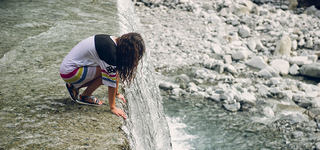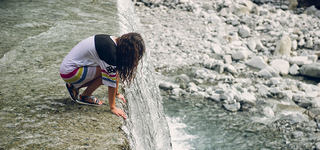 Niets fijner dan om onder een stralende zon op het strand te liggen. Vaak is het vooruitzicht op zon, zee en strandplezier zelfs al voldoende voor je kroost om de schoenen in de wagen achter te laten. Begrijpelijk, maar niet altijd verstandig. Niet alleen tref je weleens troep aan op weg naar het strand die niet altijd opgemerkt wordt door overenthousiaste kinderoogjes, ook het zand warmt snel op. Dat kan voor pijnlijke voeten zorgen, en in het ergste geval zelfs voor verbrande voetzolen. Een paar kleurrijke slippers of lichte sandalen biedt hier uitkomst. Slippers zijn licht en laten zich makkelijk opbergen in je strandtas, en voor de prijs hoef je het ook niet te laten. Bovendien komen ze in heel wat verschillende uitvoeringen en kleurtjes, zodat samen kiezen met de kinderen nooit onoverkomelijk is.

TIP: In onze webshop zijn verschillende merken aanwezig met een aanbod slippers op kindermaat. Reef, Havaianas, Ipanema, ...  of Crocs: welke worden het?

Er loert wat in het water

Wie naar de zee of een zwemvijver trekt met de kinderen, heeft één zekerheid: quality time met het hele gezin in de buitenlucht. Maar ook hier schuilen er soms addertjes onder het gras (of zand). Of beter: schelpjes met scherpe kanten, amper zichtbare steentjes, een aangespoelde kwal … Met een stel sandalen aan hun voeten schakel je de kans op pijnlijke incidentjes en snijwonden bij voorbaat uit. Kies hier beter niet voor een slipper maar voor een wat stevigere sandaal die vaster om de voet zit. Die spelen ze gegarandeerd niet kwijt tijdens het spelen. Zijn je kids echte waterratten? Dan kun je ook kiezen voor een echte waterschoen: die laat zich niet uit zijn lood slaan door een slok water, zodat de voeten van je kroost ook bij pootjebaden of een vlottentocht perfect worden beschermd.

 TIP: Toch op zoek naar een andere zomerse kinderschoen? Ook een espadrille heeft zijn charmes in de zomer – zeker op de camping of in de eigen tuin. Lekker relaxed! 
Op een heerlijke zondagmiddag een wandeling maken tussen de velden? Een ideale activiteit voor het hele gezin, zeker tijdens de zomermaanden. Tot je kleine bengels klagen over hun zweetvoeten. Ook hier kan een sandaal soelaas bieden, aangezien de voeten dan volop kunnen ademen. Kies hier wel voor een stevigere (outdoor)sandaal met een goede pasvorm. Die biedt de nodige steun voor jonge voeten, zodat de wandeling ook na wat kilometers leuk blijft. Ook voor dat soort activiteiten is er gelukkig heel wat keuze.

TIP: Onze tips voor junior wandelsandalen? Neus zeker even in het aanbod van gerenommeerde merken als Teva, Jack Wolfskin of Keen. Niet alleen voor grote voeten interessant!

Wanneer zijn sandalen minder geschikt?

Natuurlijk zijn er ook situaties waarbij sandalen minder of helemaal niet op hun plaats zijn.
Ga je bergen verzetten op vakantie? Voor het ambitieuzere wandelwerk met de kids – denk aan lichte bergroutes of erg oneffen ondergronden – hebben ook kindervoeten meer steun en bescherming nodig dan op vlakke paden. Sandalen kunnen die niet afdoende bieden, waardoor het risico op wandelblessures en andere ongemakken toeneemt. Een goede wandelschoen met een stevige hiel blijft hier een noodzaak.
Denk er ook om dat een kindervoet nog continu in beweging is. Daarmee bedoelen we vooral dat de voeten van je kinderen zich nog volop aan het vormen zijn. Daarom is het niet aangeraden om hen voortdurend sandalen te laten dragen – zeker van de lichtere soort. Kinderen hebben op een doordeweekse dag vooral goede schoenen nodig, die aangepast zijn voor de noden van hun leeftijd. Laat je ze toch vaak sandalen aantrekken? Hou dan een aantal zaken in gedachten!