Sandalen die een stapje verder gaan
Sandalen die een stapje verder gaan
Wat gaat er boven de geur van de natuur tijdens een zomers dagje wandelen? Hoe vreemd je persoonlijke voorkeuren ook mogen zijn, het is alvast niet de geur die uit je wandelschoenen opstijgt na een wandeling op een snikhete dag. Natuurlijk zijn er genoeg middeltjes om die geuren nadien te neutraliseren, maar waarom zou je het in de eerste plaats zover laten komen? Met een paar degelijke outdoorsandalen aan je voeten kun je op luchtige wijze genieten van wat het buitenleven je allemaal te bieden heeft.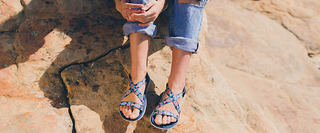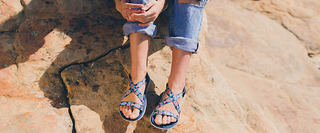 Wat is een outdoorsandaal nu eigenlijk?

Het zal je niet verbazen dat kilometers wandelen op flip-flops geen goed idee is, en dat ook je Teva Originals niet de beste keuze zijn voor lange wandelingen op gevarieerd terrein. Ze zien er goed uit en zitten enorm comfortabel, we know, maar voor het echte stapwerk zijn ze simpelweg niet gemaakt. Maar geen nood: net daar bieden outdoorsandalen een uitkomst. Je kunt ze zien als de ideale middenweg tussen een 'gewone' sandaal en een lichtgewicht wandelschoen. Zo zijn ze voorzien van een degelijk voetbed dat meer steun en comfort biedt dan een klassieke sandaal en hebben ze ook een onderzool die de nodige grip biedt voor een zekere tred. Net als hun soortgenoten bieden ze echter wel heel wat ademruimte aan je voeten.

Wanneer gebruik je outdoorsandalen?

Het mag duidelijk zijn: outdoorsandalen zijn voorbestemd om het warme weer te trotseren. Bij dagtochten met een rugzak zijn stevige sandalen een ideale manier om je voeten te beschermen én tegelijk te laten ademen. Als je op je tocht vaak beekjes moet oversteken, kan je er zo met je voeten in plonsen. Of toch wanneer je voor een synthetische outdoorsandaal kiest – en meer specifiek de open modellen – want die drogen snel, in tegenstelling tot hun lederen soortgenoten die de neiging hebben om water op te slorpen. Bovendien beschermen outdoorsandalen je voeten afdoende tegen wat er onder het water loert. Let wel, hoewel stevige sandalen best tegen een stootje kunnen, zijn ze niet gemaakt voor lange trektochten met een zware rugzak. Daarvoor ben je nog steeds aangewezen op echte wandelschoenen die meer steun bieden.

 TIP: Toch eerder op zoek naar een gesloten schoen die raad weet met warm weer? Neus dan even in ons aanbod tropen- en wandelschoenen. Hou er wel rekening mee dat tropenschoenen alleen geschikt zijn voor wandelingen op een zachte ondergrond, en niet voor lange trekkings op asfalt, steen of rotsen.

Kies je voor open of gesloten sandalen?

Voor je resoluut voor de outdoorsandaal kiest als jouw reispartner, moet je een aantal zaken op een rijtje zetten. Je kunt namelijk kiezen tussen open en gesloten modellen, en vooral je eigen wensen en plannen bepalen wat de beste keuze is voor jouw profiel. Teva heeft bijvoorbeeld heel wat open outdoorsandalen in het aanbod, zoals de Terra Fi 4. Simpel design, erg licht en voorzien van een sterke zool met een goede grip. Dit soort sandalen zorgen ervoor dat je voeten de frisse lucht ongehinderd kunnen opsnuiven. Nadeel is wel dat je tenen niet beschermd zijn. Geen bezwaar op vlak terrein waar er niet al te veel losse stenen liggen, maar minder geschikt voor ruwere ondergronden.
Dan zijn er nog de gesloten modellen, zoals de sandalen van Keen. Je tenen worden hierbij wél beschermd en ook aan de zijkant is de sandaal redelijk afgesloten. Het nadeel hiervan is dat je voeten iets minder ademruimte krijgen dan bij een volledig open sandaal - maar nog steeds veel meer dan in een gewone schoen - en dat kleine steentjes of takjes sneller in de sandaal blijven zitten. Gaan ze kopje onder, dan hebben ze ook iets meer tijd nodig om weer te drogen dan hun open soortgenoten. Maar ze beschermen je voeten beter op rotsachtige ondergronden met scherpe stenen, bieden meer steun en ook bij een actief kanotochtje speel je ze gegarandeerd niet kwijt.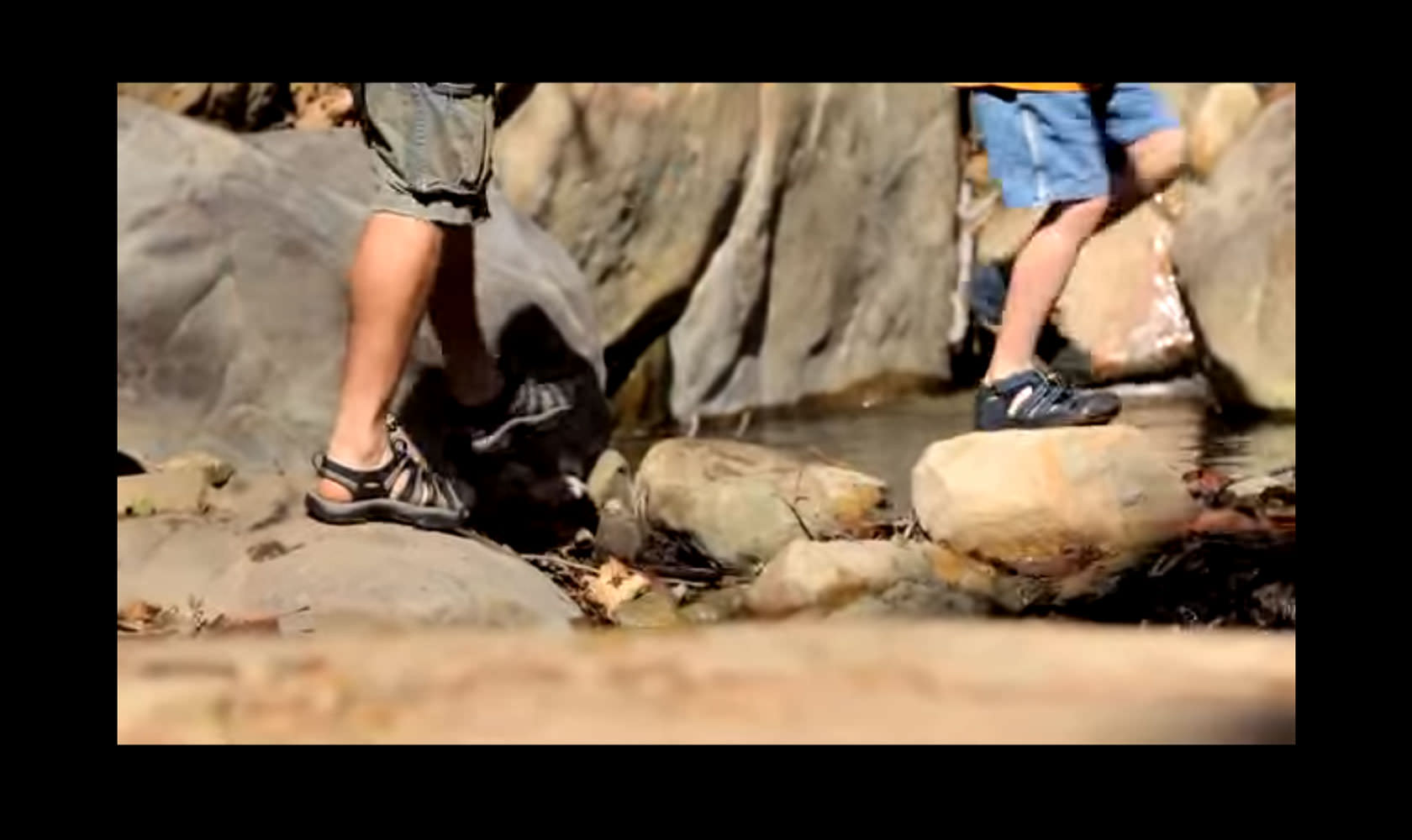 Kousen in sandalen? Ben je gek?
Misschien gruw je al van de gedachte alleen, maar ook in outdoorsandalen kunnen wandelkousen hun nut hebben. Net zoals in wandelschoenen, beschermen ze je voeten door een extra laagje comfort toe te voegen. Ze verminderen immers de wrijving tussen je voet en de sandaal. Bovendien nemen ze vocht van je voeten weg en drogen ze snel, waardoor je minder kans hebt op blaren. Maar opgelet: probeer dit niet met gewone sokken. Die nemen vocht immers op, waardoor de kans op blaren net groter wordt.