Nooit meer koude handen
Om gebaat te zijn met een goed paar handschoenen hoef je geen doorgewinterde trekker te zijn. Ook voor wie graag het hele jaar rond in de buitenlucht vertoeft zijn warme handen mooi meegenomen! Maar hoe kies je een degelijke, technische handschoen?

Of je nu dagenlang door de sneeuw gaat ploeteren in een hooggelegen gebied of eropuit trekt met je gezin voor een winterse boswandeling: deze drie eigenschappen zijn onmisbaar voor een goede wandelhandschoen.

Omdat dons zijn isolerend vermogen verliest als het nat wordt, zal je het niet vaak terugvinden in wanten en handschoenen. Een synthetische voering daarentegen droogt veel sneller en zelfs als ze vochtig is, houdt ze je handen nog behoorlijk warm. Ook wollen wanten of handschoenen bieden een hoge mate van isolatie.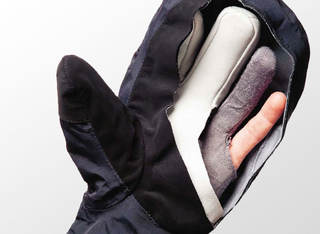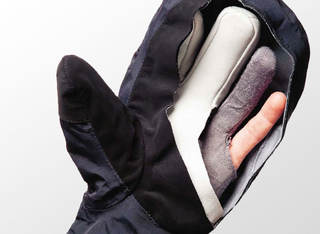 Tip: Wist je dat je ook bij handschoenen het drielagensysteem kunt toepassen? Een dunne liner voert het vocht af, de tweede laag isoleert en zorgt voor extra warmte, en afsluiten doe je met een laag die je beschermt tegen weer en wind.

Bij koud, nat weer ben je het beste af met handschoenen uit een waterdicht, ademend materiaal. De Gore-Tex®-technologie leent zich hier bijvoorbeeld perfect toe, en veel outdoormerken ontwikkelden hun eigen technologie die zeker even effectief is. Niet alleen houdt dit materiaal regen en sneeuw tegen, maar het voert ook je zweet sneller af zodat je geen klamme handen krijgt. Er bestaan ook handschoenen die voorzien zijn van een uitneembare waterdichte hoes.

Tip: Toch sneeuw in je handschoenen? Geef je handen niet de kans om af te koelen en neem steeds een extra droog paar mee als je er in de winter op uit trekt.

Wil je tijdens je winterse trekking je handschoenen kunnen aanhouden bij het opzetten van je tent, aanspannen van je veters en dichtritsen van je jas? Ook dan heb je baat bij een liner uit fleece, wol of polyester. Je trekt dan gewoon je 'buitenhandschoen' even uit, terwijl je vingers beschermd blijven tegen de kou én je je fijne motoriek behoudt. Maak je geen zorgen: ook bij regen of sneeuw houdt een liner je handen warm, en bovendien droogt de stof heel snel weer op.

Tip: Als je snel last hebt van koude handen, ben je beter af met wanten dan met handschoenen. Doordat je vingers samenzitten, houden ze immers meer lichaamswarmte vast.
Mooi meegenomen: een goed paar handschoenen houdt je handen niet alleen warm, maar biedt ook bescherming bij het klimmen of wandelen met wandelstokken.