Monkey business: de boom in met je kinderen
Monkey business: de boom in met je kinderen

De mooiste herinneringen maak je buiten, met je neus in de frisse lucht. Of … tussen de boomkruinen! Jaag je kroost de zetel uit en laat het beest in hen los in deze vijf klimbossen.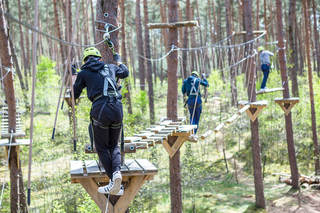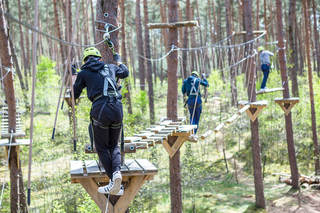 Klimpark De Warre in Neeroeteren

Wil je samen met je gezin je grenzen verleggen, dan heeft De Warre de juiste uitdagingen voor jou in petto. Wat dacht je van een death ride van maar liefst 230 meter lang? Hoogtevrees is geen optie, wil je ook een avontuur op de klimwand, de abseilwand (9 m hoog) en de vele tokkelbanen tot een goed einde brengen. Wie de hele dag de tijd heeft, kan een volledig arrangement op maat laten maken – of zelf samenstellen – met verschillende nevenactiviteiten, zoals boogschieten, touwtrekken en skilopen.
·         Min. lengte kind: 1m30 (laag parcours) - 1m50 (hoog parcours)
·         Duur: 2,5 uur (laag parcours) - 3 uur (hoog parcours)
·         Prijs: € 15 (laag parcours) - € 20 (hoog parcours)
Hijs je in je overall en klimgordel, en klauter de bomen in voor 11 onvergetelijke parcours in hartje Waals-Brabant. Tijdens de hele activiteit zit je veilig vast aan een onontkoppelbare katrol, dus word je niet afgeleid door het manueel los- en vastklikken van musketons. Van apenbruggen tot klimnetten en Tarzansprongen: elk parcours heeft z'n eigen moeilijkheidsgraad en kan geheel op eigen tempo afgelegd worden. Heb je een favoriet? Laat je dan niet tegenhouden om je er nog een keertje aan te wagen.
·         Min. leeftijd: afhankelijk van het parcours (vanaf 10 jaar zijn alle parcours toegankelijk)
·         Duur: geen tijdsbeperking
·         Prijs: € 5 (vanaf 4 jaar) - € 19 (5 tot 6 jaar) - € 23 (7 tot 9 jaar) - € 27 (vanaf 10 jaar). Zie website voor de prijzen van de verschillende 'Aventure Packs'.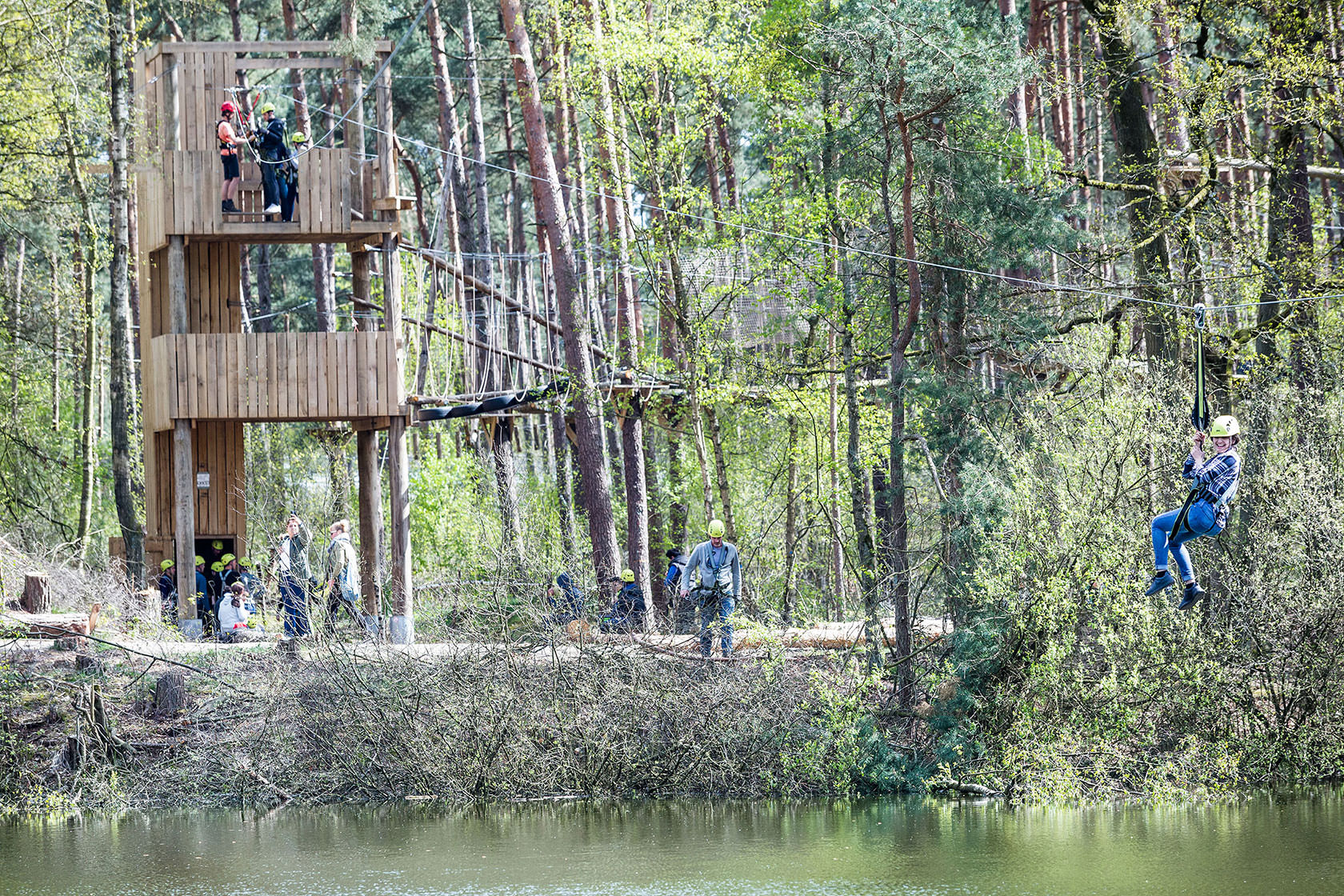 Klimbos De Hoge Rielen, Lichtaart

In de Kempense bossen van domein De Hoge Rielen vind je sinds kort een avontuurlijk parcours van 4 tot 11 meter hoog tussen de dennenbomen. Evenwichtsbalken, klimnetten, tyroliennes en bandenbruggen sturen je vanuit de centrale toren vier verschillende richtingen en niveaus uit. De échte waaghalzen roetsjen langs een 120 meter lange zipline over de vijver De Spiegelaer. Geen paniek, dankzij het revolutionaire zelfbeveiligingssysteem van Edelrid kan je onmogelijk in het water vallen!
·         Min. leeftijd: 11 jaar (met min. lengte: 1m40)
·         Duur: 2 uur
·         Prijs: op aanvraag
Natura Parc l'Eau d'Heure

Haak je stevig vast aan de zekeringskabel, want de bomenparcours aan de oevers van het prachtige Lac de la Plate Taille staan garant voor een flinke dosis adrenaline. Met een parcours van een tiental tokkelbanen en een unieke pendulumsprong van 15 meter hoog verken je het groene woud en het meer vanuit de lucht. Of waag je eens aan de huiveringwekkende vrije val uit een 25 meter hoge toren. En ja, ook aan de allerkleinsten (3 tot 6 jaar) en iets minder kleintjes (7 tot 11 jaar) is gedacht met een parcours op kindermaat.
·         Min. lengte: 1m10 met armen omhoog (pack 'Natura') – 1m60 met armen omhoog (andere packs)
·         Duur: van 3 tot 4 uur (afhankelijk van het pack)
·         Prijs:
 Pack 'Avonturier': € 30 (vanaf 16 jaar) - € 24 (jongeren)
 Pack 'Natura': € 25 (vanaf 16 jaar) - € 20 (jongeren) - € 14 (kinderen)
 Pack 'X'trem': € 38 (vanaf 16 jaar) - € 30 (jongeren)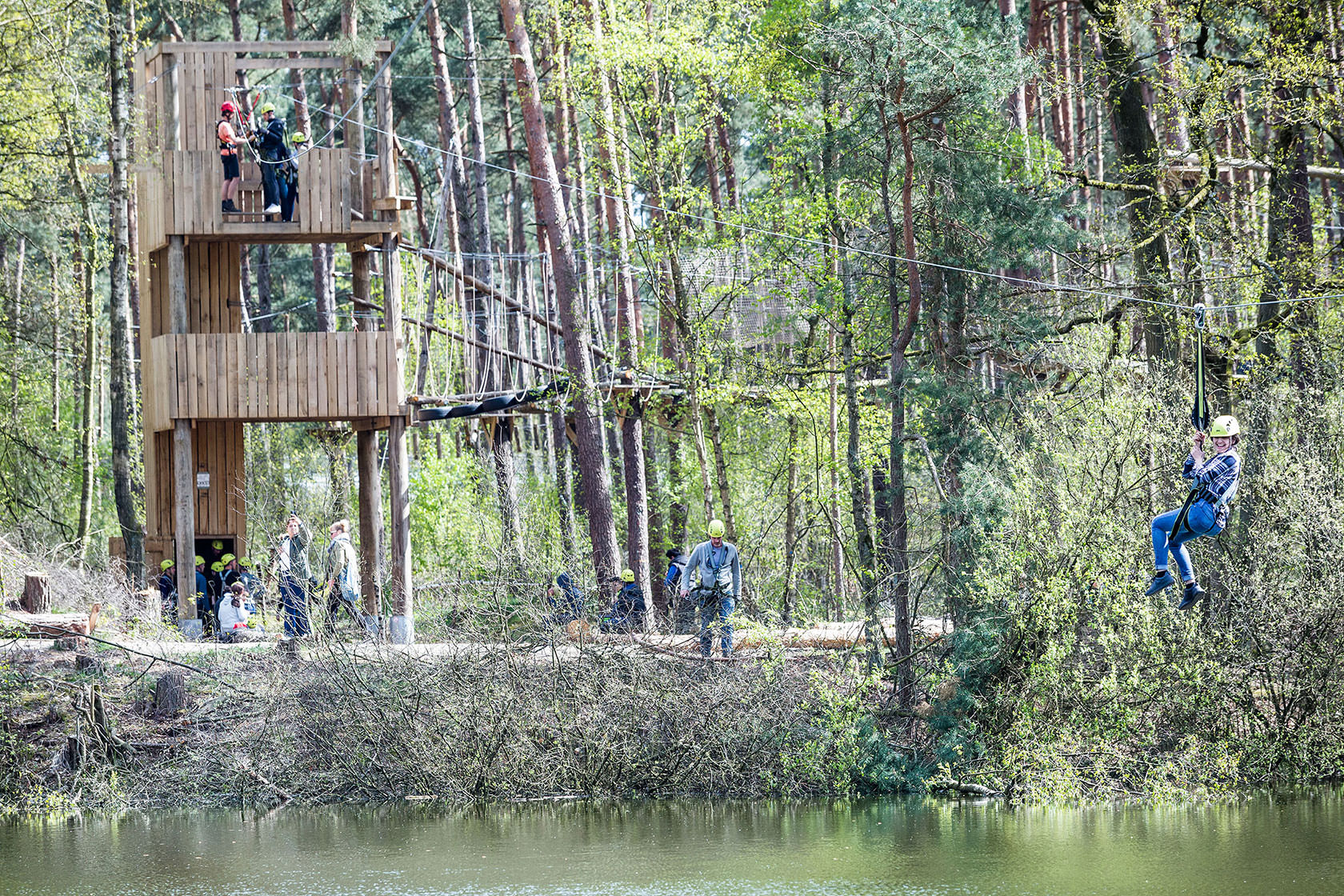 Klimbos Weert (Nederland)

Net over de Nederlandse grens kun je terecht voor een fikse portie klimplezier in de mooie, natuurlijke omgeving van recreatiegebied De IJzeren Man. Hoog in de bomen wachten jou in dit eco-klimbos vier parcoursen: Discovery (max. 5 meter hoog), Explore (max. 6,5 meter hoog), Adventure (max. 7,5 meter hoog) en Adrenaline (max. 9,5 meter hoog) voor de echte waaghalzen. Zo kun je langzaam opbouwen en stalen zenuwen kweken voor je aan de 40 meter lange zipline aan het einde komt.
·         Min. lengte: 1m30
·         Duur: 2,5 uur
·         Prijs: € 12,50 (tot 14 jaar) - € 17,95 (ouder dan 14 jaar)
Wat heb je nodig voor een dagje klauterplezier?
-       Comfortabele, liefst nauw aansluitende kledij die tegen een stootje kan (geen rokjes, vermits je een klimgordel moet dragen)
-       Stevige, vastzittende schoenen met goeie grip
-       Een regenjasje in geval van slecht weer
-       Een lunchpakket en voldoende water
-       Een flinke portie durf en behendigheid