Klaar voor the next step?
Droge voeten, zowel in warme als natte omstandigheden? Check! En wel dankzij de nieuwe Gore-Tex-lijn met Surround-technologie, die 360-graden klimaatcomfort biedt voor je voeten. Oftewel: altijd droge en comfortabele voeten, zelfs bij extreme omstandigheden.

Gore-Tex, altijd vernieuwend

Gore-Tex heeft al een aantal revoluties teweeggebracht op de schoenen- en kledingmarkt. Bij het grote publiek is het merk vooral bekend om hun 'ademende' membranen, die tegelijk waterdicht zijn maar toch de verdamping van zweet mogelijk maken. En dat is nog steeds de specialiteit van het huis, iets waarin het ook telkens beter wordt.
De volgende innovatie in het rijtje is Gore-Tex Surround, een technologie die schoenen rondom waterdicht én ademend maakt. De echte vernieuwing zit hem in het woord 'rondom'. De meeste andere Gore-Tex-schoenen zijn immers wel volledig ademend, maar niet ter hoogte van de zool. Dat is bij Gore-Tex Surround wél het geval, meteen ook de reden waarom Gore ernaar verwijst als "360-graden klimaatcomfort voor je voeten".
Wist-je-datje: Doordat Gore-Tex Surround ook onder de voet werkt, is het ademend vermogen aanzienlijk groter dan bij klassieke oplossingen. Logisch, wanneer je weet dat het ademend oppervlak met ongeveer 1/3de toeneemt dankzij de Surround-technologie. En dat alles zonder dat er compromissen worden gemaakt op het vlak van waterdichtheid.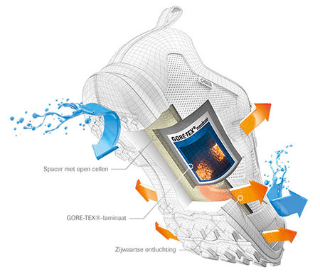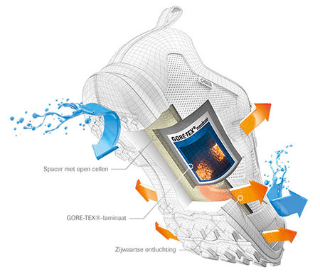 Een laagje met meerwaarde

Het geheim van de nieuwe technologie? Die zit hem in de nieuwe spacer, een heel dun technisch laagje dat in de zool is verwerkt. Het vocht en de warmte die ontstaan tijdens het wandelen worden naar die spacer geleid en van daaruit via de zijwaartse ontluchting afgevoerd. Of hoe de Gore-Tex Surround-technologie ook echt onder je voet werkt, zoals duidelijk zichtbaar is op de afbeelding.

Of je nu naar kantoor wandelt, door de straten van Barcelona struint of gewoon even door de natuur slentert, Gore-Tex Surround-schoenen bieden altijd voordelen. Dat weet ook Pep Guardiola, ex-voetbalvedette, topcoach én brand ambassador van Gore-Tex. Gevraagd naar zijn keuze voor Gore-Tex Surround zegt Guardiola vooral "onder de indruk te zijn van de functionaliteit en het innovatieve karakter van zowel de kledij als de schoenen. Maar ik droeg eigenlijk al jaren alles van Gore-Tex, net zoals de rest van mijn huisgenoten overigens. In die zin was het dan ook een logische keuze."