100% waterdicht én ademend?
De nieuwe generatie regenjassen stelt het menselijk verstand voor een raadsel: ze zijn 100% waterdicht, superlicht, compact … én bijzonder ademend. Hoe dat kan? Het geheim zit hem in het innovatieve lagensysteem.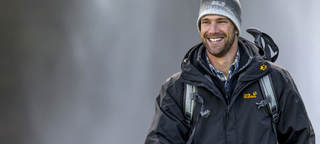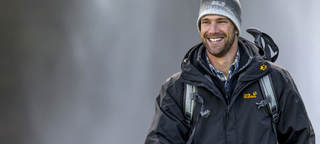 First things first. Regenjassen kan je grofweg opdelen in twee verschillende soorten met hun eigen waterdichtheidstechniek:
De laminaatjassen laten zich dragen als een tweede huid. Ze zijn uitgerust met een 100% waterdicht en ademend membraan, met kleine poriën waarlangs het zweet gemakkelijk wordt afgevoerd. Gore-Tex® is een bekend voorbeeld.
De gecoate jassen (denk aan Texapore van Jack Wolfskin of HyVent van The North Face) zijn ook ademenden water- en winddicht, maar een stukje minder duurzaam. Aan de binnenkant werd een vernislaag aangebracht die de plaats van het membraan inneemt en mee voor de waterdichtheid zorgt.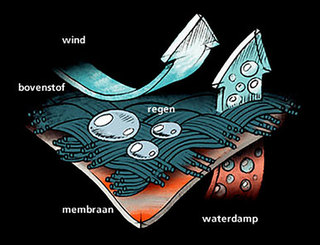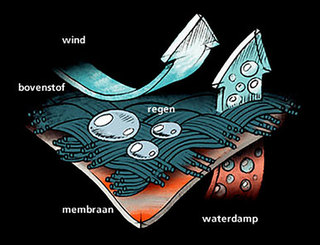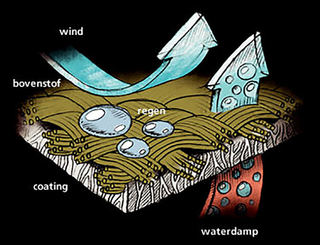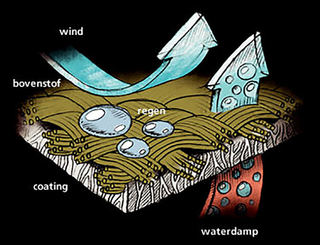 Of je nu kiest voor een laminaatjas of een gecoat model, stel jezelf zeker de vraag voor welke activiteit je hem nodig hebt. Dit heeft een invloed op het lagensysteem van de jas.
Voor natte wandelingen heb je aan een 2-laags jas voldoende. Hierbij wordt een lossebeschermingsvoering in de jas genaaid, zodat die soepel en ademend is.
Een lichtgewicht 2,5-laags model voor lopers, fietsers en mountainbikers heeft een groot doorademendvermogen, omdat de beschermingslaag in de coating of het membraan wordt ingewerkt. Let wel: deze jassen zijn fragiel.
De duurzame 3-laags jassen voor intensieve klim- en trektochten zijn het sterkst, maar omdat er lijm wordt gebruikt om de voering of mesh tegen het membraan te kleven, is hun ademend vermogen kleiner.
Extra waterafstotend laagje

Dankzij de duurzame waterafparelende laag aan de buitenkant van de jas glijden waterdruppels zo naar beneden. Deze extra coating zorgt er voor dat het water niet in de stof doordringt, de jas sneller droogt en het ademend vermogen van de jas onaangetast blijft. Bij jassen zonder zo'n laag raakt de buitenstof snel verzadigd, waardoor transpiratie niet meer kan ontsnappen en er aan de binnenkant condensatie optreedt.