Hoe pas ik een rugzak?
Een rugzak is tegenwoordig een stukje spitstechnologie: dankzij tal van verschillende riempjes stel je de rugzak precies op jouw maat en specifieke lichaamsbouw af. Dat doe je het best meteen in de winkel als je je rugzak koopt. Zo ben je zeker dat je rugzak past. Maareuh… met welke gesp begin je? Een handleiding in acht stappen.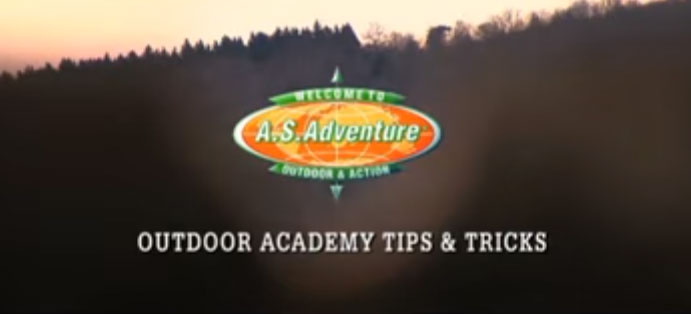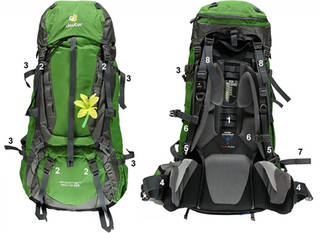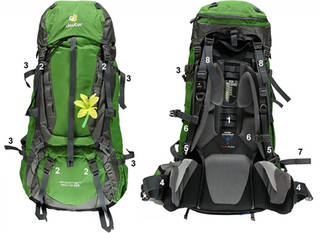 Let op de lengte van het rugpand (1). De meeste rugzakmerken werken met frames die je tot op de millimeter nauwkeurig kunt afstellen. Wanneer je het rugpand in de goede stand hebt, staat het goed voor de rest van zijn rugzakkenleven.

Span de bagageriemen (2) aan. Vergeet ook de compressieriemen (3) aan de zijkant niet. Die zorgen ervoor dat je rugzak één wordt met je lichaam, waardoor je lichaam minder belast wordt.

Zet alle overige riemen in de ruimste stand.

Zwier de rugzak op je rug, buig licht voorover en snoer de heupgordel (4) vast op bekkenhoogte (2/3 op je bekken en 1/3 erboven). Let op: het zijn je heupen die het zwaarste gewicht moeten dragen, niet je schouders of je rug. Zorg dus dat de gordel goed vastgesnoerd is.

Ga rechtop staan en trek de schouderbanden (5) strak. Sluit het borstbandje (6) halverwege de schouderbanden. Span ook dit bandje aan.
Komt de heupgordel te hoog, dan is het draagstel te klein.
Lopen de schouderriemen niet keurig langs de schouders, dan is het draagstel te groot.
Span de heupgordel-stabilisatiebandjes (7) aan. Deze lopen schuin van de heupgordel naar de rugzak.

Span de schouderband-stabilisatiebandjes (8) aan. Deze zorgen ervoor dat je rugzak de beweging van je lichaam volgt.

Maak wat 'moves' met je rugzak op je rug. Zo merk je meteen of hij comfortabel zit. Is dat niet het geval, dan probeer je beter een ander exemplaar.