En toen … was er vuur
Een goede Robinson herken je aan zijn talent om vis te vangen, kokosnoten te plukken en … vuur te maken. Soms kan het je leven redden, maar bovenal is het een skill die je gebruikt om te koken, je te verwarmen of gewoon voor de gezelligheid. Ready to fire things up? Wij tonen je hoe je in no time een vuurtje stookt!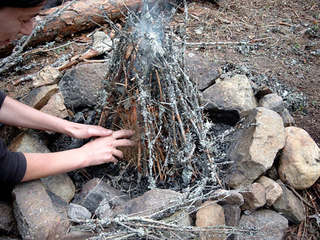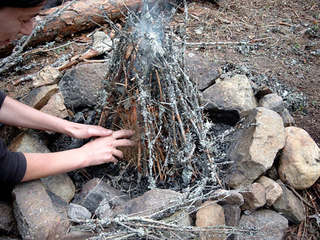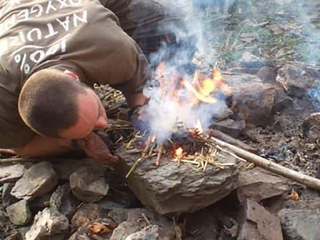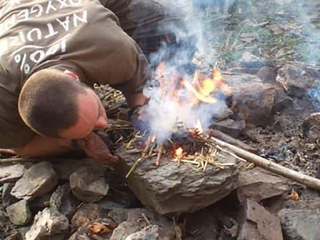 De vuurdriehoek, deel 1: BRANDSTOF

Geen kampvuur zonder hout. Begin dus met een zoektocht naar geschikte brandstof en leg je vondsten netjes klaar van klein naar groot: tondel, kleine takjes en dikkere takken en boomstronken.

Wat is tondel?
Noem het gerust een aanmaakblokje uit de natuur: met schilfers berkenschors, fijn houtschaafsel, verpulverde dennennaalden, plukken gras of mos kun je je vuurtje makkelijk op gang te brengen. Dé voorwaarde is wel dat het materiaal droog en dus uiterst brandbaar is. Je kunt tondel ook makkelijk zelf maken door wattenpropjes in vaseline te dopen. Dezefirestarters ontbranden al bij de kleinste vonk!

Nergens droog hout of tondel te vinden?
Ga op zoek naar afgebroken, losgewaaide takken die in bomen of struiken zijn blijven hangen, die zijn veel droger dan alles wat je op de grond zal vinden.
Maak met een scherp mes een zogenaamde 'feather stick': een stukje dood hout – zonder schors – waar je een reeks dunne krullen van snijdt. Ideaal om je vuur mee aan te maken.
Snij wat fijne krullen van de 'tindersticks' van Light My Fire.
Klief een boomstammetje in tweeën: misschien heb je geluk en is de binnenkant van het hout nog droog?
De vuurdriehoek, deel 2: ZUURSTOF

Om je vuur aan het branden te krijgen, moet je je beste blaaskunsten bovenhalen. Zonder zuurstof zal je vuurtje namelijk letterlijk verstikken en krijg je vooral heel veel rook zonder warmte. Breng dus lucht in je bouwsel, want waar rook is … is te weinig zuurstof.

TIP: Een stevige windvlaag kan je zorgvuldig aangewakkerde vlammen natuurlijk ook weer uitwaaien. Scherm je tondel dus goed af van de wind wanneer je het aansteekt, zéker als je je laatste lucifer gebruikt.

De vuurdriehoek, deel 3: ONTSTEKINGSENERGIE

Voor de mens ontdekte hoe hij een vuurtje kon starten, was het wachten op een welgemikte bliksemflits om een boom in lichterlaaie te zetten. Gelukkig weten we inmiddels hoe we zelf 'man's red fire' kunnen maken.
Een aansteker of zippo en (waterbestendige) lucifers zijn het makkelijkst en worden dan ook het vaakst gebruikt.
Een magnesiumstick of firesteel is een onfeilbaar alternatief als je fijne, droge tondel hebt. Vonken maak je door er met een mes over te strijken. In de Leatherman Signal zit zelfs een magnesiumstaaf ingebouwd!
Een vergrootglas werkt enkel bij zonnig weer en met heel veel geduld: richt je loep op de tondel en laat het zonlicht er in een dun, geconcentreerde straaltje doorheen vallen. Even wachten … en de boel begint te roken.
Nat weer? Met een uitgerekt stukje fijne staalwol, een 9V-batterij en een basiskennis fysica lukt het ook. Kijk maar naar dit filmpje. Yeah, science!
Hou je van old school? Waag je dan eens aan een vuurboog: met een houten 'boor' en een plankje wrijf je een stukje hout tot poeder, dat door de hitte van de wrijving een kooltje wordt, waarmee je vervolgens de tondel kunt aansteken.
Zo bouw je je kampvuur op: de wigwamtechniek

Baken je vuurplaats af met dikke keien of stenen. Gebruik nooit natte of poreuze stenen, want die kunnen exploderen en gevaarlijke splinters verspreiden.


Maak op de grond een platform van droge takken om de tondel en je beginnend vuurtje te beschermen tegen de vochtige ondergrond.


Zet op dit platform enkele dunne twijgjes in wigwamvorm tegen elkaar.


Leg een pluk tondel in het midden, steek aan en blaas zachtjes.


Wanneer de twijgen goed branden, bouw je langzaam op met dikkere takken. Een windscherm van stenen rondom je vuur laat het extra lang branden.
Safety first!
Een vuurtje stoken in de open natuur is verboden in België. Vraag dus eerst toestemming aan de boswachter of eigenaar en hou je verstand erbij.

Blijf weg uit droge gebieden, overhangende takken en boomwortels.
Laat je vuur nooit onbewaakt branden.
Trek je verder, doof je vuur dan met veel water en dek de kolen af met een laag aarde.
Zo, nu weet je alles om het perfecte kampvuur te maken. Tijd om naar buiten te trekken en zelf aan de slag te gaan met onze tips!
>> Maak een filmpje, timelapse of foto van (het bouwen en aansteken van) je kampvuur en post het op onze Facebookpagina of deel het op Twitter en Instagram met #asadventure.
Laat je het vuurtje stoken liever aan een ander over, maar wil je wél graag genieten van dat gezellige geknisper en die heerlijke houtvuurgeur? >> Op deze adresjes word je op je wenken bediend.