Eerste hulp bij tekenbeten

Venijnige bloedzuigertjes zijn het, die minuscule insecten die het op de warme, verborgen plekjes van je lichaam gemunt hebben. En al lijkt zo'n tekenbeet ongevaarlijk, toch kan ze nare gevolgen hebben. Uitkijken geblazen dus!

Welkom in het tekenseizoen! Net als mensen genieten teken het meest van warm weer. Van april tot en met oktober is de kans dus het grootst dat je met de beestjes in contact komt. Ben je een natuurliefhebber die zich regelmatig op bos- of veldweggetjes begeeft? Dan ben je voor teken een makkelijk doelwit. In het voorbijwandelen grijpen ze zich aan je vast, en banen zich vervolgens een weg naar de warmste regio's van je lichaam. Van je knieholte en je lies tot je oksel en zelfs je haarlijn!

Volgezogen met bloed kunnen teken tot tien keer hun eigen lichaamsgewicht krijgen en wel een centimeter groot worden. Jakkie! Maar zo ver laat je het best niet komen … Hoe meer tijd een teek krijgt om zich tegoed te doen aan jouw bloed, hoe groter de kans wordt op besmetting met de Borrelia-bacterie – de boosdoener die de chronische infectieziekte van Lyme veroorzaakt. Na acht uur stijgen die kansen al gevoelig. In veel gebieden in Oost- en Noord-Europa verspreiden teken trouwens ook het FSME-virus dat onder andere kan leiden tot hersenvliesontsteking. Geen doetjes dus, die teken.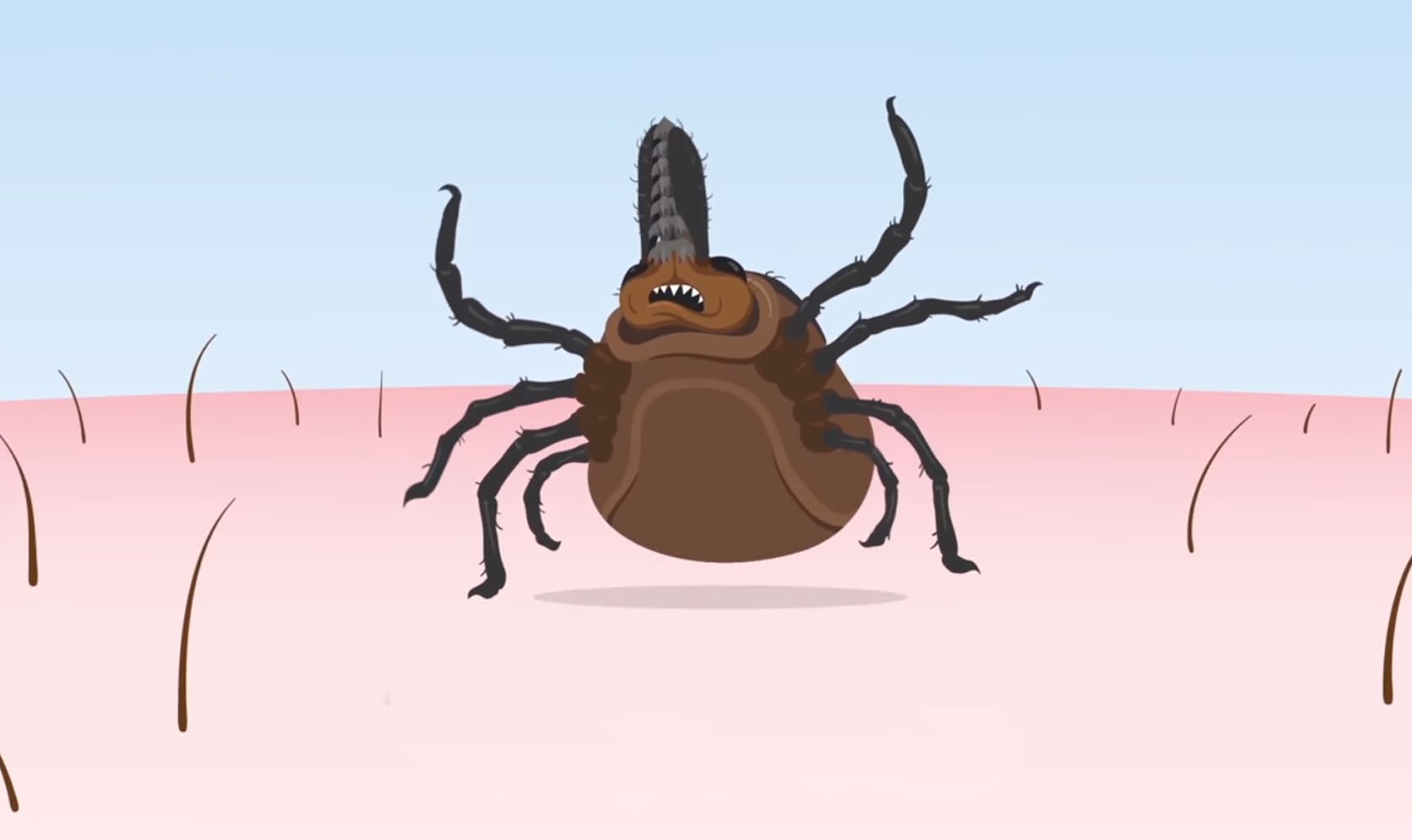 Beter voorkomen dan… voor eeuwig ziek

Draag een lange broek en shirt met lange mouwen, en prop je broekspijpen in je geïmpregneerde, tekenwerende sokken.
Blijf zoveel mogelijk in het midden van het pad en ga niet onnodig door lang gras of varens lopen.
Smeer je onbedekte huid royaal in met een sterk tekenwerend middel op basis van Citriodiol. Deze spray bevat geen DEET en beschermt je al tot 6 uur tegen teken. Deze spray mét DEET (40 %) beschermt je even goed, alleen iets minder lang: 4 uur in plaats van 6 uur.
Hoe voorzichtig je ook bent, toch kan er altijd nog een teek door de mazen van het net glippen en zich vastzetten in je huid. Volg deze drie stappen om de kans op besmetting aanzienlijk te verkleinen:
STAP 1: Verwijder de teek nog dezelfde dag
Controleer jezelf en je wandelgezelschap steeds grondig na een dagje in de natuur. Hoe sneller je de teek kunt opsporen en – veilig! – verwijderen, hoe beter. Want 8 uur na de tekenbeet stijgt de besmettingskans al gevoelig.
STAP 2: Gebruik altijd een tekentang
Een teek die niet correct wordt verwijderd, bijvoorbeeld met een brandende sigaret, alcohol of zeep, braakt zijn maaginhoud uit in je lichaam – inclusief schadelijke bacteriën en virussen. Bovendien verhoogt vreemd weefsel dat mogelijk achterblijft in de huid de kans op infecties.
STAP 3: Desinfecteer je huid
Heb je een tekentang gebruikt maar blijft de steeksnuit van het beestje achter in de huid? Geen paniek, verwijder dit dan zoals je een splinter zou verwijderen. Gebruik wel een ontsmettingsmiddel om de plaats van de beet grondig te desinfecteren. Twijfel je of de teek daarmee echt volledig verwijderd is, of is de volledige kop van de teek achtergebleven? Raadpleeg dan zo snel mogelijk een arts en ga voort op zijn advies. Dat is het beste recept om besmetting te vermijden.
TIP: Hou de huid rondom de beet nog een drietal maanden in de gaten om zeker te zijn dat er geen rode kring of andere klachten ontstaan.

Meld je tekenbeten online!

Om het tekenbestand en het aantal tekenbeten in ons land beter in kaart te brengen, heeft het Wetenschappelijk Instituut voor Volksgezondheid vorige zomer een online tekenmeldpunt op poten gezet: www.tekennet.be. Op die manier wil de overheid zowel de diagnose als de behandeling van de ziekte van Lyme sterk verbeteren, en dat is nodig.

Heb je een tekenbeet? Aarzel dan niet en meld je beet meteen via de website of maak gebruik van de app, gratis te downloaden voor Android of iOS.
Meer weten over teken? Op www.stopdeteek.nl vind je alle nodige informatie, van preventietips tot tekennieuwtjes.