Een smartwatch als alternatief?
Een smartwatch als alternatief?
Wil je nog meer (of andere) functies dan bij een sporthorloge, dan lijkt een smartwatch misschien een aantrekkelijk alternatief. Begrijpelijk, want net als sporthorloges beschikken steeds meer van die 'slimme' horloges over een ingebouwde hartslagmeter. Bovendien zien ze er meestal eleganter uit dan een sporthorloge, hebben ze prachtige aanraakgevoelige schermen en dankzij apps kun je er allerlei dingen mee doen die de sportsfeer ver overstijgen.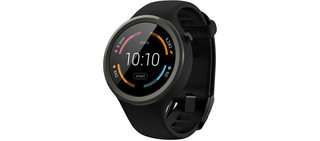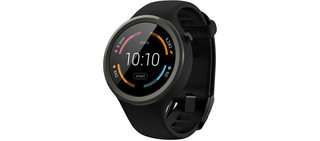 Smartwatches winnen aan populariteit, dat mag duidelijk zijn. Op één jaar tijd verdubbelde de verkoop van slimme horloges wereldwijd, met de Apple Watch als meest populaire keuze (goed voor ongeveer de helft van de totale verkoop). Aangezien heel wat fabrikanten intussen ook sportieve varianten aanbieden van hun smartwatches - denk niet alleen aan de Apple Watch, maar bijvoorbeeld ook aan de Motorola Moto 360 II - lijken ze een perfect alternatief voor een sporthorloge.
Toch zitten er ook een paar beperkingen vast aan dit concept. Zo'n 'slim' horloge is namelijk vooral bedoeld als uitbreiding voor je smartphone – een extra scherm om je pols dat voorkomt dat je je telefoon om de haverklap uit je broekzak moet halen – en niet als sportaccessoire. Dat betekent dat ze voor heel wat functies afhankelijk is van de smartphone waarmee ze gekoppeld wordt, al is dit recent al aardig verbeterd.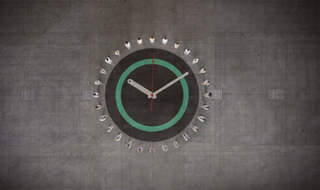 Daarnaast zijn er ook designmatige compromissen. De slanke vormgeving zorgt voor minder accuruimte, waardoor een doorsnee smartwatch veel vaker opgeladen moet worden dan een kwalitatief goede sporthorloge (in veel gevallen zelfs dagelijks). De elektronica is minder stootbestendig en meestal ook niet waterdicht, terwijl bepaalde cruciale sportfeatures weleens durven te ontbreken of minder uitgebreid zijn dan bij een sporthorloge. Kortom, voor fanatieke sporters die een diepgaande analyse willen van hun prestaties en trainingsopbouw schieten ze nog te kort.



Met de huidige technologie is een smartwatch dus nog geen volwaardige vervanger voor een sporthorloge, maar wel een mooi accessoire voor smartphonegebruikers die extra motivatie zoeken om te bewegen. Zeker wanneer je ze ook nog verbindt met andere slimme toestellen, zoals de slimme weegschalen van Garmin en Polar.

Wil je een slim horloge dat je kunt koppelen aan je telefoon en ligt je prioriteit wél bij sport? Kijk dan eens naar een sporthorloge met smartwatchfunctionaliteit. Die modellen kun je zien als een kruising tussen een smartwatch en sporthorloge: onderhuids blijven het echte sportaccessoires, maar ze bieden ook een aantal kenmerken van een smartwatch. Denk daarbij aan extra's zoals smart notifications (het horloge geeft je een seintje bij bijvoorbeeld inkomende berichten, e-mails of afspraken in je agenda) of automatische synchronisatie van gegevens met je telefoon. Blikvangers in dit segment zijn onder meer de Vivoactive, VivoActive HR, Fenix 3- en Ambit 3-reeks van Garmin. Bij de activity trackers is de Polar A360 zeker het overwegen waard, Bij sommige modellen uit de Edge- of ForeRunner-serie van Garmin is het ook mogelijk om je trainingen in real-time te delen met familie en vrienden via de LiveTrack-functionaliteit. Dat beperkt zich niet alleen tot de route, ook gegevens zoals je snelheid of de gelopen afstand zijn volgbaar. Voeg je er ook nog extra ANT+-accessoires aan toe, dan liggen er nog meer deelbare gegevens binnen handbereik.

+ Aanpasbaarheid
+ Hip
- Batterijduur
- Afhankelijk van telefoon