De deugd van een goede wandelstok
De deugd van een goede wandelstok
Voor sommige wandelaars is de wandelstok een echte must. En dan verwijzen we niet naar het wereldberoemde exemplaar van Charlie Chaplin. Tijdens stevige bergtochten of met een zware rugzak op je schouders moet je kunnen rekenen op een robuuste wandelpartner. In goede en in slechte tijden.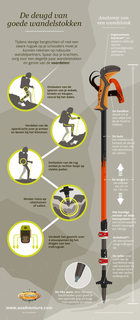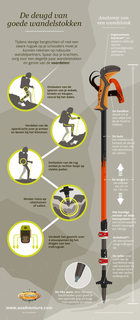 De voordelen van een extra been

Niets aan te doen. Alles wat van ver of dichtbij nog maar een beetje met ons wandelcomfort te maken heeft, maakt ons goedgezind. Trek je er voor een lange tijd op uit? Spaar je krachten en zorg voor een degelijke wandelstok. Dit derde been:
biedt je extra balans
ontlast de spieren van je enkels, knieën en heupen, vooral dan bij het dalen
verdeelt de spierkracht over je armen en benen bij het klimmen
helpt je rechter te lopen op vlakke paden
houdt je staande op een rotsachtig of modderig pad
Anatomie van de wandelstok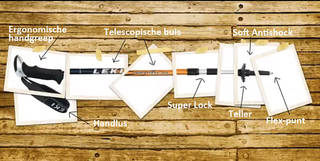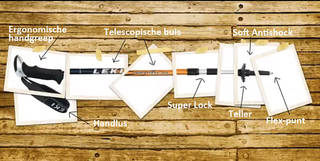 De beste wandelstokken bestaan uit licht aluminium en zijn makkelijk instelbaar. Aan de bovenzijde is een comfortabel, ergonomisch handvat om zowel in natte als warme omstandigheden optimaal te presteren. Ook belangrijk zijn:
De handlus: ideaal om je stok te allen tijde bij de hand te hebben. Haal je hand snel uit de lus als je op het punt staat te vallen.
De buis: het middenstuk van de meeste wandelstokken bestaat uit een combinatie van aluminium en ijzersterk titanium. De lengte is verstelbaar van 65 cm tot 135 cm.
De Super Lock: dit handig verstel- en blokkeersysteem kan een bovenwaartse kracht opvangen tot 140 kg!
De teller: geen geknoei meer in de sneeuw. De teller voorkomt dat de wandelstok wegzakt wanneer hij in contact komt met een zachte ondergrond.
De Soft Antishock: dit veersysteem vangt trillingen op. Let op: we spreken hier niet van lawinegevaar.
De Flex punt: deze slijtvaste hardmetalen punt geeft je een optimale grip en buigt mee wanneer je vastzit.
Om van al deze voordelen te genieten, is het natuurlijk belangrijk dat je je wandelstok ook correct gebruikt. Sta er dus niet als een gek mee rond te zwaaien. Een wandelstok is evenmin geschikt als verdedigingsmechanisme tegen wilde dieren.