5 Oostenrijkse wandelroutes langs het water
5 Oostenrijkse wandelroutes langs het water
Fotogenieke landschappen, frisse berglucht, kristalheldere meren … Geen wonder dat Oostenrijk steevast bovenaan prijkt in de lijstjes met populaire wandelbestemmingen. In het nieuwste A.S.Magazine nemen we je mee op driedaagse naar het Hochschwab-plateau in Stiermarken, maar ook deze vijf Oostenrijkse wandelroutes langs rivieren, meren, bergkloven en watervallen mogen zeker niet ontbreken op jouw bucketlist.

1. De Lechweg in Vorarlberg (Tirol)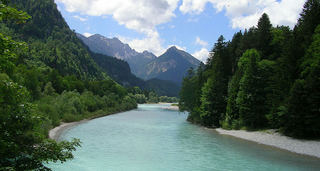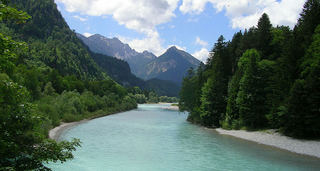 Dit langeafstandspad van 125 kilometer start aan de Formarinsee in het Lechtal-Reutte Natuurpark en voert je langs de Lech, een van de laatste wilde rivieren in Europa. Tijdens het wandelen doorkruis je drie regio's in twee landen en zie je de rivier van kleur en vorm veranderen, bijvoorbeeld tijdens het oversteken van de langste voetgangershangbrug in Oostenrijk. Hou je ogen open voor kuddes berggeiten, betoverende watervallen en koninklijke kastelen.
Hier vind je een online routekaart waarmee je je wandeltocht kunt uitstippelen. Op deze website kun je ook een driedaags wandelpakket boeken.
2. De Gorge Route in het Saalachtal (SalzburgerLand)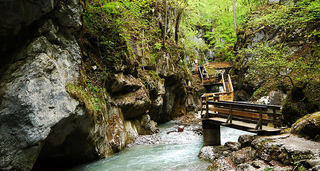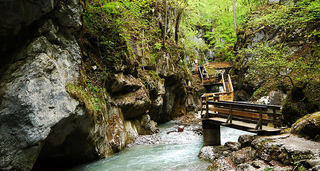 Ben je een fan van natuurwonderen? Dan kun je in het Saalachtal zeker en vast je hart ophalen. Bizarre rotsformaties, dramatische bergkloven, bulderende watervallen en de Lamprechtshöhle-grot – een van degrootste grotten van Europa, compleet met ondergronds waterparcours – bevinden zich er allemaal in een straal van 2 kilometer. Ga voor de geleide trektocht langs de 95 kilometer lange trail, dan ben je zeker dat je niets van al dit moois mist.
Hier vind je meer info over de 7-daagse trekkingtour langs de Gorge Route. Boeken doe je door te klikken op de link onderaan de pagina.
3. De Bärnschützklamm Mixnitz (Styria)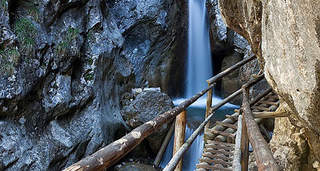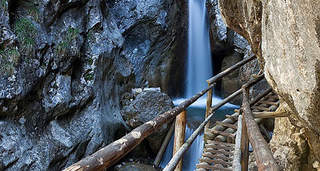 In 1978 werd dit ravijn niet voor niets officieel erkend als natuurlijk monument. Met haar uitzonderlijke weelde, ongerepte watervallen en grillige kliffen is de Bärnschützklamm een van de mooiste bergkloven van het land. Een spectaculair wandelpad met ontelbare trappen en vrijhangende ladders, die 100 jaar geleden al geïnstalleerd werden door de Alpine Association, leidt je naar de uitgestrekte alpenweiden. Dit is Oostenrijk op z'n best!
Hier kun je de route op een kaartje bekijken en de nodige details terugvinden.
4. De Jungfernsprung Water Wonders Walk (Carinthia)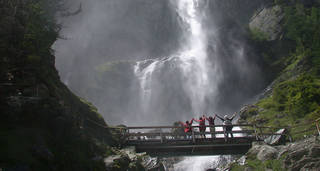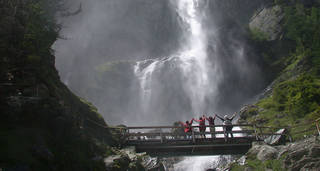 Volgens de legende kwam een jong meisje op de rand van deze klif terecht in een poging de duivel te ontlopen. Dankzij een clubje beschermengelen eindigde haar wanhoopssprong veilig en wel op de begane grond. Vandaag bulderen de wilde waters van de Zopenitzen-bergstroom naar beneden langs de 130 meter hoge rotsen en vormen ze een waterval met de toepasselijke naam Jungfernsprung. Laat je hoogtevrees maar thuis dus!
Een wandeling van zo'n anderhalf uur brengt je bovenop het uitkijkplatform aan de waterval. Hier vind je de nodige info over de tocht.
5. De Schladminger Tauern Peak Trail (Styria)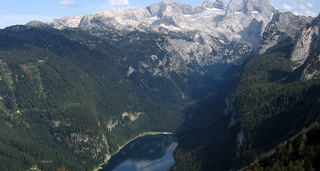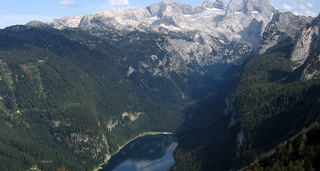 Ook in het hooggebergte kun je je laten verrassen door onstuimige waterpartijen. Langs deze 72,6 kilometer lange, uitdagende huttentocht krijg je niet alleen spectaculaire uitzichten over de Alpen voorgeschoteld, maar passeer je ook enkele van de meer dan 300 prachtige bergmeren in de omgeving, met talloze bergstromen en watervallen als kers op de taart.
Wil je deze trail in etappes afleggen? Vanuit elke hut kun je afdalen naar de vallei en een bus nemen naar je startpunt. Meer info vind je hier.
Geef je voeten voldoende frisse lucht zodat ze droog zijn voor vertrek en gebruik eventueel voetenpoeder voor je je technische wandelsokken aantrekt.
Bind je wandelschoenen volledig vast voor optimale ondersteuning, maar trek je veters niet te strak aan – je voeten zetten nog uit tijdens het wandelen.
Laat je voeten tijdens rustpauzes regelmatig verluchten en plak opkomende blaren meteen af met sporttape of een tweedehuidpleister.
Te veel last van je blaar? Ontsmet ze, prik de bovenhuid open en druk het vocht eruit met een steriel doekje. Pleister erop en verder stappen maar!
Vergeet je voorraad drinkwater niet, in een drinkfles of in een Camelbak op je rug.
Hier vind je nog enkele slimme drinktips om je wandeltocht door te komen zonder uit te drogen.
Ook de juiste kledij is belangrijk wanneer je gaat wandelen. Voor een tocht in de bergen moet je immers steeds voorbereid zijn op verschillende weersomstandigheden. Met een set thermisch ondergoed, een fleece, een regenjas en stevige schoenen kom je al een heel eind.
Hier vind je een checklist met alle essentials voor een geslaagde dagtocht.
5 populaire wandelresorts in Oostenrijk

Innsbruck: een charmante Tirolerstad met een middeleeuws sfeertje, omgeven door bergen, trails en vakantiedorpjes. Hét paradijs voor wandelaars en iedereen die wel kan genieten van een mooi panorama.


Seefeld: gelegen op een zonnig plateau van zo'n 1.100 km hoog ben je hier verzekerd van een gezond klimaat en prachtige vergezichten. Wandel eens naar de omliggende dorpjes om je onder te dompelen in het typische Tiroler leven.


Alpbach: in deze vallei vind je de mooiste dorpjes van Europa, met honderden houten huizen en historische herbergen vol kleurrijke balkons. Wandelroutes van verschillende niveaus leiden je langs idyllische bergstroompjes, bossen en weides vol grazend vee.


Hallstat: vlak langs een meer in hartje Salzkammergut ligt deze Werelderfgoedsite met zo'n 4.500 jaar geschiedenis te wachten op je wandelkunsten. Beklim de Dachstein, met 3.004 m de hoogste berg in de regio, of ga op ontdekking in de ijsgrotten en de oude zoutmijnen.


Salzburg: de kristalheldere, met bergen omkranste meren rond Salzburg, zoals de Wolfgangsee en de Fuschlsee, herken je natuurlijk uit 'The Sound of Music'. Gevorderden kiezen voor een meerdaagse trekking in de nabij gelegen Saalach-vallei.
Benieuwd naar onze wandelcapriolen in het groene hart van Oostenrijk? In het nieuwe A.S.Magazine nemen we je mee door weer en wind over de hooglanden van Stiermarken. Haal je exemplaar nu in je dichtstbijzijnde A.S.Adventure Store!
Hier vind je een overzichtje van wat je nog meer mag verwachten.

Voel je de wandelmicrobe al jeuken?
>> Vergeet dan zeker de foto's van je Oostenrijkse trektocht langs het water niet met ons te delen op onze Facebook-fanpagina of op Twitter en Instagram met #asadventure, zodat we kunnen meegenieten!