Voor ieder wat fleece
Dat fleece altijd al een tikkeltje stiefmoederlijk behandeld werd buiten het outdoorwereldje, is even onbegrijpelijk als onterecht. Mensen kopen fleece in eerste instantie natuurlijk voor z'n technische kwaliteiten, maar dat neemt niet weg dat fleece ook perfect gecombineerd kan worden met je dagdagelijkse kleding. Een korte kennismaking met de flatterende kant van fleece.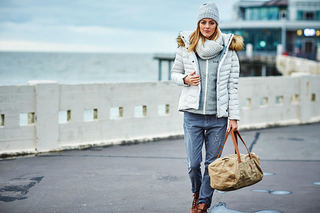 De tijd dat een fleecetrui per definitie een dik uitziende, vormeloze trui was, is al lang voorbij.Tegenwoordig zijn er fleecetruien in alle maten en kleuren – zowel voor dames, heren als juniors – waardoor het steeds mogelijk is om een fleece te vinden die je op het lijf geschreven is.
Als basisregel hou je er best rekening mee dat de dikte van de fleece een sterke invloed heeft op het volume van de bovenkant van het silhouet. Wil je de bovenkant van je silhouet wat forser maken, dan brengt een dikkere fleece dus uitkomst. Wil je dit net vermijden, dan kies je best voor een dunnere fleece. Mensen met een zandloperfiguur kunnen dan weer eender welke fleecetrui aantrekken, omdat dit perfect past bij hun lichaamsvormen. Op zoek naar een fleece met een uitgesproken vrouwelijk tintje? Kies dan voor een meer aansluitend model dat mooi aansluit op je taille. Dat doet je silhouet er meteen vrouwelijker uitzien.
Door slimme combinaties te maken, kun je fleece trouwens perfect combineren met doordeweekse kledij zonder uit de toon te vallen. Zo zorgt een fijne fleece in combinatie met een icebreaker ervoor dat je het steeds behaaglijk warm hebt, zonder dat het volume van je silhouet al te sterk vergroot. Daarnaast zorgt het grote aanbod kleuren en motieven ook voor heel wat creatieve combinatiemogelijkheden. Experimenteer er dus gerust op los.
Tot slot zijn er ook nog fleecetruien die specifiek mikken op een sportief publiek. Die kenmerken zich door een sportievere snit, vaak aangevuld met extra's zoals reflecterende details. Ideaal voor lopers, maar bijvoorbeeld ook voor ruiters die op zoek zijn naar comfort met wat extra zichtbaarheid. Kortom, met fleece kun je werkelijk alle kanten uit.
Tip: Verlies ook de fleece met hoge kraag niet uit het oog voor extra warmte en een super stijlvolle winterlook.

Kerstmarkt- en citytripproof

Waarvoor je een fleecetrui dan zoal kunt gebruiken? In eerste instantie als ideale isolatielaag in het drielagensysteem, maar zeker ook om tegelijkertijd stijlvol en warm op een kerstmarkt en of de zeedijk rond te struinen.
Ga je op citytrip naar Moskou of Oslo? Pak ook dan zeker een fleece in. Licht, toch warm en altijd stijlvol. Kies je voor een fleece met een ritssluiting over de volledig lengte (full-zip), dan kun je de trui ook makkelijk even uitdoen wanneer je de binnenwarmte opzoekt voor een versnapering.
Tip: Stuur je kids naar school met een fleece en je weet dat ze het nooit koud zullen hebben.

Ga je onze Rode Duivels aanmoedigen in het altijd kille Koning Boudewijnstadion? Ook dan is een fleece + windstopper vast een winnende combinatie, zeker wanneer je ze combineert met heerlijk zachte handschoenen, een muts en een sjaal in fleece.