Modemythes bij heren ontmaskerd
Modemythes bij heren ontmaskerd
A.S.Adventure maakt komaf met vijf stijltaboes, voor eens en altijd. Want regels zijn er om te breken ... Maar heren, laat die witte sokken en sandalen toch maar netjes in de kast!

Mythe 1: draag nooit jeans op jeans

Echte denim dandy's zoals David Beckham en Kanye West zijn het wandelende bewijs: mits de juiste styling is jeans op jeans vandaag cooler dan ooit. Maar als je er niet wilt uitzien alsof je recht uit de jaren '80 komt gewandeld, zijn er toch een paar regels voor wie zich aan de dubbele denimlook wilt wagen. Speel op veilig en kies voor verschillende tinten, zoals een donkere skinny jeans en een jasje of shirt in een lichtere wassing.
Toch liever van hoofd tot teen in dezelfde jeanskleur? Draag dan een shirt of trui met print onder je jeanshemd en kies opvallende schoenen en kleurrijke accessoires om het blauw wat te counteren. Zorg er ook altijd voor dat de stukken perfect passen: als je items mooi aansluiten kom je echt met bijna alles weg.
Nooit doen: de dubbele denimlook met jeansshort.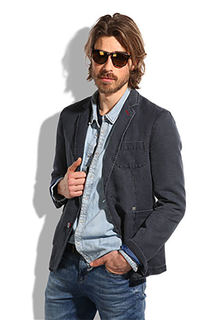 Mythe 2: mix geen patronen

Van streepjes met streepjes tot geometrisch met bloemetjes:verschillende prints mixen is de ideale trend voor modewaaghalzen. Je kunt je look volledig in hetzelfde patroon houden zoals streepjes of ruitjes, maar zorg dan wel dat je patronen een verschillende grootte hebben. Liever wat gedurfder? Meng dan eens heel uiteenlopende motievenzoals bolletjes en paisley. Kies wel altijd stukken in dezelfde kleurtint voor een subtiele look mét een hoekje af.
Laat je stijl geen stille dood sterven aan een overdosis print, en mix met mate. Werk je look af met neutrale kle(u)ren, zoals een beige blazer of zwarte broek.
Nooit doen: meer dan twee verschillende prints combineren.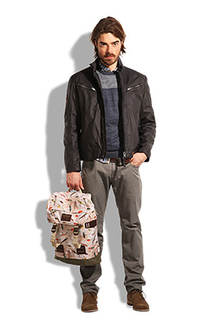 Mythe 3: vermijd de cargobroek

Deze lente maakt de cargobroek zijn comeback! Maar voordat je in paniek slaat: designers hebben de klassieker heruitgevonden en in een modern jasje gestoken. De broek werd wat strakker gemaakt, en kun je vergelijken met een stoere chino.
Combineer met een v-halstrui of een strak shirt, lederen riem en geklede oxfords voor een office chic resultaat. 's Avonds ruil je je geklede schoenen in voor een paar casual witte sneakers en draag je er een sportief vest bij. Let wel op dat je look niet té relaxed wordt. Een shirt met vlekken of teenslippers? Nee bedankt!
Nooit doen: combineren met een jasje in legerprint. Tenzij je écht professioneel soldaat bent, natuurlijk.
Mythe 4: stem riem en schoenen op elkaar af

Moeten je riem en je schoenen perfect op elkaar zijn afgestemd? Strikt gesproken, nee. Maar je blijft wel best indezelfde kleurenfamilie: als je voor bruine schoenen kiest, draag dan een riem in een andere bruintint of camelkleur voor een subtiel contrast.
Echte waaghalzen trekken hun stoutste schoenen aan en dragen bruine schoenen onder een grijs of zwart pak. Die geven je outfit net een onverwachte twist!
Nooit doen: witte of gekleurde sneakers matchen met je riem.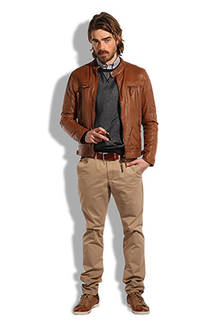 Mythe 5: draag nooit sneakers onder een kostuum

Vind je een kostuum net wat te formeel voor op het werk of 's avonds? Daar wringt het schoentje - letterlijk. Blaas je pak een nieuw casual leven in en ruil je geklede schoenen in voor een paar sportieve stappers. 
Blijf je pak wel 'respecteren' en kies voor simpele sneakers met veters: zwarte, grijzen en witte doen het altijd goed onder een klassiek pak. Zorg ook dat je pak mooi aansluit, en dat de broekspijpen niet te wijd zijn. 
Nooit doen: trainingsschoenen of runners. Die horen thuis in de fitness, nooit (nooit!) in de meeting room.