Dé 3 lentetrends bij de heren
Dé 3 lentetrends bij de heren
In de lente krijgen de bomen weer wat kleur, net als je garderobe. Gooi je winterjas en lange broek dus maar achteraan je kleerkast en maak plaats voor een frisse look! Drie niet-te-missen herentrends voor voorjaar 2015.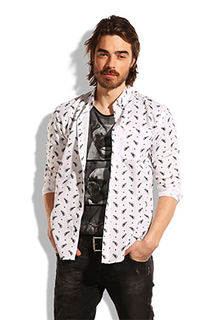 Streepjes, driehoekjes en bolletjes tot zelfs parapluutjes en minifietsjes. Overal in de rekken van A.S.Adventure spot je vrolijke retroprints op de shirts, shorts en hemdjes, soms zelfs met een vleugje humor. Voor een stoere outfit ga je voor de James Dean-look: combineer een zwart-wit shirt met print met een casual leren jasje en jeans. Rebels without a cause!
Als je een tof stuk met print hebt uitgekozen, speel je met de rest van de outfit wel best op veilig. Niet té veel prints en kleurtjes combineren, dus! Lees hier hoe je verschillende prints wel samen kunt dragen.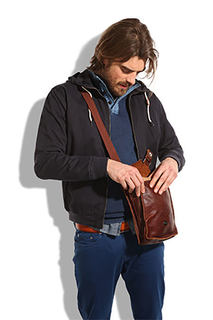 Blauw is dé go-to-kleur van het nieuwe lenteseizoen, en heeft zwart en bruin met verve van de winterse modetroon gestoten. Of je nu koning van kobalt of meester van marine bent: voor elke man is er wel een geknipte blauwtint. Maar het allerleukste aan de trend? Zelfs als je je best doet, kun je de bal bijna niet misslaan. Je mag alle blauwnuances naar hartenlust met elkaar combineren!
Loop je toch liever geen volledig blauwtje? Combineer de kleur dan met wit en beige voor een frisse outfit, of ga voor een gesofisticeerd effect met zwart. I'm blue dabadee dabadie ...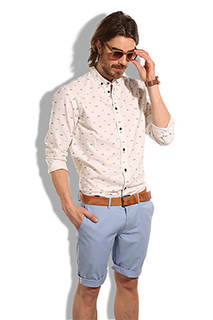 Deze lente zetten alle heren hun beste beentje voor, want de bermuda neemt modeland over. Lekker casual met een shirtvoor overdag, met een hip hemdje voor 's avonds en ookonder een geklede blazer voor op het werk. Zelfs op de catwalk van heel wat merken duikt het 'korte kostuum' overal op. Oef, wat een verfrissing!
Wist je trouwens dat de populaire short zijn naam dankt aan zijn populariteit in de Bermuda-eilanden? Daar is de broek al een hele tijd ingeburgerd als deel van een kostuum met een hemd, blazer ... en sokken van knielengte. Maar wat dat laatste betreft: please don't try that at home!