Tien gouden survivaltips
Akkoord, je bent een fitte kerel / meid en je hebt een gps-functie op je smartphone staan. Dat betekent evenwel niet dat er jou niets kan overkomen tijdens een meerdaagse trektocht. De batterijduur van je smartphone is vaak korter dan je denkt en zelfs de meest getrainde mens kan gekwetst of uitgeput geraken. Wil je jezelf in zo'n geval toch nog zien te redden in de vrije natuur, dan kunnen de volgende survivaltechnieken bijzonder handig van pas komen.

Spot een goeie kampeerplek

Hoog en droog. Ziedaar de twee sleutelwoorden voor het uitkiezen van een goeie kampeerplek. Voeg daar nog de nabijheid van stromend water, droog hout en eventueel een rotswand ter bescherming van wind en regen aan toe en je zit safe.

Tip: Trek er nooit in je eentje op uit en laat het thuisfront steevast weten hoe je reisroute er precies uitziet.

Bouw de ideale schuilplaats

Zij die hun trektocht zonder tent aandurven, kunnen maar beter weten hoe je een schuilplaats bouwt met niet meer dan wat takken, stenen en ander natuurlijk materiaal. Idealiter zoek je een afgeknapte boom waartegen je takken (zo dicht mogelijk tegen elkaar!) kunt stapelen. Eens je dat bouwwerk hebt afgewerkt, vul je de onvermijdelijke kieren en spleten tussen de takken op met mos, gras en struiktakken. Slapen doe je niet op de koude grond, wel op een zelf samengestelde matras van wederom gras, bladeren en mos. Neem de moeite om een matras van een paar centimeter dik te maken. Alleen zo vermijd je dat al jouw lichaamswarmte rechtstreeks naar de koude ondergrond zal vloeien.

Maak vuur met een batterij

Verzamel voldoende kreupelhout en creëer vervolgens een kortsluiting in de batterij door de minpool met de pluspool te verbinden door middel van een aluminiumpapiertje (sommige kauwgumpapiertjes zijn zelfs al voldoende). Een paar vonken volstaan doorgaans om het kurkdroge kreupelhout aan het branden te krijgen.

Open vuur correct opbouwen

Het vuur aan zien te krijgen is één zaak, het dan ook nog een keer correct opbouwen is het moeilijkste deel van de opdracht. Eens je de kleinste stokjes aan het branden kreeg – een met lippenbalsem of vaseline ingestreken watje is overigens uiterst brandbaar en dus goed om het vuur mee aan te krijgen – bouw je als het ware een windscherm rond het beginnende vuur met iets grotere takjes. Pas wanneer het vuur echt goed begint te branden, kun je er grote blokken hout aan toevoegen.

Zuiver water vinden (of maken)

De kans dat je het perfect drinkbare water in de vrije natuur zomaar voor het opscheppen hebt, is vrij klein. In geval van twijfel is het gevonden water koken de beste optie. Dat mag dan wel de veiligste optie zijn, jammer genoeg heb je niet altijd een gasvuurtje in de buurt. Gelukkig bestaan er nog dingen zoals sneeuw, regenwater en dauw, ofwel drie perfect betrouwbare waterbronnen. Een paar bandana's volstaan reeds om flink wat dauwwater op te slorpen. Water dat je vervolgens kunt recupereren door de bandana's simpelweg uit te wringen.

Tip: Je kunt ook water puren uit distels, cactussen en wijnranken. Als er een esdoorn in de buurt is, volstaat het om met een zakmes een gat te maken in de schors om de waterige stroop uit de boom te laten vloeien.

Water recupereren uit planten

Niet alleen mensen zweten, ook planten transpireren. Om daar je voordeel mee te doen, volstaat het om een tak met flink wat bladeren te omzwachtelen met een plastic zak. Een paar uurtjes geduld en je vindt flink wat (perfect drinkbaar) transpiratievocht in de zak.

Leer eetbare planten herkennen

De eetbare van de dodelijke planten onderscheiden is in sommige gevallen letterlijk een kwestie van leven of dood. Algemeen geldt dat het beter is om te proberen overleven door vele kleintjes te eten dan door te gaan voor het omhakken van die ene grote fruitboom. De kans is groot dat je bij die poging zoveel energie verspilt dat je maar beter het credo 'vele kleintjes maken een groot' had kunnen volgen. Met wat lisdodde, wilde spinazie en paardenbloemen kom je al een heel eind.

Tip: Een boek over eetbare planten en een goed geheugen volstaan doorgaans ruimschoots om te weten wat je nu wel en niet mag eten. Maar de regel blijft: in geval van twijfel, eet je het maar beter niet op.

Navigeren zonder hulpmiddelen

Als je gps het laat afweten, je geen powerbank bij de hand hebt om je navigatiegadgets op te laden en je jouw kompas en stafkaart eveneens thuis hebt gelaten, kun je nog altijd beroep doen op de hemel en de horizon om te weten waar je heen moet. Overdag kun je je op de stand van de zon oriënteren – die komt op in het oosten en gaat onder in het westen, weet je nog – terwijl je je 's nachts maar beter op de Poolster richt. Polaris staat op minder dan een graad na pal in het noorden en beweegt vrijwel niet, zodat hij altijd op dezelfde plaats terug te vinden is. De Poolster maakt deel uit van het sterrenbeeld Kleine Beer en is het ideale mikpunt voor al wie noordwaarts wil trekken.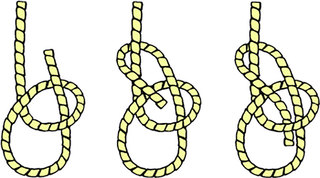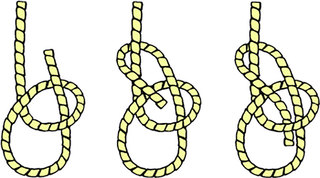 Des te meer verschillende knopen je kunt leggen, des te beter. Maar als je er slechts eentje wenst te leren, laat het dan de (dubbele) paalsteek zijn. Het is een even eenvoudige als efficiënte knoop waarmee je schuilplaatsen kunt afsluiten, materiaal naar beneden kunt laten zakken langs een bergwand of zelfs jezelf kunt zekeren.

Tip: Het ezelsbruggetje voor het maken van de paalsteek luidt als volgt: het konijntje komt uit z'n holletje, loopt rond de boom en kruipt weer in z'n holletje.

Noodsignalen herkennen en uitsturen

Weet je echt niet meer waar je heen moet of ben je gekwetst en kun je niet meer verder? Dan zit er niets anders meer op dan een noodsignaal uitsturen.
Als je geen zaklamp bij hebt, kan dat ook op twee natuurlijke manieren: ofwel maak je een zo groot mogelijk vuur in een zo open mogelijke vlakte en probeer je een zo dik mogelijke rookpluim te genereren. Dat laatste bekom je door, eens het vuur goed gaande is, takken met veel groen op het vuur te gooien.
Optie nummer twee is het spiegelsignaal. Zelfs 's nachts kan de lichtweerkaatsing van een spiegeltje kilometers ver opgemerkt worden.

Tip: Ook de maan kan dienen als lichtbron voor het spiegelsignaal.