Showcooking voor kampeerders
Showcooking voor kampeerders
Showcooking voor kampeerders
Kun jij goed met een campingvuurtje overweg? Dan weet je vast wat je er zoal op kunt klaar toveren. Voor wie de culinaire lat graag iets hoger legt, komt een tweepitsbrander zeker van pas. Met welk van volgende recepten doe jij je campingburen deze zomer watertanden?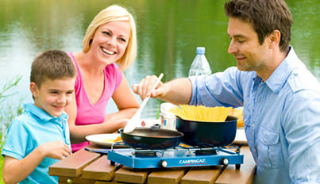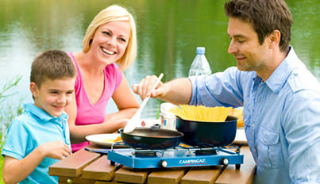 Spaghetti carbonara, campingstyle

Zonder lucifers of een aansteker, geen kookvuur... Vergeet ze dus zeker niet in te pakken.
Dek je eten altijd goed af; zo blijft het langer warm én hou je beestjes op afstand.
Koop én kook niet te veel eten in één keer; op een camping kan je maar moeilijk restjes bewaren.
Beperkt houdbare producten, zoals melk of boter, bewaar je best in een koelbox of klein koelkastje.
Schrob je niet suf op je vuile potten: smeer ze eerst in met vloeibarezeep.