Overnachten zonder tent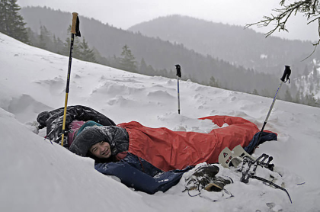 Jij en het gezelschap van duizenden sterren … Geef toe, niets kan tippen aan een nachtje in de frisse buitenlucht. Maar als de regen zich moeit en er zit geen tent in je rugzak, dan komen deze droge schuilplekken goed van pas.

Graaf een greppel tussen twee omgevallen boomstammen. Let wel op dat je nieuwe schuilplaats hoog genoeg gelegen is. Anders word je misschien gewekt door natte voeten tijdens die onverwachte bui.

Wil je wat meer bescherming tegen de natuurelementen, dan kan een bivakzak helpen. Deze waterdichte redder in nood trek je gewoon over je slaapzak heen.

Een tarp beschermt je tegen dauw of lichte regen. Span het zeil strak tussen enkele bomen of gebruik je wandelstokken. Met een grote poncho lukt het ook best.

Grotten en spleten in rotswanden boven een vallei zijn meestal droog en heerlijk koel. Wel best even op voorhand checken of je de enige bewoner bent. Salamanders, vleermuizen of zelfs beren voelen zich er ook wel thuis.

Altijd al willen weten hoe een Inuït de nacht doorbrengt? Op een klein halfuurtje bouw je zelf een mini-iglo. Het enige wat je nodig hebt, is een flinke portie sneeuw, een zeil of reddingsdeken als dakbedekking en een rugzak om de ingang af te sluiten.

Het is al geruime tijd een bekend gegeven dat een lezer, tijdens het bekijken van de layout van een pagina, afgeleid wordt door de tekstuele inhoud