Operatie "Propere Kleren"
Operatie "Propere Kleren"

Hoeveel kledij neem je mee op wereldreis en hoe hou je ze proper onderweg? Dit intrigeert blijkbaar menige vriend & familielid en ook voor jullie lichten Eva & Thomas graag een tipje van de sluier op.

Meestal kost het je maar één trektocht om overtuigd te raken van de belangrijkste leefregel van de rugzaktoerist: 'less is more'. Je zal gauw merken dat die tien paar kousen, die badstof handdoek en dat modieuze zomerjurkje een pijnlijke rug niet waard zijn. Alles wat je meeneemt, moet je dragen, dus wees gerust kritisch tijdens het samenstellen van je bagage.

Onze reisgarderobe (per persoon):

3 t-shirts (Icebreaker, The North Face, Vaude)
1 fleece (Sprayway & Vaude)
1 lichtgewicht regenjasje (The North Face)
2 outdoorbroeken, waarvan 1 afritsbaar (Fjällraven & Columbia/Jack Wolfskin)
1 short
3 slips/boxershorts + 2 bh's
3 paar kousen (Bridgedale & Smartwool)
zwemkledij
Ja, dat is écht alles. Kleren kan je namelijk wassen en tijdens een lange reis stel je sowieso je hygiënische standaarden een beetje bij.
Extra tip: Nog meer besparen? Na deel 1 van onze reis lieten we één van onze grote reishanddoeken uit microvezel thuis. De andere knipte ik in vier gelijke stukken; waarvan er nu slechts twee in onze rugzak zitten.

Schoon schip met zeepblaadjes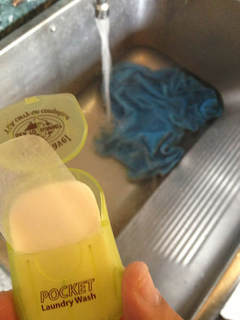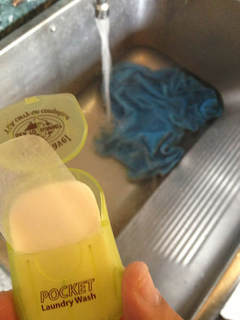 In plaats van vloeibaar wasmiddel, gebruiken we lichtgewicht wasblaadjes van Sea to Summit. Heel handig voor wasjes tussendoor, want al vind je op de meeste Europese campings moderne wasmachines en drogers, we vinden het zonde om voor zo'n klein hoopje kleding een hele trommel te laten draaien. Zo doen we het:
Maak het te wassen kledingstuk nat.
Bevochtig je handen en wrijf een of twee zeepblaadjes fijn.
Verdeel het zeepsop over je kleding en wrijf het er goed in.
Kneed de kledij grondig met je handen en wrijf over de vlekken.
Goed uitspoelen en klaar!