Met welke tent sta jij deze zomer te pronken?

"Ik wil een model met stokken en een zeil." Is dat het enige wat je kan zeggen over de tent waarin jij wilt gaan kamperen? Check hier welke soorten tenten er bestaan en welke voor jou het meest geschikt is.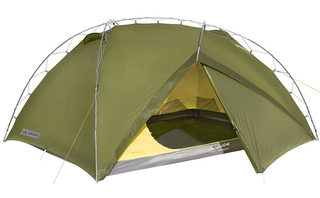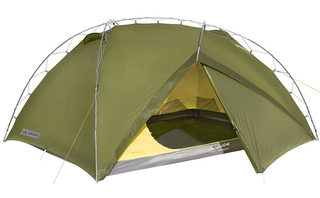 De koepeltent (ook bekend als iglotent) is een boogtent: ze heeft twee met elkaar kruisende bogen waarrond je de buitentent opspant. Dankzij deze constructie kan de tent prima op zichzelf staan, zelfs op een onstabiele ondergrond, en is het mogelijk de tent in zijn geheel op te pakken en ergens anders neer te zetten. Doordat de constructie zichzelf aanspant, heb je naast het grondoppervlak geen extra ruimte nodig om de tent strak te zetten met scheerlijnen.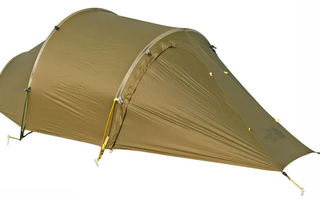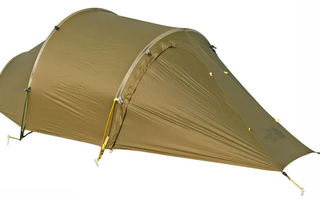 Ook de tunneltent is een boogexemplaar. In plaats van kruisende gebogen stokken, worden twee tot vier bogen met parallelle stokken achter elkaar geplaatst. Deze tent staat sneller recht dan zijn iglobroertje. Ze wordt strak opgezet door het spannen van scheerlijnen. De binnentent hangt bijna altijd vast aan de buitentent, handig, want zo blijft deze droog als je de tent bij regenweer moet opzetten. In verhouding tot het gewicht biedt een tunneltent een grotere leefruimte dan een koepeltent.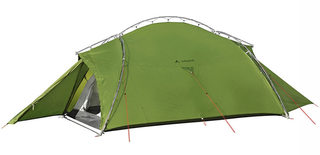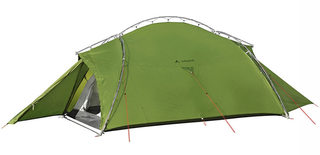 Een hybridetent combineert kenmerken van twee (of meer) verschillende types tenten. Dit gebeurt ofwel met het oog op meer stevigheid, of met een groter inzetgebied als uitgangspunt. Meestal gaat het om een kruising tussen een koepeltent en een tunneltent met twee kruisende boogstokken, voorzien van extra's zoals een luifel of voortent. Zo geniet je van de voordelen van beide: een zelfdragende structuur (koepel) en meer ruimte (tunnel). Meestal gaat het om eerder technische modellen.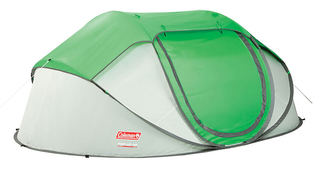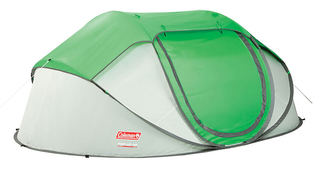 Deze tent zet zichzelf recht. Je hoeft ze enkel uit de tas te halen, even in de lucht te gooien en voor je 't weet, ploft ze volledig gemonteerd op de grond. Nog een paar haringen erin en klaar is Kees. Nadeel: de tent is nogal onhandig ingepakt als een ronde schijf, het terug inpakken vergt dan ook enige handigheid. Wel opletten als je je tent 'weggooit' bij stevige wind!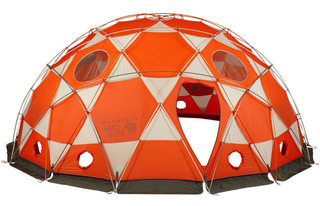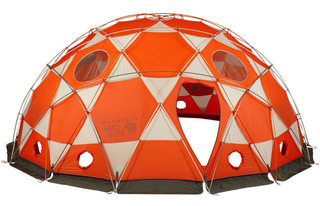 Voor niet-ingewijden lijkt een geodetische tent op het eerste zicht sterk op een koepeltent, maar de opbouw is een stuk complexer. Een uitgekiende constructie met verschillende kruisende tentstokken (vanaf 5 kruisingen mag je spreken over een geodetische tent) zorgt ervoor dat een geodetische tent erg robuust is, met een maximale stabiliteit tot gevolg. Daardoor is dit type tent dan ook uitermate geschikt voor wie wil kamperen in de meest barre en extreme omstandigheden, zoals bij expedities in onherbergzaam hooggebergte. De geodetische tent kan dankzij zijn constructie bijvoorbeeld heel wat sneeuw verdragen. Een gewone koepeltent of een tunneltent zou al snel begeven onder het gewicht van de sneeuw.
TIP: Zin om te gaan kamperen met je tent maar je hebt er geen idee van hoe je ze best opzet? Geen nood, we helpen je graag op weg met deze handige tips.

TIP: Op zoek naar nog meer kampeerinspiratie? Lees dan zeker ook de andere kampeerartikels op onze blog.