Met welke slaapzak duik jij in je tent?
Met welke slaapzak duik jij in je tent?
Een goede nachtrust is de basis voor elk avontuur, maar ga niet over één nacht ijs als je een slaapzak koopt. In welke slaapzak leg jij je vermoeide lichaam te rusten?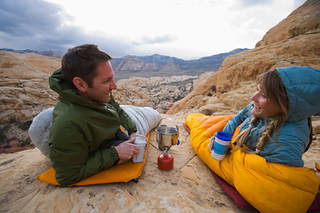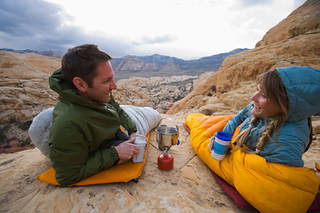 Kies ik een mummie- of dekenmodel?

Wie graag volledig in zijn slaapzak kruipt kiest voor een mummiemodel: een nauwsluitende cocon waarin je hoofd mee kunt wegsteken en de warmte niet uit ontsnapt. De meest extreme modellen kunnen temperaturen aan tot -40°C. Barst het zweet je al uit? Een dekenmodel sluit minder nauw aan op je lichaam en geeft je meer bewegingsruimte. Of kies voor een stretchslaapzak: door het gebruik van geweven stoffen rekt de slaapzak mooi mee en mag je gerust heel de nacht liggen woelen.
Ik trek naar het hoge noorden

Een slaapzak met ganzendons houdt je lekker warm. Het dons of 'loft' wordt steeds met een bepaald percentage pluimen vermengd. Die geven de vulling volume. Zo kan lucht zich tussen de loft verspreiden en wordt deze opgewarmd door je lichaam, met een warme slaapzak tot gevolg. Dons is lichter dan synthetische vulling en kan compacter ingepakt worden. Wordt dons nat, dan wordt het echter zwaar en droogt het zeer traag. Bij extreem koud weer kan een fleece lakenzak nog extra isolatie bieden.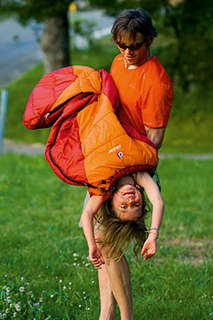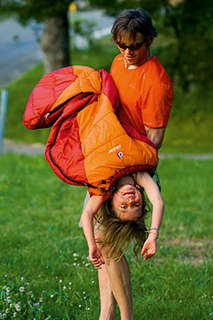 En wat met zwoele nachten?

Een eenvoudig model met een synthetische vulling is hier de beste oplossing. Zomerslaapzakken hebben een temperatuurbereik van 30°C tot 10°C, maar bij een droog klimaat kun je ook opteren voor een (duurder) model met ganzendons. Aangezien dons vocht opneemt, wordt het minder snel broeierig in je slaapzak. Is het echt heel warm? Slaap dan enkel in je lakenzak, of kies een exemplaar uit satijn, dat biedt je de nodige verkoeling.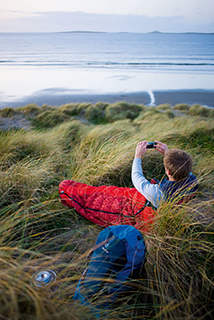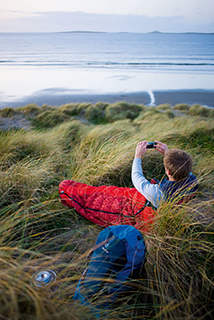 Ze voorspellen veel regen op mijn bestemming. Bestaan er waterdichte slaapzakken?

Geen enkele slaapzak is gemaakt om in de regen te overnachten. De synthetische buitenlaag beschermt je tegen dauw of lichte motregen maar niet tegen een heuse regenbui. Investeer in een drieseizoensslaapzak, die belooft je een warme nacht tussen 20°C en temperaturen rond het vriespunt en een goede tent tegen de regen.

's Nachts zweet ik overmatig. Hoe houd ik mijn slaapzak proper?
Verlucht je slaapzak regelmatig, bij voorkeur elke ochtend. Een doorademende stof voert het zweet wel af, maar het zout blijft achter. Vermijd dat de poriën na verloop van tijd verstopt geraken en leg de slaapzak even binnenstebuiten in een lauw bad. Duw hem vervolgens goed uit (niet wringen!) en laat hem plat op een rek drogen. Sommige modellen kan je ook een beurt geven in de wasmachine of voorzie een lakenzak die het ergste vuil uit je slaapzak houdt.

Mijn lief wil mee op reis. Kunnen we besparen op het aantal slaapzakken?

Kies je voor twee aparte slaapzakken, als je 's nachts op je persoonlijke ruimte bent gesteld. Maar als jullie het ook in het donker goed met elkaar kunnen vinden, kun je in een dekenmodel voor twee personeninvesteren of kies voor modellen die je aan elkaar kan ritsen.